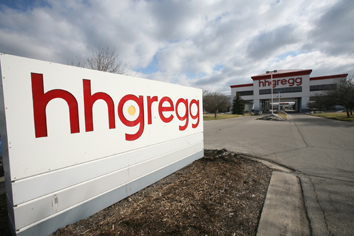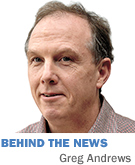 HHGregg Inc. is surrounded by doubters these days. Among them are investors, who have knocked the shares down to 46 cents apiece, and even vendors, which revoked the company's credit and began demanding cash on delivery after the retailer's Christmas 2015 sales flubbed.
Bob Riesbeck, who joined HHGregg in September 2014 and landed the top job last year, acknowledges some of the company's problems were of its own making—most notably its failure to change course when Amazon, price deflation and other forces upended consumer electronics, once its largest business.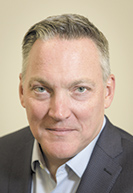 Riesbeck
"We didn't adapt to that change fast enough," said Riesbeck, a former executive at Marsh Supermarkets and other consumer businesses. "And now we are playing catchup."
But playing catchup doesn't mean the 220-store chain will lose the race, and in an interview with IBJ the 53-year-old CEO made a compelling case for why better times lie ahead.
For starters, there's HHGregg's formidable appliance business, which boasts average sales per store of $5 million, twice that of rivals Best Buy and Sears.
Because HHGregg has been saying for months that appliances is its most important business, the segment's weak performance in the holiday quarter—a 4 percent drop in same-store sales—spurred a new round of investor angst. But Riesbeck said appliances actually would have been up 5 percent were it not for logistics problems related to closing warehouses in Indianapolis and Chicago and consolidating them into a new one in Kentucky.
The consolidation, which will yield millions in savings for HHGregg annually, had been scheduled for last summer but delays pushed it into the worst possible time, when the company was going full bore for the holidays. HHGregg ended up reporting sales for the quarter ended Dec. 31 of $453 million, about $25 million less than it otherwise would have.
Going forward, Riesbeck expects the appliance business to get a big boost from the continued rollout of 4,500-square-foot super-premium Fine Lines appliance stores, using existing space in HHGregg's 31,000-square-foot stores. HHGregg has 17 Fine Lines and plans to add as many as 15 in the coming year.
"Fine Lines is so critical to us," Riesbeck said, noting that HHGregg stores that get a Fine Lines have been seeing appliance sales double within 36 months.
Riesbeck also sees abundant opportunities for its furniture business, which occupies 30 percent of floor space but generates just 6 percent of sales.
HHGregg got off to a bumpy start when it entered the segment in 2013. Initially, he said, the merchants who decided what to put in the stores were the same people who chose the appliances and electronics, and they gravitated toward what might go into a man cave—lots of leather and cup holders.
The company changed gears with the July hiring of Mabelle Lim, a former divisional merchandising manager for Pier 1 Imports, who will be rolling out furniture that's more suitable for the living room and more likely to appeal to the predominantly female appliance buyer.
"We have hired a true merchant who understands home furnishings," Riesbeck said.
Riesbeck isn't counting on a similar turnaround in electronics. He figures that segment's sales in the fiscal year ending next month will be about $500 million, half of the $1 billion it racked up two years ago. Rather than competing in the ultra-promotional, low end of that market, HHGregg is zeroing in on premium products from such brands as Sony, LG, Klipsch and Bose.
"We are set to continue this transition" in the coming year, he said. "The consumer electronics business may go down 20 or 30 percent, but with the growth of furniture and the growth of the appliance business, we are well set to weather the storm."
Not everyone is so sure. Late last month, Zionsville investment manager Brad Leonard, whose fund owned 7 percent of the company, disclosed in a regulatory filing it had sold its entire stake.
In an email to IBJ, Leonard said, "They aren't done yet, but the chances of a successful turnaround have gotten smaller in my opinion."
One of investors' worries is HHGregg's string of 13 consecutive quarters of losses, which have reduced the company's margin for error. HHGregg as of September 2015 had cash on hand of $35 million and no debt. As of the end of 2016, it had $2 million in cash and had borrowed $30 million of the $94 million available under a line of credit.
Riesbeck is unfazed, saying, "We have a great relationship with our lenders." And he said better performance is in the offing.
"I think there will be significant progress in the coming fiscal year," he said. "We have a long runway ahead of us."•
Please enable JavaScript to view this content.