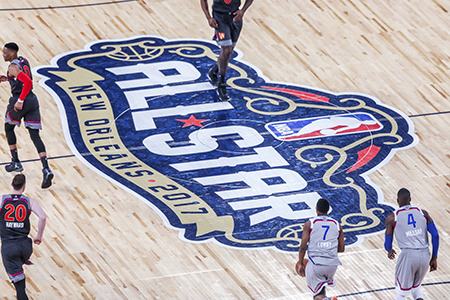 The 2021 NBA All-Star Game appears to be bouncing to Indianapolis, but it won't be easy to pull off and it won't be cheap.
It's not a sure thing. But no potential host has received a stronger endorsement from NBA Commissioner Adam Silver than has Indianapolis.
One source close to the league said Silver wants to grant Indianapolis the All-Star Game as a nod to longtime Pacers owner Herb Simon. But the source also said Silver is eager to have Indianapolis' innovative touch on the event.
"I'm sure Adam Silver saw what Indianapolis did with the Super Bowl," said local sports marketer Milt Thompson, who was part of the local organizing committee the only time Indianapolis has hosted the All-Star Game, in 1985. "When you can take an event like [the Super Bowl]—one that is so big and has been around so long—and make a mark on it like Indianapolis did, people take notice."
Silver told IBJ in 2015 that he strongly supports the idea of the All-Star weekend's coming here. And at a press conference this January in London—where the Indiana Pacers played the Denver Nuggets—Silver said it was "highly likely that we will return to Indianapolis for an All-Star Game in the near future."
When Silver says it's highly likely, it's highly likely. Unlike the Super Bowl hosting decision, which is driven primarily by team owners, Silver is the primary decision maker on the NBA All-Star Game. He gets input from NBA team owners, but he makes the call.
Silver and his staff are currently accepting bids for the 2020 and 2021 All-Star Game weekends. And Indy is a favorite.
No wonder. Indianapolis in 2012 pioneered the Super Bowl Village—which is now a Super Bowl staple—and brought in the first zip line. It broke the record for attendance at the NFL Experience fan attraction zone, a record that still stands.
"The organization of the event isn't the only thing that turned heads," Thompson said. "The local fans' embrace of the Super Bowl also was a big part of the success of that event. This city has a reputation for supporting big sporting events."
But one key difference between seeking an NBA All-Star Game and a Super Bowl is that the local team takes a more prominent role in the hunt for the NBA event. While a search committee—which certainly included Colts owner Jim Irsay—put together Indianapolis' bids for the 2011, 2012 and 2018 Super Bowls, the Pacers are doing most of the heavy lifting for the All-Star Game bid.
On April 24, Larry Bird, Pacers president of basketball operations, will deliver the city's bid—which was crafted with the help of the Capital Improvement Board, Visit Indy and Indiana Sports Corp.—to NBA executives in New York in a specially-themed and retro-fitted IndyCar.
Bird will drive the open-wheel racer down Fifth Avenue in New York City from 55th Street to 51st Street, culminating in the bid delivery. Bird will then address the media afterward at the Armani Exchange at the corner of 51st Street and Fifth Avenue.
League officials said they plan to announce the 2020 and 2021 hosts by the beginning of next season—in late October.
This year's All-Star weekend took place in New Orleans, with next year's scheduled for Los Angeles. NBA officials are strongly considering playing the 2019 game in Charlotte since changes were made to a North Carolina law that limited anti-discrimination protections for lesbian, gay and transgender people.
Despite the competition, Fuson said he is "cautiously optimistic" about Indianapolis' chances for 2021, the year deemed best for Indianapolis due to scheduling for the Indiana Convention Center, Lucas Oil Stadium and other facilities needed to host the growing event.
"There are a lot of good cities in the country, but I don't think there's a better event city than Indianapolis," Fuson said.
Hefty costs
While the economic impact for the All-Star weekend could easily top $100 million, the host team alone would face expenses of up to $9 million in the two- to three-year run-up to the game, said Marc Ganis, president of Sportscorp Ltd., a Chicago-based sports business consultancy that does work for the NFL, NBA and several of those leagues' teams.
Soft costs, such as time-consuming demands on team staff, could run the bill even higher. "I wouldn't underestimate the distraction this event will have on the entire [host] team's staff," Ganis said. "It can be all-consuming … for multiple years."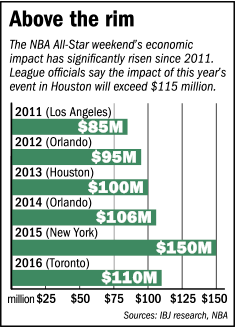 The team also would be on the hook for building modifications—some temporary and some that could be permanent—required by the NBA, Ganis said.
The city could chip in for those modifications and other items and is likely to ring up several million dollars on expenses like security and fire protection, traffic control and free rent for facilities such as the convention center and stadium. City and Pacers officials declined to comment on potential hosting costs, citing a competitive bidding situation.
A block of 6,000 hotel rooms would be required. That shouldn't be a huge problem for Indianapolis, which has 7,300 downtown hotel rooms, with nearly 5,000 connected to the convention center and Lucas Oil via indoor skywalks. But Visit Indy would have to turn away other conventions during the week of the game, and that could amount to several million dollars in losses, hospitality experts said.
While February, when the All-Star Game is held, is usually a relatively slow period for Indianapolis convention business, the city hosted two major conventions—one attracting 7,000 people and the other 14,000—and the NFL Scouting Combine this February.
Indiana Sports Corp. President Ryan Vaughn said the All-Star Game would likely require 3,000 volunteers—similar to the number needed for an NCAA men's Final Four—and would require forming a local organizing committee two to three years out. He has no doubt, though, that the effort is worth the price.
"The city and its businesses get a solid payoff," Sportscorp's Ganis said. "For the team, the payoff is increasing the strength of their brand, which does of course help with sponsors and season-ticket holders."
The team also can offer some inside access to the game and surrounding events to season-ticket holders and sponsors, Ganis said, which could help the team's overall sales. But another source familiar with All-Star Game operations said the home team might get as few as 1,000 to 3,000 tickets to the game, with the NBA corraling the vast majority of ticket inventory for league and team executives, corporate sponsors and broadcast partners.
10 cities in the mix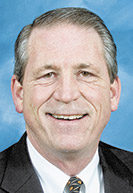 Fuson
While Indianapolis appears to have an inside track as an upcoming host, Fuson was quick to stress that, "It's going to be a very, very competitive bidding process."
Indeed, the line of competition is long and strong. Milwaukee, Orlando, Portland, Cleveland, Houston, Sacramento and Detroit are expected to bid for 2020 and/or 2021. In addition, New Orleans, Houston and Los Angeles are lobbying Silver and his staff to be in a regular rotation of hosts.
"The economic impact of this event is big—and getting bigger," said Andrew Zimbalist, a noted sports economist from Smith College in Massachusetts. "The NBA has done a nice job of growing this property from a single game to a weekend suite of events, all with significant impact."
According to host-city officials and the NBA, the All-Star weekend had an $85 million economic impact in Los Angeles in 2011, $95 million in Orlando in 2012, just more than $100 million in Houston in 2013, and $106 million in Orlando in 2014. Economic impact soared to more than $150 million in New York in 2015, before returning closer to Earth at about $110 million in Toronto last year, according to multiple sources.
Direct spending by visitors and locals is generally about half of the economic impact, with multiplying factors counting for the rest.
The All-Star Game has evolved dramatically since Indianapolis hosted it 32 years ago in the Hoosier Dome. Instead of a single game, it's now a three-day extravaganza with many people arriving on the Wednesday or Thursday before Sunday's All-Star Game. The weekend includes a three-point and slam-dunk contest, celebrity game, rookie and D-League all-star game, a game featuring Americans vs. international players, an announcement of Hall of Fame inductees, and televised press conferences.
Halftime of the All-Star Game is an event unto itself, featuring musical performances by popular artists. Recent guests have included Justin Bieber, Snoop Dogg, Ariana Grande, Elton John, Beyonce, Mariah Carey, OutKast, Alicia Keys, Shakira, John Legend, Rihanna, Nicki Minaj, Kendrick Lamar and Christina Aguilera.
Also, dozens of parties—some black tie—are hosted by NBA sponsors and other corporate partners as well as some entertainment and media groups.
Global giant
A contingent of Pacers and city officials were awestruck when they scouted the 2016 weekend in Toronto.
"The economic development, the impact—just walking around [Toronto]—it's massive," recalled Mel Raines, Pacers senior vice president of facilities operations. "The restaurants are full, the hotels are full, people are shopping, sponsors are doing big events. It's really a great thing to go after and if it wasn't, so many teams wouldn't be bidding for it."
Visit Indy CEO Leonard Hoops said the immediate economic impact is only part of the prize. He noted that his organization is still basking in the glow of the exposure from the 2012 Super Bowl. Hoops said more than a handful of conventions the city won over the last five years can be directly traced to Super Bowl exposure.
"I don't know how many times people have said, 'We figured if you could handle the Super Bowl, we knew you could host our event,'" Hoops said.
Visit Indy officials hope the All-Star Game will have a similar halo effect.
The weekend's domestic TV exposure is significant: 6 million to 7 million U.S. viewers watch the three-point and slam-dunk contest and 8 million watch Sunday's game, according to New York-based Nielsen Media Research. That's smaller than the TV audience for a typical NCAA Final Four game, which is 14 million to 23 million.
But unlike a Final Four, the NBA All-Star Game is broadcast to 215 countries and territories in 49 languages, according to NBA officials. In China alone, nearly 40 million people watch the game and another 10 million do so in Europe.
While more than 10 times as many Americans watch the Super Bowl as the NBA All-Star Game, the All-Star Game has become the more popular event outside the United States, according to multiple sources. More than 1,800 credentialed media members from 44 countries will cover the All-Star weekend.
"People in Asia and Europe simply don't understand college sports, so they don't follow NCAA events in big numbers," Ganis said. "They tune in to the NBA All-Star Game because that's where you can often see some of the best [foreign] players that play in the NBA all in one place. And basketball is much more international right now than American football."
That type of global attention "helps drive awareness, interest, desire and ultimately action into a consumer visiting Indy or a convention being booked," said Visit Indy Vice President Chris Gahl. "Over the last five decades, Indy has regularly benefited from this type of brand-building marketing exposure, with prominent sports personalities and journalists raving about Indy as a host city."•
Please enable JavaScript to view this content.