When Dow AgroSciences needed to battle a proposed federal ban on one of its most important products, it drafted an army—its farmers. And it appears they've helped the company win the fight.

It started last fall when Dow Agro went on the offensive with a note to farmers that did not waste words.

The Environmental Protection Agency, the company said, was considering banning one of its most popular insecticides, used on more than 50 types of crops, from soybeans to nuts.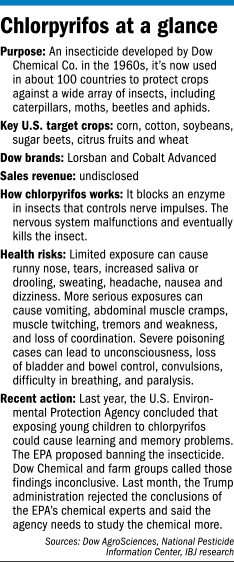 "EPA is considering taking this tool from growers," the Indianapolis-based agricultural unit of giant Dow Chemical Co. wrote last fall. "Your support is critical."

The insecticide, which works by blocking the nerve impulses of insects, had come under fire in several studies that linked it to nerve damage in children. EPA scientists, relying in part on research conducted at Columbia University, had concluded its active ingredient, chlorpyrifos, could hinder learning and memory in young children.

Dow, which developed the chemical in the 1960s, sells it under various brands, including Lorsban and Cobalt Advanced.

The stakes were high for the chemical company. Michigan-based Dow had watched chlorpyrifos grow into one of the biggest products in its agricultural portfolio, used by farmers in more than 100 countries. The company would not disclose sales, but the EPA calls chlorpyrifos the most widely used conventional insecticide in the United States in pounds.

For 2014, the U.S. Geological Survey estimated 5.8 million to 10.4 million pounds of chlorpyrifos was used on crops. The product lost its patent exclusivity years ago, but Dow remains one of the biggest sellers.

Dow has repeatedly said chlorpyrifos is safe when used as directed, a finding it said is backed up by more than 3,000 studies and reports. It said the chemical is biodegradable and does not cause cancer.

The World Health Organization classifies chlorpyrifos as Class II, or a moderately toxic pesticide—the second-lowest of four classifications.

But the Obama administration announced in 2015 that it would adopt a "zero tolerance" policy for residue of the chemical on food. That would have ended its use, as trace amounts of chlorpyrifos are often found on food products.

Dow AgroSciences asked farmers to come to its defense.

"For many important pests, growers face limited or no viable alternatives to chlorpyrifos," the company's note said. "When an outbreak of a new pest occurs, growers look to chlorpyrifos as a proven first line of defense."

Letters of support came pouring in to the EPA.

An alfalfa farmer in Touchet, Washington, wrote that the insecticide was vital in controlling aphids, weevils, spider mites and lygus bugs on his 1,600-acre spread.

"Without the use of chlorpyrifos, we are sure to lose 30%-70% of our crop," wrote Austin Kentch.

The Indiana Soybean Alliance wrote that chlorpyrifos was a "critical tool" in helping farmers control grasshoppers, spider mites, aphids, bean leaf beetles and stink bugs.

Farm groups from Canada to Spain sent letters urging the EPA to continue making chlorpyrifos available, according to comments posted on the Federal Register.

Brazil would have a difficult time exporting orange juice to the United States if chlorpyrifos were banned, wrote that country's Pesticides Committee of Citrus Integrated Production.

Dow AgroSciences itself presented a petition signed by 2,300 people.

"It was very concerning," said Ken Racke, global regulatory leader for chlorpyrifos in Indianapolis. "There were a lot of comments that were submitted. I think the grower organizations that rely on the product were shocked and surprised as well."

The company also issued numerous statements defending the chemical's safety.

Sigh of relief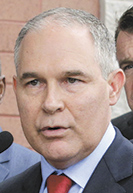 Pruitt
Last month, they learned their pleas had fallen on receptive ears. The Trump administration's new EPA director, Scott Pruitt, on March 29 rejected the recommendations of his own chemical safety experts to ban the chemical.

Pruitt said the issue needed more study, and pointed out that an EPA scientific review panel, made up of academic experts, had questioned the conclusions of EPA chemical staff members, who found the chemical dangerous.

"We need to provide regulatory certainty to the thousands of American farms that rely on chlorpyrifos, while still protecting human health and the environment," Pruitt said in a statement. "By reversing the previous administration's steps to ban one of the most widely used pesticides in the world, we are returning to using sound science in decision-making—rather than predetermined results."

For Dow, the news was a relief. But environmentalists called it a huge mistake and are vowing to fight on. They say the EPA was right to question the safety record of chlorpyrifos, based on several recent studies that concluded children whose mothers were exposed to chlorpyrifos during their pregnancies suffered brain impairments as they grew up.

The Columbia study, for example, tracked the children for nearly 15 years and found that many had reduced IQs, a loss of working memory, motor coordination issues, developmental delays and attention deficit disorders.

"There's a lot of uncertainty in the face of this evidence of neurodevelopmental harm to children, and that's a reason to retain more protection in the regulatory process," said Patti Goldman, managing attorney at Earthjustice, a San Francisco-based group that served as the legal team for two other environmental groups—the Natural Resources Defense Council and the Pesticide Action Network of North America—that pushed the EPA to ban chlorpyrifos.

Competing research

Dow officials called the Columbia study "unvalidated and unreplicated." They pointed to thousands of other studies they say prove the drug is safe for humans.

"There was quite an accumulated body of information that was collectively used to set these safety standards," Racke said. "Then the EPA took a U-turn and decided that one study out of Columbia University would trump everything else."

But Goldman at Earthjustice said at least two other studies, conducted by the University of California at Berkeley and Mount Sinai School of Medicine in New York, also examined this class of chemicals, called organophosphates, by tracking children whose mothers had been exposed during their pregnancies.

"All the children had remarkably similar brain impairment across all three studies," she said. "There have been dozens of peer-reviewed scientific articles coming out of these studies."

Chlorpyrifos has long been under the microscope for health risks. The EPA has said it can cause reactions in humans, overstimulating the nervous system and causing nausea, dizziness and confusion. At very high exposures, such as accidents or major spills, it can lead to respiratory paralysis and death.

For years, chlorpyrifos also was used as an indoor pesticide, but in 2000, Dow AgroSciences announced a voluntary cancellation of most residential uses of chlorpyrifos in North America. The EPA also announced restrictions on the uses of chlorpyrifos in urban applications.

Eating food treated with chlorpyrifos, however, is not that risky, the EPA said in 2002, calling it "below the level of concern for the entire U.S. population, including infants and children."

Long war

The current controversy began in 2007, when the environmental groups filed a petition that attacked chlorpyrifos on two fronts.

First, the groups asked the EPA to revoke all tolerances, which would make the product unfit for agricultural use. Treating crops with the chemical almost always leaves trace residues.

Second, the groups asked the EPA to cancel all registrations for chlorpyrifos. Under law, pesticides used on food products need to be registered to be sold.

In response, the EPA began a review of the chemical, a process that can take several years. In 2010, the environmental groups filed a motion with a federal appeals court, asking it to require the EPA to move faster. The court sided with the environmental groups and issued an order demanding the EPA issue a ruling by March 2017. Under federal law, the EPA would have had until 2022 to wrap up the review.

In 2015, to Dow's surprise, the EPA published a proposal to revoke the tolerances of chlorpyrifos present on food. A year later, it published another draft of the proposal and asked for public comments.

But while Dow's supporters were rushing to the company's defense, hundreds of environmentalists were also sending letters to the EPA, demanding the chemical be taken off the market. Earthjustice submitted a file containing the names of 32,176 people who submitted public comments.

"Action on this toxic chemical is long overdue," the cover letter said.

Earthjustice is not giving up the fight. It plans to return to court, asking for an order that the EPA rule on its original motion, rather than waiting several more years for scientific study and review.

But Dow Agro said it has no problem with the EPA following the normal timetables, meaning it could take until 2022 to wrap up its review of the chemical.

"Our sense is that the EPA will now continue working on the regulatory review program to refine the science," Racke said, "and move that program through to decision making."•