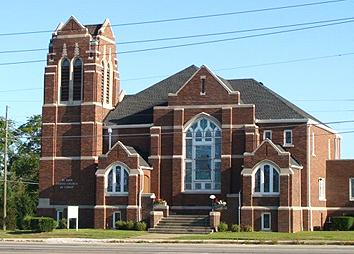 A historic church on the far-east side once again is in danger of meeting the wrecking ball and could be demolished soon if the congregation that owns it can't raise the funds to pay for upkeep.
Indianapolis-based TWG Development LLC, following a drawn-out drama concerning the structure's fate, in September agreed to purchase the St. John United Church of Christ building and property that straddles Cumberland and Indianapolis, at German Church Road and East Washington Street.
The deal, however, was contingent on the awarding of affordable housing tax credits, but the project didn't make the first cut in the latest round of selections in February.
TWG's $10.1 million proposal to convert the church into a 60-unit senior housing complex wasn't among the 16 chosen, though there's still hope the property will be redeveloped.
Now the congregation says it needs $75,000 by May 4 to pay for upkeep, or the building will be demolished June 1.
The town of Cumberland is partnering with Indiana Landmarks to raise money through tax-deductible contributions to save the church. Landmarks so far has pledged $25,000, and private donors have committed another $12,000.
"A lot of people see the German Church as a landmark and want to see it saved," Marsh Davis, president of Indiana Landmarks, said in a written statement. "It could take on new life and serve the community once again if enough donors sign on to help."
TWG still is interested in redeveloping the property, said Joe Whitsett, a principal of TWG.
"We have worked with the Indiana Housing & Community Development Authority, which put the project on a waitlist, and we are hopeful that the federal tax credits will eventually come through," he said.
TWG's redevelopment of the building would end the uncertainty surrounding the future of the historic church structure at German Church Road and East Washington Street.
For more than a century, the land in question has been the site of the Tudor Gothic Revival-style church, which once was known as Deutsche Evangelische St. Johannes Kirche. It opened in 1855, initially serving German immigrants who farmed the surrounding area. That structure was replaced later that century, and the current building opened in 1914.
 
Amid dwindling membership, the congregation in October conducted its last service in the church. It continues to meet at a temporary site, the Muesing Activity Center at Prospect Street and Carroll Road, until funds can be raised to build a new church.
Church officials had said they would likely demolish the building to make the property easier to sell.
In 2015, when it looked as though the church would be demolished to make way for a GetGo convenience store and gas station, residents and preservationists mobilized to voice their support for saving the historic structure. Pittsburgh-based Giant Eagle, the owner of GetGo, withdrew the proposal, and TWG stepped forward with its plan for reuse.
Please enable JavaScript to view this content.