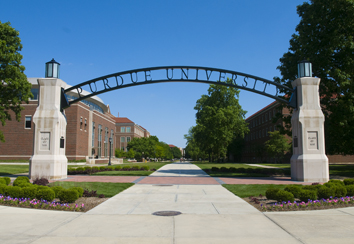 Purdue University announced Thursday that it will create a public university focused on online education—and acquire Kaplan University in the process.
The initiative is meant to address the need for post-secondary education for working adults and others unsuited to traditional campus study, and the explosive growth of online technologies as a means of delivering education to students of all types, Purdue officials said.
Purdue's acquisition of Kaplan includes 15 campuses, 32,000 online and cambus-based students and 3,000 employees. All Kaplan University students and faculty will transition to the new university, which will use the Purdue name in some fashion that has not yet been finalized.
The Purdue Board of Trustees unanimously approved the proposal on Thursday. It still will have to go through additional levels of approval at the state and federal level.
President Mitch Daniels said extending Purdue's reach to online students was part of a focus on increasing college attainment rates and Purdue's "land-grant mission to expand higher education beyond the wealthy and elites of society."
"We cannot honor our land-grant mission in the 21st century without reaching out to the 36 million working adults, 750,000 of them in our state, who started but did not complete a college degree, and to the 56 million Americans with no college credit at all," Daniels said in a statement.
Purdue's acquisition of Kaplan will not require an upfront purchase price. According to Purdue, the new university will enter into a "long-term transition and support agreement, with a buy-out option after year six."
Daniels said, "We believe this is a very sound financial transaction for Purdue." The transaction is expected to take about six months to complete.
The new university will be distinct from others in the Purdue system, relying only on tuition and fundraising to cover operating expenses, according to school officials. No state appropriations will be utilized.
It will operate primarily online, but have 15 locations across the United States, including an existing facility in Indianapolis, with potential for growth throughout the state.
It initially will consist of seven schools and colleges that now comprise Kaplan University, which together offer more than 100 diplomas, certificates, associates, bachelors, masters and doctoral degrees.
Prices for Kaplan students—and their academic programs—are expected to remain the same, at least initially. However, the university is in the process of determining whether there will be tuition discounts for Indiana students.
Former U.S. Secretary of Education Arne Duncan cheered the announcement in a press release.
"This is a first, and if successful, could help create a new model for what it means to be a land-grant institution," Duncan said.
Kaplan University is owned by Graham Holdings Co., based in Arlington, Virginia. It previously owned The Washington Post and Newsweek. It sold The Washington Post to Amazon.com founder Jeff Bezos in 2013 for $250 million. Its current holdings include the online magazine Slate and seven TV stations in six cities.
Purdue has created a not-for-profit public benefit corporation called New University, which is the entity that will house Kaplan's assets.
According to the deal, sketched out in an SEC filling released Thursday morning, Kaplan is "not entitled to receive any reimbursement of costs incurred in providing support functions, or any fee, unless and until New University has first covered all of its operating costs."
During New University's first five years, it is entitled to a priority payment of $10 million per year beyond costs, paid out of New University's revenue. If revenue is insufficient, Kaplan is required to advance an amount to New University to cover the amount insufficient.
New University will also be entitled to an efficiency payment if it achieves cost savings, equal to 20 percent of any savings.
After all such payments, and after New University is reimbursed for all expenses, Kaplan will receive reimbursement for Kaplan's costs of providing support activities and a fee equal to 12.5 percent of New University's revenue.
Please enable JavaScript to view this content.