Lawmakers tackled issues they were expecting—such as road funding and pre-K—during the 2017 session that ended in the early-morning hours of April 22.
And they stumbled on other issues they never saw coming—including whether a restaurant in a convenience store should be able to sell carryout cold beer.
But in all, they passed dozens of bills to Gov. Eric Holcomb, who has already signed most into law.
Here's a rundown of some of the key issues: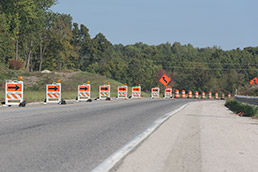 (IBJ file photo)
Road funding
Lawmakers viewed a long-term road-funding plan as their major goal for the session. The final plan approved in House Bill 1002 will generate more than $1.2 billion in new revenue for state and local road funding by 2024. Next year alone, the legislation will result in $617 million in new road money—$357 million for state roads and $260 million for local roads.
The deal will increase the current 18-cents-per-gallon gasoline tax 10 cents—an estimated $5 extra per month at the pump for the average driver. That alone will mean $300 million in additional revenue in 2018.
The special fuel tax, currently 16 cents per gallon, and the motor carrier surcharge tax, currently 11 cents per gallon, will also increase 10 cents. Then all those fuel tax rates will be indexed annually based on a formula that incorporates inflation and Indiana personal income growth, meaning the taxes will likely increase over time.
The deal will also transfer more sales tax revenue to road construction and maintenance. For years, sales taxes collected on gas purchases were treated like all other sales tax revenue and used for general government services and property tax relief. But pressure has grown on lawmakers to dedicate that sales tax revenue to roads, even though that creates a hole in the budget.
The last budget, passed in 2015, moved some of that sales tax revenue to road funding. The current deal will continue that shift until, in 2025, all sales taxes paid on gas purchases will be dedicated to roads.
The deal will also add a $15 annual statewide infrastructure improvement fee on all passenger vehicles and increase registration fees 25 percent for trucks.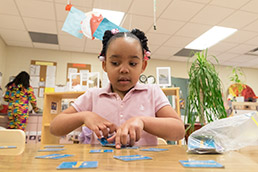 (IBJ file photo)
Preschool
A preschool deal crafted by House and Senate leaders—and signed by Holcomb—will expand an existing pre-K pilot to 15 more counties, up to 20 from the current five.
The expansion will cost $22 million per year. That's less than the $50 million advocates had lobbied for but close to what House Republicans and Holcomb supported.
The compromise will set aside $1 million per year to allow families who use an "in-home" online preschool program to be reimbursed for their costs. Priority will be given to parents of children who live in counties with no high-quality preschool providers, and the state agreed to study the online programs.
The law includes controversial language allowing a limited voucher "pathway." It means a child who uses a preschool scholarship to go to a program at a private school can automatically receive a voucher for kindergarten if he or she stays at the same school.
Cigarette tax
It seemed likely earlier in the session that lawmakers might raise the cigarette tax $1 per pack, in part to replace sales tax revenue transferred to roads. But Senate leaders drew a line, saying they didn't want to pursue that idea this year. Health advocates said they were disappointed the measure failed to advance—as they believed the tax increase would encourage people to stop smoking—but they will likely push for it again. Budget writers did include $15 million in funding for tobacco-cessation programs.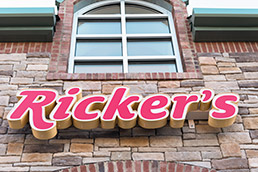 (IBJ file photo)
Ricker's and carryout beer
Two Ricker's convenience stores in Indiana would be able to continue selling cold beer for carryout—but only for another year—under the final version of House Bill 1496. As of deadline, Holcomb had not decided whether to sign the bill.
Generally, convenience stores in the state are able to sell warm beer or cold wine, but the sale of cold beer for carryout long has been reserved for Indiana's liquor stores, a right the industry's lobbyists have fought to protect for years. Ricker's challenged that when it added small restaurants to two of its stores and then won permits to sell carryout cold beer, raising the ire of legislative leaders.
But expect the question of who can sell alcohol—and when and where—to be a major issue next legislative session.
Under HB 1496, restaurants may not obtain permits to sell carryout alcohol after May 14 unless 60 percent of their gross retail income from alcohol sales comes from on-premises consumption, a threshold Ricker's is unlikely to meet.
It exempts restaurants that received permits before Nov. 1. Ricker's received its permits in mid-November and late December last year.
E-liquids and vaping

             (IBJ file photo)
Rules for Indiana's vaping industry were overhauled after two years of controversial actions.
Senate Bill 1 sought to eliminate an industry-choking monopoly that resulted from previous legislation. Sen. Randy Head, R-Logansport, said this year's legislation will "increase competition and open up" the vaping market while undoing "bad and overburdensome regulations" put into place in 2015 and 2016.
Head's bill removes all the controversial security-firm provisions—and opens the market back up for more businesses to get permits from the state.
It also requires e-liquid manufacturers to comply with federal laws. The liquids are also required to include childproof caps as well as traceable identification codes, and retailers are restricted from selling to consumers under 18 years old.
Rules put in place in 2015 and 2016 essentially gave one security company—Lafayette-based Mulhaupt's—sole authority to decide who could manufacture vaping liquids for sale in Indiana. As a result, several producers were shut out.
Marion County judges
Lawmakers overhauled the judicial selection process for the Marion County Superior Court before adjourning.
The system laid out in House Bill 1036 takes the nominating process out of the hands of political parties and voters—and gives it to a 14-member selection committee and the governor.
The previous system—which involved an unusual process that let political parties slate candidates for elections—had been thrown out by a federal appeals court in 2015 as unconstitutional. Senate President Pro Tem David Long said it was the Legislature's responsibility to replace it.
Under the new plan, when there is a vacancy on the court, the selection committee considers applications and sends three nominees to the governor, who then has 60 days to appoint one of them. After the judge's term, voters will decide to retain—or not retain—the judge in a general election.
ISTEP
Lawmakers approved a plan to replace the state's controversial ISTEP testing system with "ILEARN" starting in 2019, meaning ISTEP still has one more year in existence.
For the most part, the test plan in House Bill 1003 resembles what was recommended by the group of educators, lawmakers and policymakers charged with studying a replacement.
There will be a new year-end test for elementary and middle school students, and high schools will take end-of-course exams in 10th-grade English, ninth-grade biology, and algebra I. An optional end-of-course exam will be added for U.S. government, and the state will be required to test students in social studies once in fifth or eighth grade.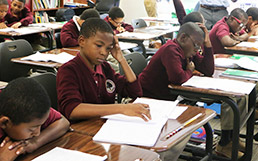 (IBJ file photo)
Charter schools and vouchers
The House and Senate passed two bills that will make it easier for charter schools and those private schools that take vouchers to get a second chance if they are struggling.
House Bill 1382 will make changes to the way the Indiana State Board of Education handles charter authorizers who want to renew schools that have been classified as failing for four years in a row. Even if the schools go beyond their four-year F-grade limit, authorizers can go to the state board to request a charter renewal.
House Bill 1384 includes two proposals regarding private schools and vouchers. One will allow the state to waive D or F grades that prohibit the schools from accepting new voucher students. That waiver will be good for one year and will be dependent upon the school's ability to demonstrate that a majority of private school students made academic improvements in the prior year.
State takeover
A plan that would have allowed the state to take control over finances and academics in Gary and Muncie was significantly scaled back—and will release Muncie from an academic takeover altogether.
While Muncie schools see some relief from earlier sanctions, Gary will remain on track for the state takeover, although a few provisions were added. One will require the state to consider a Gary or Lake County resident as the "emergency manager" in charge of the takeover.
Senate Bill 567 originally designated Gary and Muncie as "distressed political subdivisions" and moved them under the auspices of an emergency manager, a fiscal management board, and a chief academic officer. In the new plan, Gary will remain a distressed political subdivision, but Muncie will be considered a "fiscally impaired" district—a less harsh label that wouldn't require the district to have a chief academic officer but still places it under a stringent plan to shore up its finances.
School funding
The two-year budget laid out in House Bill 1001 will increase school funding about 3.3 percent from 2017 to 2019. That's a boost of $345 million and brings total education spending to $14.2 billion over the next two years.
The state also approved increased support for English-learners, students with severe special needs, and career and technical education.
All Marion County school districts will see increases in per-student funding and tuition support, which is the base amount provided by the state to educate children.
Indiana also recommitted to teacher bonus payments at $30 million per year, adjusting the formula so high-performing teachers at struggling schools could see higher bonuses than they did last year.
Net metering
A controversial bill that would reduce reimbursement rates for rooftop solar users awaits Holcomb's signature.
Senate Bill 309 has generated controversy because it would reduce the amount solar generators receive for extra energy they produce. Currently, solar generators receive about 11 cents per kilowatt-hour for that extra energy. That would drop over time to a wholesale rate of 3 cents per kilowatt-hour, plus a 25 percent premium.
While author Sen. Brandt Hershman, R-Buck Creek, said this legislation creates further investment for a more balanced energy policy in the state, opponents argue that it will remove incentives for those who might want to invest in solar energy in the future.
(Photo Eddie Drews, TheStatehouseFile)
State schools chief
Future governors will be able to choose Indiana's state schools superintendent, who will be known as the education secretary. The final version of House Bill 1005 includes a residency requirement and qualifications for the position. It also delays the appointment until 2025, meaning Gov. Eric Holcomb won't be around to make the pick and Superintendent Jennifer McCormick can seek a second term.
Hate crimes
Indiana will continue as one of five states without a hate crime law after a bill from Sen. Susan Glick, R-LaGrange, died on the Senate floor earlier this year.
Senate Bill 439 would have granted Hoosier judges the ability to enhance criminal sentences if a crime were found to be committed based on a victim's religion, ethnicity, sexual orientation, gender identity or gender.
Glick said she is unsure whether she'll bring back similar legislation in the future, but added that, if she doesn't, someone else will. SB 439 was similar to legislation that had failed in previous sessions.
Work-sharing
This bill keeps dying—even though it seems to have broad, bipartisan support from business leaders and unions. Otherwise known as "short-term compensation," work-sharing programs allow employers to reduce work hours during economic downturns while employees collect partial unemployment benefits. Supporters say the program is a win-win: Employees keep their jobs and their benefits, and employers keep skilled laborers. Supporters say the state Department of Workforce Development is not keen on the idea, but the state has been relatively quiet about why.
Redistricting
Rep. Jerry Torr, R-Carmel, authored a bill that would have established a nonpartisan, nine-member commission to draw state and federal legislative district boundaries, but it died in February despite widespread public support.
House Bill 1014 would have allowed both the Republican and Democratic caucuses in the Legislature to choose two members to serve on the commission. The presidents of Ball State University, Indiana University and Purdue University and the chief justice of the Indiana Supreme Court would have chosen additional members. The eight-member commission would then have appointed its own chairperson to fill the ninth spot.
Rep. Milo Smith, R-Columbus, did not call the bill for a vote in the House Elections and Apportionment Committee, even after more than 300 people filled the House chamber in support.
Abortion
A bill that would have required doctors to tell women who receive an abortion-inducing drug that the procedure may be reversed died in March. House Bill 1128, authored by Rep. Ron Bacon, R-Chandler, would have required doctors to provide a list of medical professionals and their contacts who can aid in the reversal process and those who don't think the procedure is safe.
Holcomb signed another abortion bill that heightens parental notification rules for minors.
Food deserts
Sen. Randy Head, R-Logansport, tried another push to increase access to healthy foods across the state but the legislation failed again.
Under Senate Bill 277, the Indiana Department of Health's Division of Nutrition and Physical Activity would have awarded a grant or loan to businesses in eight central Indiana counties and four Indiana regions to buy, repair or renovate property or equipment used to offer fresh or unprocessed foods to customers.
Terre Haute casino
Senate Bill 354 would have let Rising Star Casino Resort in Ohio County move 740 gambling positions to a new location in Terre Haute.
The bill died in the Senate Public Policy Committee after a 5-5 vote in early February.•
—Hayleigh Colombo, Chalkbeat Indiana and TheStatehouseFile.com
Please enable JavaScript to view this content.