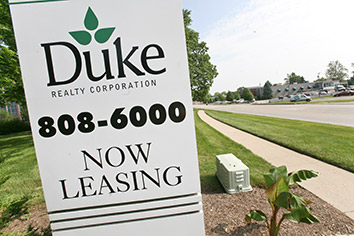 Duke Realty Corp. on Monday morning announced it is selling its medical office building business to Arizona-based Healthcare Trust of America Inc. for $2.8 billion.
The massive deal includes 6.6 million square feet of space spread across 71 buildings that are in operation and five that are under construction. It also includes two buildings owned in joint ventures and 16.5 acres of land.
Duke CEO Jim Connor said in a statement that the sale allows his company to refashion itself into a real estate company focused exclusively on industrial properties. The publicly traded Indianapolis-based firm in recent years unloaded its extensive office-park holdings in a quest to streamline its holdings and increase its attractiveness to investors.
"We are very pleased to announce an agreement to monetize our medical office business. While the business has generated substantial value for our stakeholders since we acquired the business in 2007, we took advantage of strong investor appetite in the market for high quality and substantially on-campus medical office real estate," Connor said in the statement.
"Monetizing our medical office business at a price significantly higher than what the market previously ascribed is accretive to our net asset value per share and creates a more simplified business model with improved transparency for the long-term benefit of our stakeholders."
Some buildings that HTA intends to acquire ultimately could instead by bought by various hospital systems, which have rights of first refusal to acquire 30 of the properties.
Duke said it intends to use the proceeds from the property sales to pay off $1.2 billion in debt, fund future growth through development and acquisitions and for a return of capital to shareholders through a special dividend.
Industrial has always been the biggest business for Duke, which was founded in 1972 and developed Park 100 on the northwest side. It owns interests in 455 bulk distribution industrial properties with 131 million square feet.
Morgan Stanley & Co. is serving as Duke's financial adviser and London-based Hogan Lovells US LLP is legal adviser.
Please enable JavaScript to view this content.