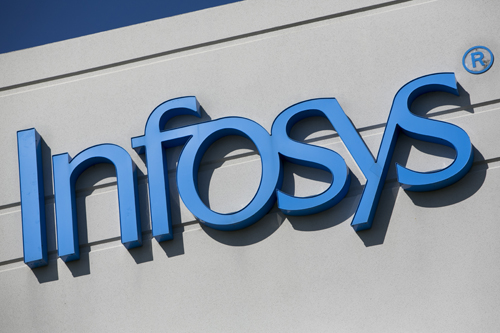 Tech companies will be looking to hire hundreds—now actually thousands—of workers in central Indiana over the next several years.
But a shortage of available talent to fill the jobs has local companies, education officials and community leaders powwowing about ways to flood the tech pipeline.
In just the past year or so alone, software giant Salesforce said it planned to hire 800 Hoosiers in five years; enterprise-device-management firm Mobi said it's looking to add 500 jobs in four years; and sales-software company Octiv said it's trying to fill nearly 300 seats in five years. And dozens of other tech firms are working toward expansions in the 100-plus range or less.
And then the biggest tech-job deal announcement in state history happened May 2, when global IT-services company Infosys Ltd. said it will create 2,000 jobs here by 2021—with plans to hire 500 of those workers quickly.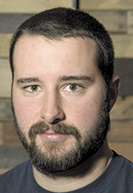 Birch
The colossal announcement has state and industry leaders predicting that other firms could follow, which would further increase demand—and competition—for not only experienced tech workers but also those coming right out of school.
"One of the interesting opportunities that comes out of this is the opportunity for Indiana educational organizations to be leaders on innovative ways to start creating more of this talent," said Nick Birch, CEO of tech mentoring firm PropelUp. "If we can do that, these deals will continue."
A TechPoint study found there were just over 78,000 computer and IT jobs in the state in 2015, the last year for which numbers are available. That included workers at tech companies, non-tech companies like hospitals, and freelancers.
This January through March, job-survey firm Burning Glass said, employers posted nearly 6,000 tech-related job openings in the state. The median salary for similar postings over the past year has been about $80,000. And the hungriest employers aren't tech companies, but rather operations like Indiana University, Anthem Inc. and General Dynamics.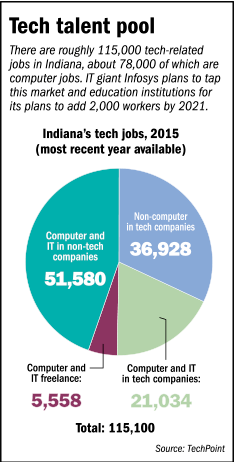 Infosys executives aren't concerned about the competition. They're confident they can meet their ambitious hiring plans and said they have a tried-and-true training mechanism for doing so.
But officials at workforce development agencies, higher-education institutions and even coding boot camps are gearing up and refining ways to help Infosys and other firms fill their seats.
"We do not have the talent here locally to take advantage of these opportunities," said Angela Carr Klitzsch, president and CEO of EmployIndy.
"Of course, I'm an optimist. I think it's a great opportunity for us to look at all the component pieces of our workforce ecosystem. We're all trying to attack the talent gap from different angles. We are creating those pipelines as we speak," Klitzsch said.
But Mike Langellier, CEO at TechPoint, which runs programs aimed at channeling recent college grads and others to tech companies in Indianapolis, said the challenge of trying to fill jobs is much better than the challenge of finding jobs for able candidates.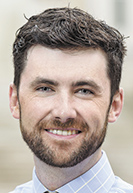 Langellier
"This kind of talent is not sitting on the sidelines anywhere," he said. "So we have to match supply and demand in real time."
Training centers key
Based in India, Infosys is a publicly traded consulting company that employs 200,000 people worldwide. It chose central Indiana as the first of four U.S. hubs as part of its 10,000-person U.S. expansion. Its goal is to have "local" workers serving its American clients.
The company, which already has 140 employees across the state, said it will hire developers, analysts, architects, domain consultants and other tech workers. It plans to add 100 jobs by the end of this year and 400 by the end of 2018 en route to 2,000.
The company said it plans to meet its goals by tapping two main sources—experienced talent already in the market, and two- and four-year graduates fresh from post-secondary institutions.
The company's hub, which it plans to open in August, will have a state-of-the-art learning facility with dedicated trainers and professors. For new graduates, the path includes six weeks of hands-on training and projects using real-life case materials. All employees will have access to its online learning platform, with more than 130 courses in machine learning, data science, digital commerce and more.
"We have world-class training infrastructure, world-class training curriculum," Infosys President Sandeep Dadlani said in a phone interview.
"We know how to take a four-year graduate, for example, and then convert that person into a big data specialist or a machine learning specialist or an [artificial intelligence] specialist."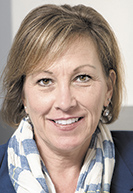 Ray
MT Ray—a former ExactTarget director of global recruiting who is now vice president of talent at High Alpha—said 2,000 jobs is a big target, but not an impossible one.
"I think it's doable," she said. "It's a lot of positions, yes, but it's over a length of time."
One challenge will be retaining that "homegrown talent," the students who are graduating from Indiana's universities and might otherwise head to Silicon Valley or other tech hubs, said Ian Nicolini, vice president of Develop Indy.
Focusing on improving quality of life and showcasing the "diverse, inclusive and welcoming population that's here's in the region" should be a focus for city officials, he said.
"It gets down to nightlife and experiences and being able to provide the kind of experiential place that people with talent want to live," Nicolini said.
Rallying around the cause
Infosys officials said the state's universities, including Purdue University, Indiana University and Rose-Hulman Institute of Technology, played a key role in its decision to plant a flag here. The company also signaled its intent to work with other education partners and organizations already keen on addressing the tech labor supply shortage.
Officials from some of those schools came to the Infosys announcement. So did Indiana Higher Education Commissioner Teresa Lubbers. Afterward, tech leaders and education officials met to strategize the industry's needs.
"I think we will be able to meet the workforce needs for them and it will enable us to keep more talent in Indiana," Lubbers said later. "It was clear to me, based on the people in the room at the announcement, that this is very much a partnership with the colleges and universities in Indiana. Part of their decision to come here is that they believe that Indiana has a strong number of high-quality colleges and universities."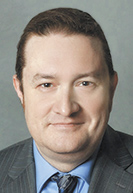 Etchison
Matt Etchison, vice president for information technology at Ivy Tech Community College, said demand for Ivy Tech students trained in information technology is already at an all-time high. Enrollment is up, too.
A recent Ivy Tech IT career fair attracted 25 employers; others had to be turned away because the college ran out of space.
"It's a great problem to have, because the demand is so high," he said.
Etchison, a former senior manager at Interactive Intelligence, said the college will continue aggressively marketing its IT program to young people and career-switchers, and work with Infosys to help provide a pipeline of potential recruits.
"We want to make sure that the skills that they need for their business are what we're teaching and giving to help Hoosiers learn," Etchison said.
Fishers-based Eleven Fifty Academy, a not-for-profit coding school, was established in 2014 primarily as a way to help grow the tech talent pool at a faster rate than four-year colleges and universities could. Its flagship offering is a 12-week course that's designed to lead right into an internship, transforming local people with little or no experience into junior-level developers.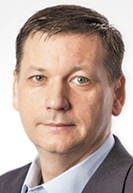 Qualls
President John Qualls said he's enthused about Infosys' investment here and believes the increased demand for tech jobs could benefit non-traditional education operations like Eleven Fifty.
"What we're seeing is, companies are more apt to give our students a chance," Qualls said. "Because there's so much pressure, what's the alternative? And we're really happy that our students are doing such a great job and that's breaking down some of the biases."
How startups feel
Many of the tech firms that have announced job-expansion plans in recent years are firms with 10 to 70 employees. There's some unease among them that the larger companies might suck up the best talent, but many said they expect the net effect to be positive.
One cause for concern relates to compensation. Firms like Salesforce and Infosys have the resources to offer salary and benefits packages far above what the larger tech employers in town have been able to offer historically.
The bigger that gap, the harder it becomes to recruit candidates to smaller operations or to have experienced workers jump to them.
"People can grow accustomed to salary ranges," Lessonly CEO Max Yoder said, "and then making the switch becomes harder when those salary ranges are impossible for scale-ups and startups."
But Yoder and other leaders said they aren't too worried about labor-market competition because the kinds of people who desire to work for startups are different from those aiming for a big company.
And the benefits of large tech companies' investing here are plentiful. They have the means to attract out-of-market talent and train large pools of inexperienced talent, both of which emerging companies can later benefit from, leaders said. And big firms might be apt to partner with local startups or use them as vendors.
"Overall, it's an exciting validation of the tech ecosystem in central Indiana as I truly see this as 'a rising tide lifts all boats' outcome," Emplify CEO Santiago Jaramillo said in an email. "With demand for skilled, tech talent at an all-time high, it'll be interesting to see how it affects recruiting; however, as a high-growth software company with 55-plus team members, our work environment and culture is quite different than that of a much larger and established organization."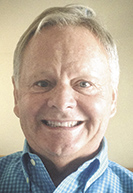 Bates
Howard Bates, CEO of location-based-employment startup WorkHere, said international companies seem increasingly interested in Indianapolis. He mentioned Austria-based Emarsys' establishing its U.S. headquarters here and India-based Wipro's acquiring locally based Appirio and boosting investment here.
"These companies are the leading indicators. They're not going to put capital here and say, 'That was a dumb move.'" Bates said. "And relating that to the venture capital community—we were viable, a little while ago. Now we're becoming attractive."•
__________
IBJ's Hayleigh Colombo contributed to this story.
Please enable JavaScript to view this content.