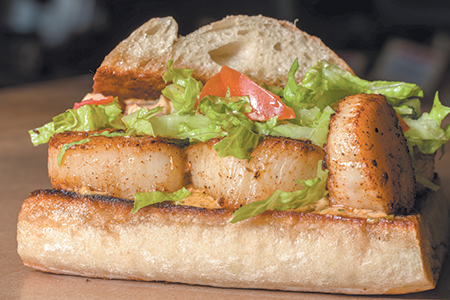 It's perfectly understandable if you have traversed Carmel's Main Street, with its myriad dining options both chain and local, without realizing that one of the strip's best eateries is hidden inside a butcher shop.
Once you know that, though, you might find yourself angling for a prime seat at one of the four small tables positioned outside Joe's Next Door (111 W. Main St., Carmel, 317-846-8877).
Those few seats are the only place to park yourself if your plan is to dine on premises. Without inside tables, a wait staff, or even plates, Joe's isn't a place for a group lunch, a romantic outing, or even a good backup spot when the best restaurants are full.
But, trust me, it's still worth visiting.
Joe's Next Door (technically, it's not even next door—just across a couple of grocery aisles from the meat counter) is an extension of Joe's Butcher Shop and Fish Market, which opened in 2006 long before the transformation of Carmel and the invasion of the awful Seward Johnson sculptures.
Since then, the butcher shop and small grocery store has become a beloved anchor for local residents. The add-on, offering an additional counter where sandwiches are prepared primarily for takeout, should earn it a spot on the radar of visitors as well.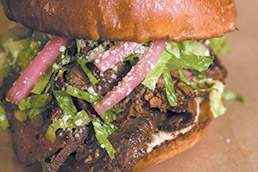 Pickled red onion adds to the flavor of The Aji Amarillo Flank Steak sandwich. Warning: Limited seating means you may have to take it home. (IBJ photo/Eric Learned)
The menu consists primarily of sandwiches, but that's a bit deceiving, since the ones we sampled were meals in and of themselves. From the hot side, the Aji Amarillo Flank Steak sandwich ($10.99) featured tender, juicy steak on a Challah bun with crispy shredded Romaine, pickled red onion that gave a mild warmth to each bite, and a creamy Oaxacan cheese. Outstanding.
While Joe's Chicken Salad ($8.49) was a bit heavy on the mayo, the avocado slices and cucumber picked up the slack.
Better—and more unusual—was The Rich Boy ($11.99). Here, a sextet of seared blackened scallops pleased the chef so much that he showed them off to me before parking them onto the toasted French Batard. Remoulade, heirloom tomato and shredded romaine rounded out the dish, which failed as a sandwich but succeeded deliciously as a lunch. By that I mean the mollusks resisted efforts to keep them within the confines of the bread, so they had to be eaten with a fork.
Sides are available by the pound and scooped into plastic containers, which makes it convenient to share and/or take home the leftovers. While you might be tempted by the familiar—Lemon Pepper Cole Slaw ($3.99 a pound) is what you would expect, with only a mild citrus kick—I suggest taking a tastebud chance with the Roasted Cauliflower Salad ($6.99 a pound).
My only wish was that some of the to-go containers of housemade soups were available hot from the counter rather than sequestered in the refrigerator case.•
—Lou Harry
 
Please enable JavaScript to view this content.