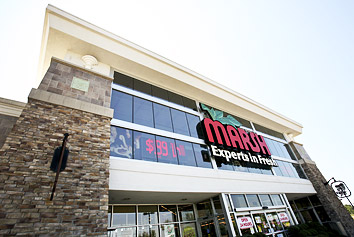 Marsh Supermarket's future as a grocery chain is in jeopardy, as the company is prepared to close all of its stores within two months unless it can find buyers or business partners, a spokesman for the company confirmed Tuesday afternoon.
After a steady stream of announced closing in recent weeks, the locally based supermarket chain warned in a notice to state officials on Monday that 16 more stores were slated for closure within 60 days—including 11 in the Indianapolis area. The loss of the 16 stores would eliminate 1,454 full- and part-time jobs.
But in fact all of Marsh's remaining stores will close in 60 days if a buyer or investor cannot be found, spokesman Tom Mulligan told IBJ on Tuesday afternoon.
The chain currently operates 60 stores—54 in Indiana and six in Ohio. Sixteen of those already are set to close by the end of May. That would leave 44 remaining stores that now are in danger of closing within two months, including the 16 in Monday's letter to state officials.
The language in the letter applies to all Marsh stores, Mulligan confirmed. They are "subject to the same conditions of the [state] notice," he said.
It was not immediately clear why Marsh only noted 16 closures in its notice to the state, filed in accordance with the Federal Worker Adjustment Retraining and Notification Act (WARN). Such notices are triggered by employment levels that might not apply to all of the Marsh stores.
Marsh owner Sun Capital Partners has hired Peter J. Solomon Co., a New York City-based investment banking firm, to help the company in its quest to unload the stores.
Six of the stores in Monday's disclosure are located in Indianapolis, which caught the attention of Mayor Joe Hogsett. He issued a written statement to IBJ saying that the city will do everything it can "to prevent and mitigate the effects" of Marsh's decision.
"This afternoon, I reached out to corporate leadership to express my concern with the announcement that they may close a number of store locations in the area," Hogsett said.
"Closing all of these stores at once would leave swaths of our city without a dependable source for high-quality food, and could affect hundreds of hardworking residents. Effective immediately, I have directed city leaders to aggressively engage with the company and use all tools at our disposal to prevent and mitigate the effects of these potential decisions."
Marsh operated 120 stores in 2006, when Florida-based Sun Capital Partners acquired the company.
Please enable JavaScript to view this content.