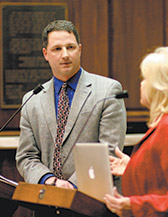 To make significant improvement in Indiana's clunky workforce-development system, Rep. Todd Huston says, "we have to make people uncomfortable." (Photo courtesy of TheStatehouseFile.com)
Lawmakers entered their 2017 legislative session in January with big plans to overhaul a workforce-development system they say is plagued by silos and disorganization.
But after nibbling around the edges for a few months, they have tossed the hardest work to Gov. Eric Holcomb.
The Legislature voted to have the governor and his staff spend the next six months developing a comprehensive restructuring plan for the dozens of programs scattered throughout nine state agencies that spend some $1 billion in state and federal money each year. The goal is to expand programs that work while scaling back outdated ones, all to meet future workforce needs.
State officials say it will take a multi-year effort.
"I think we made some real significant accomplishments" during the 2017 session, said Rep. Todd Huston, R-Fishers. But, "this only comes together if the Governor's Office pulls all these entities together … and really makes it one cohesive system.
"The problem didn't get created in a year," he said. "And it's not going to get fixed in a year."
Holcomb's team has already met with leaders from four state agencies to start work on the plan, said spokeswoman Stephanie Wilson.
"This is difficult work, but we have to get it right," she said. "With 1 million job vacancies expected over the next decade, we need a system that gives Hoosiers the technical and soft skills needed to be successful."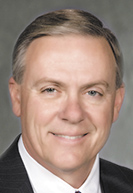 Eckerty
One of the main challenges with Indiana's disjointed system, said Sen. Doug Eckerty, R-Muncie, is that there are "way too many kingdoms." He said the K-12 education system, the business community and traditional unemployment agencies "need to be joined at the hip."
"Nobody hiccups without anybody else knowing about it," Eckerty said about a well-designed system.
And Huston said the state will know it has succeeded if "a person who wants to improve themselves is part of a system in which they're treated with consistency and that we can get people where they need to go, not just where they ended up starting."
That's not the case now.
Currently, the job of boosting the skills and readiness of Indiana's workforce falls to a web of state agencies and boards, including the Indiana Career Council, 11 regional Indiana Workforce Councils, the Indiana Commission for Higher Education, the Department of Education and the Department of Workforce Development and its WorkOne job centers.
House Speaker Brian Bosma said in December that streamlining the system would be one of his top legislative goals for 2017. Instead, lawmakers only made a start.
Senate Bill 198, which Holcomb has signed into law, made changes to the career and technical education program housed in the state's high schools and created a pilot "career explorer" program for younger students. It also directed the governor's team to develop the comprehensive workforce plan by Nov. 1.
In addition, the two-year budget lawmakers sent Holcomb includes some goodies for workforce development, including the creation of the governor's proposed "workforce ready" grant program, meant to train adults in the workforce to fill jobs available now. Lawmakers funded the program at $2 million per year.
Lawmakers also increased funding for two existing programs: Work Indiana and Jobs for America's Graduates. Spending on the Work Indiana program increased from $4.9 million over the past two years to $5 million each of the next two years. JAG spending was increased from $5.8 million to $8 million per year.
No tax credit
But there's tougher work ahead, Huston acknowledged, decisions that will be based on proposals that come from the governor's comprehensive review.
"The next two votes, we'll start moving people's cheese," Huston said. "We have to make people uncomfortable. I don't think we can sit in a vacuum and say, 'We've always done it this way.'"
Lawmakers weren't ready to make anyone uncomfortable this year. One effort that didn't move forward: employer-directed training tax credits proposed by Huston and championed by the Indiana Manufacturing Association. Huston said the effort met resistance from some lawmakers but that he plans to push again.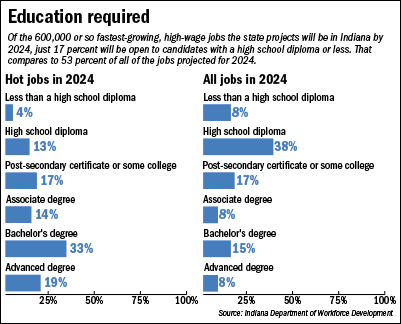 The original proposal would have made a tax credit—the lesser of $25,000 or 50 percent of a training program's expenses—available to companies with up to 250 employees as long as the training led to full-time employment for the trainees or a raise of at least 5 percent.
Eckerty said he was not a fan of the employer tax credit idea because he doesn't believe it's what employers actually need. More important, he said, is increasing the pipeline of young people trained for careers in manufacturing, technology and other high-growth sectors.
Eckerty based his opinion on comments he heard during focus group meetings with employers in his district.
"They all said, 'We don't need a tax credit,'" he said. "'That's not our problem. Our problem is, we don't have a large enough pool of people to draw from.' Employers are just begging us to please go down to the high school level and help [schools] begin to develop a pool of people who are ready."
That's why lawmakers made changes to career and technical education curriculum. Going forward, courses that are associated with high-wage, high-demand jobs will be funded at higher levels, while others will receive less money. DWD officials hope that provides schools with a "larger incentive to teach courses we've recognized as high-wage," said the agency's chief strategy officer, Nick Goodwin.
For instance, courses that might lead to advanced manufacturing certificates or a similar field will now be funded at $680 per credit hour instead of $500. Courses that prepare students for less-in-demand jobs could be funded at $400 or $200 per credit hour, according to Goodwin.
That has led to some pushback because some programs, such as cosmetology, are popular with students but aren't in high-wage or high-growth industries.
"Is that job critical to Indiana's economic future? That's going to be the conversation we need to have," Huston said. "There should be a healthy and rigorous debate. Hopefully, we have some data that sends us in the right direction."
The changes are expected to increase state funding for career and technical education courses from $115 million under current law to nearly $120 million next year, according to the nonpartisan Legislative Services Agency.
'Ineffective and costly'
Overall, experts say Indiana's workforce development system—and overall economy—has many structural challenges—and others on the horizon.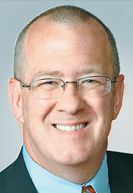 Hicks
Some are not unique to Indiana. Ball State University economist Michael Hicks, director of the Center for Business and Economic Research, said the "workforce development system nationwide is largely ineffective and costly" and that most of what state agencies attempt are "poor replications of the private sector."
"Even benign and highly interested government efforts to match workers with employers will trail the highly efficient private sector by decades," he said.
And he said the worker-shortage complaint is "more complex than just a workforce-training issue." Because the state's unemployment rate is hovering at just under 4 percent, finding qualified workers could have more to do with wages.
"I'd expect it is difficult to hire anyone in a career-oriented job for $15 an hour, and yet many employers offer less and complain about the shortage of skilled workers," Hicks said. "That is really not a problem with the workforce system."
Huston also said there is a temptation sometimes when discussing workforce-development efforts to focus on a worker's short-term future. But, he said, it's critical that efforts build so-called "soft skills" that will be transferrable if a worker changes careers.
"Every employer I talk to says, 'Give us a really quality kid or adult who shows up on time, works hard and communicates,'" Huston said. "I trust smart, talented people are going to be able to learn most of these jobs."
Indiana officials are pushing ahead despite the uncertainties. Eckerty said he wants to cut down on the "sad stats" about people who started trainin but quit. The higher ed commission estimates that more than 750,000 Indiana residents—or about 22 percent of the state's working-age adults—have attended some college but left before completing their degrees.
"You get into these situations where people—displaced workers—wind up at McDonald's and they need and want to do something better and they need some training," Eckerty said. "Well, we have to be more flexible and more nimble when we offer training for these folks. Let's get them what they need now and get them on the right path."•
Please enable JavaScript to view this content.