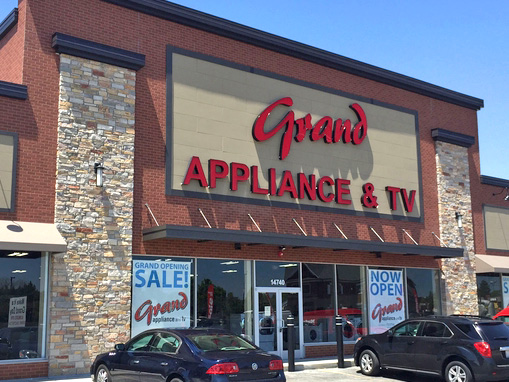 A regional appliance and electronics retailer is coming to Indianapolis, with plans to open two stores in the area this year and a third in 2018.
Grand Appliance and TV, a family-owned chain with 20 stores in Illinois, Wisconsin and Iowa, is set to open its first Indiana store in July on East 82nd Street across from the Fashion Mall at Keystone. The retailer hopes to fill part of the void left by the closure of Indianapolis-based HHGregg.
Rich Whybark, vice president of sales for Grand Appliance, said a second Indianapolis-area store is expected to open by the end of the year, most likely in Greenwood. Another location is pegged for Avon next year.
The retailer has leased about 7,000 square feet in a retail center at 4025 E. 82nd St., next to an Ethan Allen furniture store, but it is still shopping for the other store locations, Whybark said.
Grand Appliance and TV was founded in 1930 in Waukegan, Illinois, under the name Service Electric. Its main business was electrical and lighting supplies, but it sold some appliances. It changed its name to Grand Appliance in 1966 after its changed its focus and moved to a bigger store in Waukegan. It began adding more stores in 1992.
The company, which is in its fourth generation of family ownership, announced plans in March to move its headquarters from Zion, Illinois, to Sturtevant, Wisconsin. The company  will consolidate two warehouses into one as part of the deal and relocate 120 jobs to a new $8 million facility.
Whybrook said the closure of HHGregg as well as the declining popularity of Sears "certainly helped with our decision" to target Indianapolis for expansion.
"It just made us want to come there sooner," he said of HHGregg's demise.
Grand Appliance will carry a similar product mix as HHGregg, with appliances, televisions and mattresses, but its showrooms are smaller. Grand stores typically range from 5,000 square feet to 11,000 square feet, while HHGregg's stores averaged 31,000 square feet.
Each Grand Store employs about 12 to 20 people.
Please enable JavaScript to view this content.