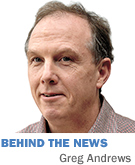 HHGregg Inc. will be history once the Indianapolis-based appliance and electronics chain wraps up store-closing sales at the last of its 220 locations this spring. Or will it?

The company filed a bankruptcy court motion this month to hire Boston-based Hilco Streambank to market its name and other intellectual property—a move that could pave the way for a buyer, perhaps even the company's founding family, to open new stores under the HHGregg name.

It's far from unheard of for companies headed for the trash heap to get a second life through the sale of their intellectual property in bankruptcy court. In fact, it happened more than a decade ago when the Indianapolis-based women's apparel retailer Paul Harris Stores Inc. folded.

Former CEO Charlotte Fischer swooped in to buy the name. She swiftly opened six stores and laid out plans to reach 250 locations. The expansion sputtered, however, and the chain soon closed for good.

The intellectual-property sale process for HHGregg has extra intrigue because of the potential that the founding family will step up as a bidder. The company, launched by H.H. and Fansy Gregg in 1955, later was run by Fansy's son Gerald Throgmartin and by Gerald's son Jerry Throgmartin.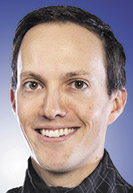 Will ex-company executive
Gregg Throgmartin bid?
He isn't saying.
The company hasn't had a Throgmartin at the helm since 2012 when Jerry, then executive chairman, died unexpectedly from complications of meningitis at age 57. His son Gregg Throgmartin stepped down as executive vice president and chief operating officer two years later.

HHGregg announced on April 7 that it was liquidating—a move that followed a flurry of negotiations with prospective buyers aimed at keeping a slimmed-down version of the chain afloat. One of the parties in those talks was Gregg Throgmartin, who was interested in a swath of stores in the company's strongest markets, sources told IBJ last month.

Throgmartin, 39, now an executive with TechStyle Fashion Group in Los Angeles, did not return calls from IBJ.

Adding fuel to speculation that the Throgmartin family will bid is that Hilco Streambank specifically mentions the possibility in its proposed engagement agreement filed in bankruptcy court.

The agreement says Hilco Streambank's fee would be 5 percent if the purchase price is under $5 million, 7.5 percent if it is $5 million to $10 million, and 10 percent if it is over $10 million—unless the bid is from a Throgmartin affiliate, in which case the fee would be cut in half. The lower fee perhaps stems from the fact the family is in the loop without the benefit of Hilco Streambank's marketing efforts.

David Peress, a Hilco Streambank executive vice president, wouldn't comment on specific potential buyers but said he expects strong interest.

"There is definitely a community of interested parties that have been circling these assets, some for longer than others," he said.

Despite the company's problems, Peress said, it had strong customer loyalty and racked up $2 billion in annual sales. "The brand itself still has tremendous value and tremendous resonance with a lot of consumers," he said.

He said a prospective buyer could capitalize in a range of ways, from opening stores or operating kiosks to selling online, either through its own website or as part of a larger e-commerce site.

Gregg Throgmartin has never publicly explained his departure from HHGregg, though sources familiar with his earlier acquisition efforts say he clearly has not lost interest in the business.

He'd joined the company in 2001, starting at the bottom, as a salesman at an HHGregg in Nashville, Tennessee. He proved to be a quick study, becoming HHGregg's first salesperson to crack $1 million in sales as a rookie.

HHGregg enjoyed its golden age when it had Throgmartins in the executive suite, and its performance took a precipitous turn for the worse after Jerry Throgmartin's death.

Throgmartin had scaled back his involvement in the business three years earlier, passing the CEO's job to longtime colleague Dennis May. But company observers said May—who resigned in February 2016 after a horrendous Christmas shopping season—was no Throgmartin.

Succeeding May as CEO was Bob Riesbeck, a turnaround specialist who'd been brought in as chief financial officer in September 2014. Asked in an April interview whether the company lost something without Throgmartin running the ship, Riesbeck said: "I mean, he was clearly the driver of the business. And I think some of the growth after Jerry was misguided. I think us going into the Mid-Atlantic market—we shouldn't have done that."

The problem with the East Coast, Riesbeck said, was that marketing, labor and real estate costs all were higher.•