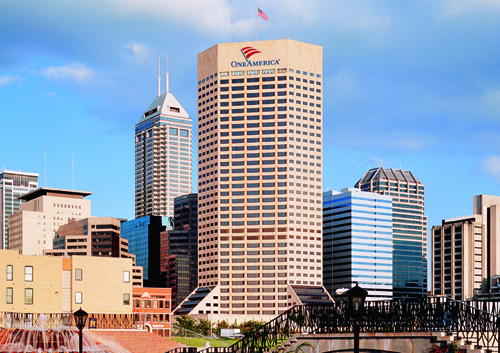 Global technology firm Infosys Ltd. is set to lease 35,000 square feet in OneAmerica Tower in downtown Indianapolis as part of its plan to establish the company's first Technology and Innovation Hub in the United States.
The India-based company announced Tuesday that it would spend $8.7 million to establish operations in Indianapolis as part of its plan to employ 2,000 workers in central Indiana by the end of 2021.
Infosys, which already has more than 140 employees in Indiana, said it expects to add 100 jobs in the new office by the end of this year and another 400 jobs by the end of 2018. Positions will include developers, analysts, architects, domain consultants and other technology professionals.
The city of Indianapolis said it is offering Infosys a 10-year personal property-tax abatement as well as a $2.5 million training grant, pending approval by the Marion County Metropolitan Development Commission and the City-County Council.
The conditional incentives will hinge on the company's ability to retain 37 full-time jobs paying an average wage of $45 per hour, and the creation of at least 300 full-time jobs paying an average wage of $36 per hour by the end of 2019.
The Indiana Economic Development Corp. has already offered Infosys up to $15,250 in conditional tax credits for each job the company creates and up to $500,000 in training grants. If the company hires and trains all 2,000 workers as planned, the maximum total incentives from the state would be $31 million.
The economic development deal marks the second-largest jobs commitment the IEDC has received since the agency was established in 2005.
The Indiana hub will be the first of four that Infosys plans to open in the United States that will employ a total of 10,000 workers, the company previously announced.
"We're excited to establish our first Technology & Innovation Hub in Indianapolis, at OneAmerica Tower," Infosys President and Deputy Chief Operating Officer Ravi Kumar said Tuesday in written remarks. "Innovation and education are at the heart of Infosys, and Indianapolis is renowned for its rich academic network and skilled talent. The 2,000 Hoosiers we will hire and train will help drive U.S. economic growth and innovation in cloud, big data, artificial intelligence and machine learning throughout various industries."
Infosys announced on May 2 that it was planning to open the hub in the Indianapolis area, but did not specifically say where it would be located. Indiana Commerce Secretary Jim Schellinger said the company was looking at four locations in Indianapolis and one in Carmel.
Infosys could still seek a larger corporate campus in the area as it builds local employment.
"We have aggressively pursued them because we knew how important locating in Indianapolis is," Indianapolis Mayor Joe Hogsett said of landing Infosys. "We've got wonderful competitors throughout the metro area, and we compete with them fairly and vigorously, and we're glad that Infosys has decided to call Indianapolis its home."
Marc Benioff, CEO of tech giant Salesforce.com Inc., had said Saturday that he expected Infosys to eventually take office space in the 48-story Salesforce Tower Indianapolis, which until recently was known as Chase Tower. He didn't provide further details.
The 36-story, 692,000-square-foot OneAmerica Tower was 87.9 percent occupied at the end of the first quarter, according to data from the real estate firm Cushman & Wakefield. That would mean only about 84,000 square feet was available for lease.
When asked about Infosys' long-term prospects in Salesforce Tower, Hogsett said it's his understanding that OneAmerica Tower will be the firm's only home for now.
"I can't speak fluently about what's available in OneAmerica Tower as they grow," he said. "So [Infosys] may look elsewhere, and obviously Salesforce Tower would be a logical place to expand."
Raju Chinthala, president of the Indiana India Business Council, said Infosys is still looking for a location for a corporate campus that would host its training facilities. He said the company is more inclined to build an office than to lease space for a campus.
"It will be their only campus in the United States," Chinthala said, noting that the other three unannounced U.S. tech hubs will have training centers, but not a full-fledged campus.
"It's huge for us to have them here," he said.
Tuesday's news from Infosys comes the same day that Indiana Gov. Eric Holcomb is leading a trade delegation to San Francisco to attend a summit hosted by the company.
Holcomb and Indiana University President Michael McRobbie will be part of a Wednesday panel discussion called "Preparing America for Tomorrow."
The delegation will also meet with tech executives and venture capital firms promote Indiana's low-tax, limited-regulation business climate.
The trip is being paid for with private donations.
Associated Press contributed to this report.
Please enable JavaScript to view this content.