Within weeks of its opening last fall, the Indiana University Mark Cuban Center for Sports Media and Technology began flexing its considerable technological muscle.

Students and faculty running the center rolled out eye-popping virtual reality technology at the basketball teams' opening practice Oct. 22—an event known as Midnight Madness. It gave fans the feeling they were on the court.

IU also became the first school in the nation to use the freeD technology—or Free Dimensional Video technology—a kind of 3-D system that uses camera angles from 360 degrees to produce 3-D replays on the video scoreboard inside Assembly Hall.

The replays—which are produced by students—were so good the Big Ten Network began using them in broadcasts.

"What [IU] is doing is really, really impressive … and appealing to broadcasters," said Alex Bertsche, senior coordinating producer for the Big Ten Network. "If they hadn't told me it was students producing this content, I would have never known. It looks very professional and is aesthetically just unbelievable."

This spring, one of the center's student employees, 22-year-old Carmel native Catherine Onofrey, created a virtual reality video game that combines a shooting contest on the Assembly Hall floor with player statistics and information from IU's storied basketball past.

The technology—and the opportunities for students—was made possible in large part by $5 million donated by Dallas Mavericks owner and IU alum Mark Cuban and the vision of IU Athletic Director Fred Glass.

That money, IU officials said, helped buy both software and hardware—including 28 freeD cameras permanently installed in Assembly Hall, plus Oculus headsets and other virtual reality technology.

The school plans to have Memorial Stadium outfitted with freeD technology for the coming season, making IU the first U.S. college to have the technology at its basketball and football venues.

"It's a serious commitment Indiana is making," Bertsche said. "I think [freeD] could be more useful in football. It's a big enhancement for the fans."

Two plays from the men's basketball season showcased the freeD technology particularly well: a last-second shot by Josh Newkirk that sent the Feb. 1 game against Penn State into a second overtime and a half-court shot by Devonte Green in the closing seconds of the first half against Northwestern Feb. 25.

The replays don't just show the shots again. They stop the action at critical moments and rotate around the scene, showing what the shots—as well as the defense, the game clock, the fans—looked like from different angles.

"Those are big-time [video] looks," Bertsche said. "Those two replays definitely showed the shots beat the buzzer. It really showcased what the technology can do."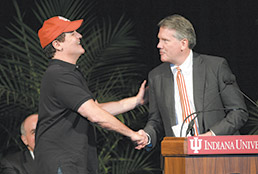 IU alum Mark Cuban (shaking hands with Athletic Director Fred Glass) donated $5 million to provide dozens of cameras that together create 360-degree video replays. (IBJ photo/Eric Learned)
Way ahead

Anton Mikhel, image processing engineer for Intel's Replay Technologies—which created the freeD technology—said the IU students are working on video technology that goes far beyond the ordinary.

"We have almost three gigabytes of data for each frame that we capture," Mikhel said. The video at IU is "building a 3-D scene of every pixel that each camera sees, and [operators] can move within that scene like never before."

Glass envisions the Cuban Center, on the west side of Assembly Hall in an area previously occupied by a lounge and office space, becoming a showcase, "with a glass wall where people can come and watch the students doing fast-paced, cutting-edge work before, during and after games. It will be like CNN's studio" in Atlanta, he said.

Early Cuban Center alumni have gone to work for broadcasters and technology companies like Intel. One has started work at General Motors Corp. helping to develop software technology for a driverless car.

"I see this technology and the Cuban Center being about a lot more than just sports and entertainment," said Onofrey, the new GM employee who graduated from IU this month. "This technology has broad applications in engineering, planning and development, informatics and many other fields."

The center might never have come to fruition without Glass' persistence and Cuban's desire to push his alma mater forward technologically.

Glass, who became IU's athletic director in early 2009, has long attempted to marry the school's athletic department with various academic arms.

"Fred Glass has not only made this university a leader in several emerging technologies, he's also brought together athletics and academics in a way few other schools have," said Jeremy Gray, IU senior associate athletic director and director of the Cuban Center.

Those efforts led Glass to approach Cuban—for the second time in two years.

Partnering with the media school shortly after Glass took his job at Indiana, IU became the first Big Ten school to use all-student crews to produce live programs for the Big Ten Network.

Seeing an opportunity for further advancement, Glass in 2014 began planning a media and technology center within IU's athletic department.

He immediately thought of Cuban—even though, in 2013, the entrepreneur had turned him down for a contribution to the athletic department's capital campaign.

Cuban had made it clear he wasn't interested in donating to a construction project.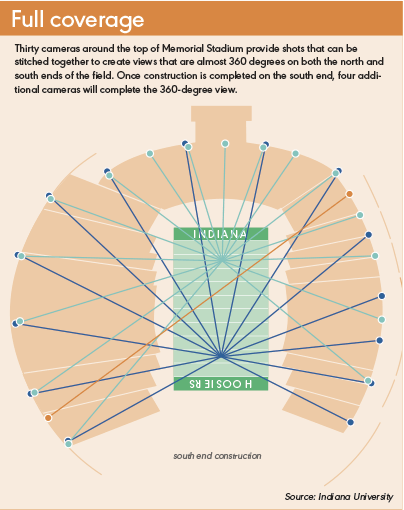 Unique pitch

This pitch would be different. For one, it wouldn't require a new building and it focused on new technology and training to position students for cutting-edge jobs.

In January 2015, Cuban agreed to meet Glass in Dallas; Glass said the meeting lasted less than five minutes.

"I knew he liked to cut to the chase," Glass told IBJ. "I was giving a short presentation on our plans which I had written down on 3-by-5 cards. I was three minutes in, and he held up his hand as if to tell me to stop, put three fingers on his chin, looked up at the ceiling for a moment, and said, 'That sounds like something I can get behind. I'll give you $5 million.'

"That's exactly what I was going to ask for," Glass added. "I told him 'thanks' and got out of there as quick as I could."

And so the Indiana University Mark Cuban Center for Sports Media and Technology was born—well, sort of. First, Glass had to convince Cuban to let IU put his name on the facility.

Cuban resisted the notion, Glass recalled of the March 2015 meeting at The Conrad Indianapolis. Cuban, in town for the Mavericks' game against the Indiana Pacers, told Glass he didn't want to draw attention to his contributions to the school.

Eventually, Glass sold him on the idea.

"I told him I thought having his name on it would add some real credibility to the project," Glass said. "And that turned out to be the case."

Cuban told IBJ his motivation for getting involved in the center was simple.

"I wanted IU students to be on the cutting edge of media-creation tools and to allow the athletic department to benefit from them as well," he said.

Open doors

In addition to money and his name, the billionaire founder of Broadcast.com—which he and his partner sold to Yahoo for $5.7 billion in 1999—offered lots of ideas for the center.

"Mark Cuban is unique in that he is the expert in the area he is donating in," said Gray, the Cuban Center director.

Cuban strongly suggested the center get involved in virtual reality and the emerging freeD technology. Glass said he had never heard of some of Cuban's recommendations.

Few networks have such technology and even fewer schools are training students in it. But broadcast experts said it's coming to the market quickly, and sports is the sector where it's starting to emerge.

"That's what's so great about this new center," Glass said. "It prepares our students for a whole host of emerging jobs."

About a year before the Cuban Center opened, IU sent 10 faculty members to California and, with the help of Cuban, were invited on a week of tours—and to be tutored—at the headquarters of Facebook, Google and even the highly secretive Disney Imaginarium, among other tech and broadcast hotbeds. IU officials talked to leaders of more than 10 companies that specialize in technology and sports media.

"The only reason people in California saw us was because of Mark," Glass said. "The doors he's opened for us have just been unbelievable."

Galen Clavio, a professor of sports media and director of the National Sports Journalism Center at Indiana University, said the California trip made him realize "this is technology we need to be moving a lot more quickly toward on the academic side."

"With the Cuban Center, we've gotten the school ahead of a sector that is very fast-moving, and that's not easy to do," said Clavio, academic liaison between IU's Media School and the Cuban Center. "This program has put some of our students in positions to get jobs and internships they never would have been in before."•
Read more Innovation Issue stories.