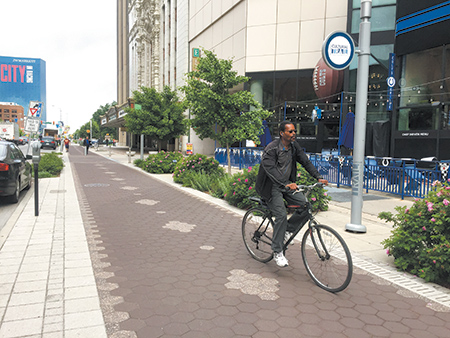 It's tough to look at your own community and figure out what it's doing that no one else is. But IBJ gave it a shot. Here are four things other cities could copy from us.
Indianapolis Cultural Trail
The eight-mile urban bike and pedestrian path winds through downtown, connecting the Mass Ave, Fletcher Place and Fountain Square neighborhoods to the city's mile square and White River State Park. Along the way, the trail—managed by a not-for-profit and funded by a public-private partnership—incorporates public art, the Pacers Bike Share program and green space.
The $63 million trail conceived by the Central Indiana Community Foundation was years in the making, breaking ground in the spring of 2007 at the corner of Alabama and North streets and officially opening in May 2013. Since then, development and demand for housing along the trail have increased. The project's $63 million cost was paid with $27.5 million from private contributions and $35.5 million from public sources, including federal transportation funding. No local tax revenue was used.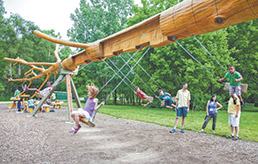 (Photo courtesy of Indianapolis Museum of Art)
The Virginia B. FairbanksArt & Nature Park: 100 Acres 
Indianapolis Museum of Art
Opened in 2010, the IMA's outdoor park—which sits in a flood plain along the White River—is truly about both nature and art. It boasts woods, meadows, more than 100 species of birds and a 35-acre lake in addition to contemporary art projects that are largely intended to be hands-on. Some exhibits—including the concrete, steel and plastic "Free basket," a three-dimensional take on a basketball court—have been in place since the park opened. Others—such as Chop Stick, which offers a place to sit and swing in a pavilion made almost completely out of a single tulip tree—were added later. And still others are commissioned by the IMA as temporary, site-specific works. Picnics, bike riding and bird watching are welcome at what is described as one of the largest art parks in the country. And although the IMA has started charging for admission to the museum itself, 100 Acres remains free.
 (Photo courtesy of Eskenazi Health)
Medical-Legal Partnership 
Eskenazi Health
The Medical-Legal Partnership at Eskenazi Health provides legal services dealing with immigration, housing, gender changes, health coverage and other issues to 300 to 400 patients and residents each year. The theory is that patients can't focus on their personal health, drug regimens and nutrition if they're worried about things like being evicted or deported. Attorneys from Indiana Legal Services, Neighborhood Christian Legal Clinic, Eli Lilly and Co., Faegre Baker Daniels and Ice Miller volunteer their services or work under contract to help patients—partnerships that hospitals in other communities are now trying to emulate.
"What started as a small pilot program has grown across the Eskenazi Health system," said Anna Kirkman, Eskenazi's associate counsel and director of the Medical-Legal Program. "We really see this model as an opportunity to address social determinants of health in an innovative way."
The program also offers advanced-care and end-of-life planning services for cancer and burn center patients and can help with guardianship issues related to incapacitated adults. The attorneys don't help with everything, though. Divorce, bankruptcy, criminal-defense or personal-injury services are not offered.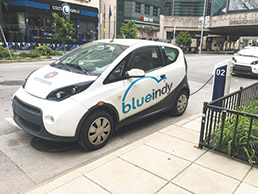 (IBJ file photo)
Electric car-sharing
BlueIndy
Indianapolis in 2015 became one of the first American cities with a robust electric-car-sharing program. Currently, France-based Bollore Group has 280 vehicles and 85 charging stations in the city. As of early December, BlueIndy had 3,400 members who took 37,000 rides in the service's first 16 months. Drivers can join for $9.99 per month and then pay $4 to drive for 20 minutes. Other membership options are available. About a third of BlueIndy's stations are downtown, but other spots include the Indianapolis International Airport, Butler University and Garfield Park. And many are in lower-income neighborhoods. BlueIndy's website also lists 30 other stations as either proposed or under construction.
"We're exceeding our expectations," Lance Boehmer, the firm's marketing manager, told IBJ late last year. BlueIndy hasn't yet reached the break-even point financially but that could happen in 2020.•
Please enable JavaScript to view this content.