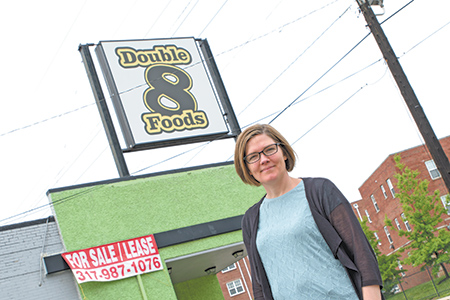 Stephanie Fernhaber is on sabbatical from her day job as an associate professor of entrepreneurship at Butler University, but it's been a far-from-restful break.
She's filling her time by using a trendy creative strategy called "design thinking" to crack the problem of food deserts—a particularly intractable issue in Marion County and one that's due to worsen as Marsh Supermarkets continues to shed locations.
"It is absolutely not my area of expertise," Fernhaber said of the problem. "I've learned so much about it over the last four months. The area of expertise that I really cater to is the process itself."
The process, also known as human-centered design, is something Fernhaber teaches in a couple of her Butler classes. Put simply (perhaps oversimply), the technique addresses problems by first examining the situation that creates them and consulting with the people who suffer from their effects.
She applied this intuitive-sounding technique during an MBA-level course she teaches on entrepreneurship. Students visited a company and spoke to employees before venturing to offer suggestions on how to increase the firm's entrepreneurial bent.

"Design thinking is used by all the high-tech startups in town," Fernhaber said. "More recently, it's been applied to the social sector. We haven't seen it as much in Indianapolis yet, but I think it's something that's starting to be embraced. This really is a process that can be applied to any problem."
She decided to test that theory by using it as the underpinning of a four-month program to understand and tackle local food deserts.
According to the FDA, food deserts are places where residents must travel a mile or more to find groceries—a huge logistical problem in poorer areas where cars are scarce. Large sections of Marion County fit this definition, including approximately half of the county's east side.
Thus began Fernhaber's Indiana Healthy Food Access Challenge, a lightning quick (at least for a social program) examination of Indianapolis' food-availability concerns. Divided into four components, and involving entities ranging from the city of Indianapolis to church groups to residents of the affected areas, the program spent February of this year studying data and talking to residents. March was used to brainstorm ideas, and April to enlist people and entities to implement them. This month, the program concludes by setting the best concepts in motion.
The give-and-take among stakeholders has generated ideas that are simpler (and vastly cheaper) to implement than the default solution of opening a bunch of new supermarkets. For instance, using church and community-group buses and vans to haul groceries and produce to designated spots within food deserts.
"There's also a group looking into a brick-and-mortar food co-op," Fernhaber said. "Not the organic, high-end kind, but a low-cost operation that's community-owned."
Other group members examined how to create and support more, and smaller, urban farms and studied novel ways of distributing what they produce.
The recent Marsh closures have given the issue top-of-the-mind urgency. However, Shellye Suttles, food policy and program coordinator for the city's Office of Public Health & Safety, isn't sure yet just how badly the closures will exacerbate the problem.
"Unfortunately, we haven't had time to do any sort of economic analysis to see what the impact would be," said Suttles, who is an expert on food deserts and has worked closely with Fernhaber and the Indy Healthy Food Access Challenge program.
She said the simple absence of a grocery store doesn't necessarily turn an area into a food desert. A lot depends not just on the proximity of the closest shopping spot, but also the economic resources of the folks who might want to use it. For instance, losing the Marsh in the Mass Ave neighborhood won't necessarily create a food desert, because the well-heeled nearby residents can simply get in their cars and shop elsewhere.
"If you can drive to a grocery store in your Jag, it doesn't matter how far away it is," she said.
She also said that, although planting a brick-and-mortar supermarket in every underserved community is economically unfeasible—particularly in a place as spread out as Marion County—some low-cost home-delivery concepts championed by Fernhaber's program could be game changers.
Though national chains (Meijer among them) are rolling out such services, Suttles said smaller, homegrown operations could also play a role. For instance, Indiana University Health and Green Bean Delivery developed a now-concluded pilot program called Garden on the Go that sold produce from a truck that visited underserved areas.
"There was a set schedule, and you could come on a certain day and time and buy those items," Suttles said. "There are actually a few programs looking to replicate that model. I hope to see a couple of them happen this summer."
Indeed, that sort of service is one of the solutions that might outlive the soon-to-end Access Challenge.
"Stephanie identified individuals in the community who are 'doers,' and have a plan to move forward with improving food access across the city," Suttles said. "And some of those projects are maybe just a couple of thousand dollars from being on the ground, selling produce to neighborhoods."
The money to start the ball rolling comes from $10,000 provided to the Access Challenge by Carmel-based Mercy Road Church. The organization has agreed to provide the cash, in increments no smaller than $500, to jump-start organizations and individuals who want to establish programs or services addressing food deserts.
"I'm personally excited about it because we have seen some really great ideas that have come from talking to people in the communities," said Dana Byers, pastor of operations and mission at Mercy Road Church. "We're not just throwing darts at a dartboard, hoping we hit the mark. We're really passionate about this idea of human-centric design."
Fernhaber, who attends Mercy Road, isn't quite sure yet how the money will be divvied up. It could be given to 20 different recipients, or larger sums could go to a smaller number of more-viable projects. However it's handed out, the hope is that the cash will be enough to begin the implementation of concrete solutions.
In addition, she hopes her program helps teach community leaders about the food desert problem and also raises its profile.
"I'm hoping that some new community connections are made," Fernhaber said. "We've tried really hard to bring in different people, from students to businesspeople to faith-based organizations to design professionals."
Ideally, Fernhaber would like to repeat this year's program structure annually, but with a focus on a different social problem each time.
"This is really our pilot," she said. "I have all these ideas, but I'm kind of waiting until we get through May. Then I'll reflect on it and think about how we can build this out. That's the vision right now."•
Please enable JavaScript to view this content.