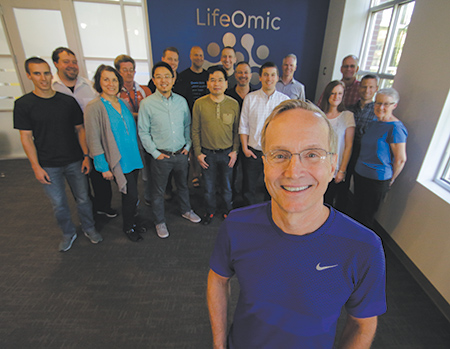 Dr. Rafat Abonour is a hematologist with Indiana University Health who treats patients with multiple myeloma, or plasma cell cancer.
Treatment typically involves a regimen of three different drugs over the course of several months. The drugs, which can cost tens of thousands of dollars, might have a positive, negative or no effect, based on the patient's genetic makeup. But Abonour won't know which until after the fact.
"Sometimes the patient gets horrible side effects. Sometimes the patient doesn't respond after two cycles," Abonour said, noting that two cycles of treatment costs nearly $50,000. "So if I can prevent that, wouldn't that be great?"
Don Brown founded LifeOmic to try to help solve just that problem by enabling doctors like Abonour to practice genomics-based precision medicine. And the 6-month-old firm has already got some wind in its sails.
Precision medicine tailors treatment based on an individual's unique attributes—coded in DNA. The 23 pairs of chromosomes in each human cell contain about 30,000 protein-making genes that can determine the effectiveness of certain treatments, from blood thinners to cancer-fighting drugs.
LifeOmic has two main offerings: sequencing of a patient's genome (the full set of DNA information) and data-management software. The latter is a cloud-based service for the storage, retrieval, analysis and clinical use "of genomic and other digital information increasingly central to patient care," company officials said, and it comes with "decision-support" capabilities.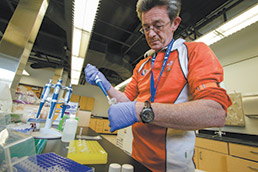 Don Brown, top, and his team at LifeOmic (including Clive Evans, above) are sequencing patient DNA to help doctors pinpoint the best available treatments. (IBJ photo/Lesley Weidenbener)
The pre-revenue company has started gene sequencing and has completed the first stage of its software. It hopes to use those results to secure federal lab certification this summer, then begin offering services.
"We're getting many contacts from various research organizations and disease associations that want to be able to store this [DNA] sequence data and other data for thousands of their patients in order to analyze it—figure out genetic tendencies, genetic commonalties and potential disease treatments," said Brown, the firm's CEO.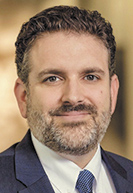 Embi
LifeOmic is hardly the only company in the genomics-based precision-medicine fray, which includes Massachusetts-based Foundation Medicine, California-based Synapse, and Cleveland-based GenomOncology. But some of the firms have niches, like cancer, and few seem to offer both sequencing and data management.
Tech giants including Apple and Microsoft have health care offerings they say help enable personalized medicine, but it's unclear if those involve genome analysis. Alphabet, through its subsidiary Verily, is working with Vanderbilt University and the National Institutes of Health on a precision-medicine initiative that involves gleaning health and wellness data from 1 million Americans.
Peter Embi, CEO of Indianapolis-based Regenstrief Institute, a biomedical informatics organization, said the precision-medicine marketplace is still frothy.
"There's a recognition that this is an area of growth and we're seeing more investment in this area," he said. "But depending on what area we're talking about, I don't think there's one company that's emerged as the leader."
Brown hopes his strong background in software—and in life sciences—will help LifeOmic stand out.
The 61-year-old steered three software companies from startup to sale, including Interactive Intelligence, which sold last year for $1.4 billion to California-based Genesys Telecommunication Laboratories.
Part of Brown's work at Interactive, a call-center-software maker with more than 1,000 employees, involved gleaning and analyzing data from millions of phone calls and integrating data from other sources to understand customer sentiment and buying behaviors.
"It was very much a big-data problem that bridged different sorts of data sets," Brown said. "And, at least at that conceptual level, this is a very similar problem. You've got genomic data, images, test results and other data that are less structured."
In addition to his software chops, Brown has medical bona fides as well. In 1985, he earned a medical degree from the Indiana University School of Medicine and he's on track to earn a master's in biotechnology from Johns Hopkins University in December. 
He started working on that degree in 2013, partly because he noticed computer sciences and life sciences starting to converge.
"It's at those interfaces of different fields where there's huge opportunity for innovation," Brown said, "because people in one field are so heads-down that they're not aware of innovations taking place in another field."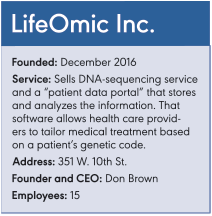 Brown has pumped $20 million of his own money into LifeOmic, and he has 15 life sciences and software employees. Some of them jumped from Interactive and others came from medical organizations. LifeOmic's vice president of genomics, Tom Barber, used to work for Eli Lilly and Co.
Brown said LifeOmic's aim is to sequence genes and provide software that guides providers to make decisions based on an individual's unique health data. He said today's electronic medical records are designed primarily for payments and reimbursement, not clinical practice.
But LifeOmic and its peers have many hurdles to climb, industry observers said. One involves reimbursement, as insurance companies have largely been reluctant to cover genetic testing, which can cost a few thousand dollars. Embi, of the Regenstrief Institute, noted that there are still no best practices for capturing genomic data and putting it to use in patient care.
Dr. Scott Weiss, a Harvard University medical professor, said the promise of precision medicine makes sense, but the timing of wide adoption is tough to predict.
"It's stating the obvious to say that this is what it's going to be, but it's a question of when is it going to be," he said. "And getting the when right is a critical thing" for companies like LifeOmic.
Brown said that, even though he knows precision medicine is the way of the future, starting LifeOmic is "the riskiest thing I've ever done."
His reason: Tech titans are acutely aware of inefficiencies in health care and have massive resources available to concoct solutions. Those companies could do something like make genomic testing free to their users, which would undercut LifeOmic's business model.
"Unless you're incredibly lucky, any opportunity you spot, somebody else is going to spot it, too," Brown said. "And the bigger the opportunity, the more likely it is that it's one of the big boys that's going to spot it."
So companies like his might need to look for more niche opportunities that aren't "quite big enough for an IBM or an Apple or somebody," Brown said. "And so the danger may be that we haven't gone far enough down that stack; we may be aiming too high. But we have pretty good ambitions here and are willing to roll those dice and see what we can do."•
Please enable JavaScript to view this content.