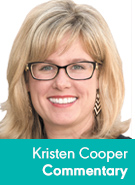 Understanding the power women have in our current economy will help founders, boards and executives choose leaders who better represent and understand American consumers and the labor force.
In the United States, women are responsible for almost 80 percent of consumer spending. Women consist of almost half the workforce and hold half the management positions. They account for 10 million majority-owned, privately held firms, employ 13 million people, and generate more than 1.9 trillion in sales. Because women are so important in the economy and prominent in the workforce, we would expect to see half of executive-level and board seats filled by women. Not so.
In 2016, the Women on Boards' 2020 Gender Diversity Index showed that only 18.8 percent of corporate directors at Fortune 1000 companies were women. Only 14.8 percent of women held board seats in new companies. Women currently hold only 4 percent of the CEO positions at S&P 500 companies.
Nationally, about 20 percent of tech company founders are women. But in Indianapolis, not even 5 percent of founders are women. Research has proven that women founders yield greater returns on investments as compared to their male counterparts. However, significantly less funding is invested in women-owned, women-led startups. Perhaps this is because only 7 percent of the partners of top 100 venture firms are women and because women hold less than 12 percent of the partner roles at both accelerators and corporate venture firms.
Why are women so grossly underrepresented in C-suites, board rooms and investment firms? Why are women so significantly underfunded when launching startups?
A systemic, unconscious bias exists at the very top of the corporate ladder. Executives tend to groom colleagues who look like and act like themselves. This phenomenon can cause problems within company cultures and make it difficult to keep and attract the most talented employees. And, if people leading teams don't reflect the experiences and needs of prospective customers (which is likely, given such gender disparities), there's a good chance the product or service is not going to sell, despite significant investment in marketing and sales efforts. Just ask Pepsi.
Likewise, leaders need to be aware of other unintended consequences of gender bias. Imagine visiting a company's website or social media platform before applying for a job or attending a networking event. Imagine seeing a homogenous leadership team. The message this sends to prospective employees or clients is that the company does not value diversity. It suggests that women and minorities might be made to feel like outsiders or that it might be a challenge to be valued for who you are. It might encourage a valuable employee or client to look elsewhere—all without even having met one person at the organization.
So, how does a leader who is focused on the company's bottom line create and implement a plan to ensure that a diverse range of minds is at the leadership table? A great place to start is by asking a simple question at your next leadership team meeting: What are we doing to identify, train, mentor and sponsor a diverse group of women for future leadership positions at our company?
Purposefully building a strategy and selecting a more broadly representative team to execute it deepens the level of empathy managers have for employees, uplifts employee morale, and generates a new wave of leaders who more closely mirror customers. Creating incentives to achieve goals within this plan ensures that goals are met (and, we hope, exceeded) on time and within budget.
Building a more vibrant and innovative business community also means creating an atmosphere in which women entrepreneurs can flourish. There are a number of ways to do this. Investors can take the lead by targeting women-led startups. They can invest earlier, when the risk is higher, to increase the number of opportunities for women to build scalable companies.
Providing education and resources to women entrepreneurs is important as well. For example, The Startup Ladies are addressing this issue head-on by providing classes for women who want to start and scale up a business. We are also developing a network of early-stage investors, educating them about startups, and connecting them to founders looking for funding.
Innovation is about finding solutions to problems. And here lies the opportunity. It is time to raise the consciousness about systemic unconscious bias through open dialogues in corporate settings. It is time to discover a broader spectrum of people who can bring new insights, new possibilities and new opportunities to every-size business, from startups to mature-stage companies.•
Cooper is the founder and CEO of The Startup Ladies.
Please enable JavaScript to view this content.