One hundred more homes or a public park focused on natural amenities.

That's the decision Fishers Mayor Scott Fadness faced for a 70-acre area along Geist Reservoir east of Olio Road and just to the north of Waterway Boulevard.

But Fadness said the choice was easy: "I'd pick the park all day long."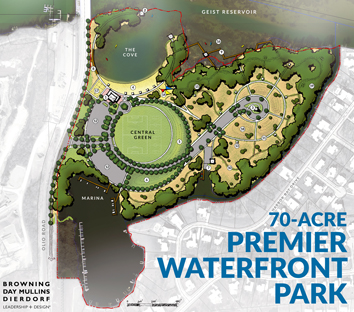 The city announced plans Tuesday morning for a 70-acre waterfront park that could feature an amphitheater, fishing dock, public beach, boardwalk, playground, beach volleyball, boat launch and trails. (Click image at right for larger view.) It could host activities including kayaking, triathlons, paddle boarding and adventure races.
"It's a park about nature and recreation colliding," Fadness said. "It's really going to be a gem, I think, in that area."

Irving Materials currently operates a quarry at the site, but it's expected to end operations in summer 2018.

The land is made up of three separate parcels, held by two owners: Irving Materials Inc. and Marina Limited Partnership. It is zoned to allow for more residential development, which Fadness would expect to occur soon if the city doesn't acquire the land.

The cost to purchase the property will be at least $9 million, according to Fadness, but the city is currently negotiating with IMI and Marina Limited.

That price tag does not include the cost to develop the park. Fadness said the construction costs are unknown because the exact details of the park are unknown.

"My biggest concern is getting that land under city ownership and preserving it for the long term," Fadness said. "Getting the land before it gets developed is the most critical component of this."

The city is willing to use eminent domain, if necessary, to acquire the property.

Fadness said he hopes the property is under city control by the end of the year. Final designs for the park could be ready in 2018.

The yet-to-be-named park would be located across Olio Road from Citizen Energy Group's proposed $20 million reservoir that is expected to hold 2.7 billion gallons of water when it opens in 2020.

Citizens announced in 2015 that it had purchased the 88-acre former limestone quarry at 10997 Olio Road.

The 1,900-acre Geist Reservoir was built in the early 1940s to provide drinking water to the city of Indianapolis. In the 1980s, upscale homes were constructed along the water's edges.

Fadness said the idea for the park came from a group of Geist residents who voiced concerns about boat traffic, quality of the water and over-development along the lake.

"There was a general consensus by the people who live directly on the lake that they were not only OK, but were actually in favor of, seeing some sort of public amenity, some sort of green space where the community at-large can have access to the water in a meaningful way," Fadness said. "I drive by that property everyday, and I see it. ... It just screamed to me that it needed to be a park."

The city would use bonds to purchase the property, and the acquisition would require approval from the Fishers City Council.

City Council member Pete Peterson hailed the plan as a way to avoid adding more boat traffic on Geist Reservoir, which is a pet peeve of area residents.

"I hear from residents all the time that increasing boat traffic on Geist is the fastest way to reduce the recreational experience out there," Peterson said in a media release from the city.

"This is a win-win situation for Geist residents," Peterson said. "By creating this natural recreation area and reducing new development, it will ultimately lessen the added boat traffic that comes with more homes and docks."