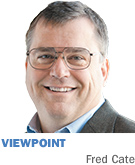 According to the 2016 Yale Climate Opinion Survey, a sizable majority of adults in every county and every congressional district in Indiana see climate change happening around them.
And while we might disagree on who or what is causing it, Hoosiers have felt the increasing effects of significant environmental change too frequently to doubt its existence.
From big cities to small towns, we have all endured heavier spring flooding and hotter, drier summers—extreme weather conditions driven by environmental change that threatens everything from crop yields to basic infrastructure. In fact, June 7-9 will mark the nine-year anniversary of a major flood in Columbus that forced the evacuation of the city's hospital and caused significant damage to the facilities of one of Indiana's flagship companies: Cummins Inc.
Since 2011 alone, Hoosiers have faced more than $6 billion in costs to address the effects of extreme weather.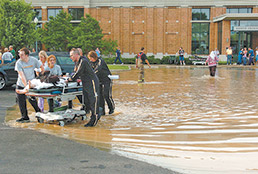 Patients had to be evacuated from Columbus Regional Hospital on June 7, 2008, when waters flooded the hospital's basement and first floor.
(AP photo)
Shorter, less intense winters have also increased our exposure to disease-carrying insects and played a role in Indiana's experiencing a startling 430 percent increase in documented cases of Lyme disease since 2001.
These changes should concern all Hoosiers, especially knowing that conditions are only expected to get worse. The size and scope of these challenges—from big threats to less obvious consequences of environmental changes—demand our attention and require a new level of collaboration among public and private stakeholders.
In response, Indiana University has announced a $55 million initiative—Prepared for Environmental Change—in collaboration with a bipartisan coalition of government, industry and community leaders. It is part of IU's Grand Challenges commitment to address some of the most critical issues facing our state. 
One of the first priorities will be the creation of an Environmental Resilience Institute that will bring world-class faculty together with Indiana businesses, not-for-profits and government officials to collaborate.
Cummins has been an early partner, in addition to Citizens Energy Group, the Nature Conservancy, state policymakers, and the mayors of Indianapolis and other Indiana cities. We're assembling the best and brightest to develop not just a better understanding of the challenges we face, but also practical measures for anticipating and responding to them.
The initiative will also launch a Hoosier Resiliency Index that will help communities track environmental change and measure their preparedness for responding to immediate challenges and long-term effects. And the team will pursue strategies for communicating findings and recommendations with Hoosiers in ways that are widely understandable and—most important—applicable.
This work will provide Hoosiers with accurate projections of environmental change that will allow them to invest and plan accordingly. We can also expect to benefit from reliable warning systems that we'll develop to confront the health threats from rapidly spreading diseases like Lyme disease, Zika virus and West Nile virus. And we will see policy aimed at creating communities that can better withstand storms, heat waves and droughts.
Nearly a decade ago, New York City's former Republican Mayor Rudy Giuliani famously said, "Hope is not a strategy"—and he was right. Planning matters, especially given the scope and pace of adverse environmental change Indiana is projected to experience over the coming decades.
We can only respond to this challenge by working together—industry, government, not-for-profits, local communities and universities. Indiana University is proud to be part of this remarkable coalition. And we look forward to what we can, together, accomplish for Hoosiers across our great state.•
__________
Cate is vice president for research at Indiana University.
Please enable JavaScript to view this content.