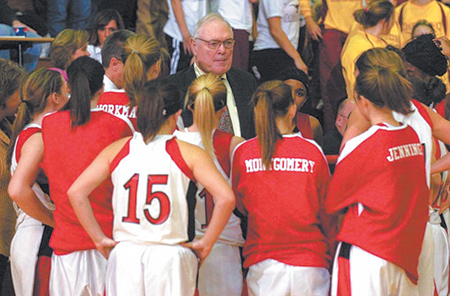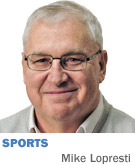 An interesting fellow, the new boys' basketball coach at Blackford, in Hartford City, between Marion and Muncie. He has the confidence to believe he can heal a program that has lost 72 of its last 73 games—and the record at eight previous high school jobs to prove it.
Oh, and did we mention he's 82 years old?
Now, before you ask if Jerry Hoover has slipped a groove to even think of tackling such a task, let him explain.
"It's what I do," he began. "I just don't feel like fishing. I've never golfed. I've never hunted. I've never played cards. All I've ever done is coach basketball. This is an opportunity to keep doing that."
Besides, someone just reminded him how many people now work into their 80s.
"The world is changing," he said.
Hoover last coached the Logansport girls to a regional championship, with Miss Basketball Whitney Jennings. Of course, he was just a kid then in 2014. Only 78. But the fire remains. Take last winter, when he was helping out with the Winamac team. Practice would be over at 5 o'clock, and he'd jump in his car and drive to see a high school game. Anywhere. By his count, he watched 270 teams play. Loretta, his wife of 56 years, didn't mind.
"I went about every night. I just love basketball," he said. "I missed the coaching so much. I'm in pretty good health. This is the kind of a job that in the past I've had pretty good success at. So I just looked into it and it seemed like a decent fit."
Blackford won once last season, against Anderson Prep Academy, and that snapped a 61-game losing streak. So Hoover could use roster help.
Well, about that …
His son Don, a college professor with expertise in human motion, is coming as his assistant. Don has three sons, who all play basketball, and will be a senior, freshman, and eighth-grader.
Wait, there's more. Jerry once played high school basketball in Monticello with his cousin, Jerry Brown. Jerry Brown had a son Ted, who played with Don Hoover. Ted has a son Luke, who is supposed to be a promising young point guard. He's coming, too. He must be, what, Jerry Hoover's third cousin?
"Or maybe the fifth," Hoover said. "It gets pretty thin that far out."
Hoover is tickled by this family reunion, and no wonder. How many men get to coach their grandkids?
"That's very appealing to me," he said. "They're very, very good students. Gifted students. So I look forward to that, because it's always fun to coach gifted kids, particularly on the academic side."
The Blackford high command is looking forward to it, too. The Bruins haven't had a winning season since 2002, or won a sectional since 1991. They had to figure, why not roll the dice, even if their new coach has been eligible to order off the seniors menu for nearly three decades? Never mind if his hearing isn't quite what it used to be.
"We were thrilled that he was even interested in coming here, because it's been rough over the last several years, and to have someone with his experience and background was frankly stunning," said Athletic Director Tony Uggen, who recalled the interview process. "I heard him out, and I actually called down to the principal's office and said, 'You may want to come down here, because this is interesting.'
"Jerry summarized things the way he did when he met with the kids the first time. He said, 'I know I look old. I get that everywhere I go.' Then he shared what he wanted to do, and his desire to turn around another program."
Uggen checked around with other coaches and got good reports. "I've not heard anything negative about him. I've heard, 'This guy knows basketball, he has high expectations, he's going to demand a work ethic out of his kids.' Which is what we need."
And the family members coming as part of the package? "That won't hurt anything," Uggen said.
Hoover grew up on a 61-acre farm near Monticello, went to Purdue, majored in agricultural economics, and figured his future was raising livestock and growing corn.
"I wasn't any good at it. I just had that desire to be involved with basketball. I was a failure at farming. Basketball coaching has been the love of my life, and the purpose of my life."
He went back to Purdue to pick up courses that would allow him to coach and teach, spent some time in the military, and went to work trying to revive losing programs. First, at DeMotte (enrollment of maybe 160) in 1963, then Salem, North Judson, Lake Central, Ben Davis—where he coached future IU star and NBA player and coach Randy Wittman —Monrovia, Kankakee Valley, and the Logansport girls.
He won a lot of games, several sectional titles. At Lake Central and Ben Davis, he carried a 6-foot pole during games, when his teams ran the four-corners offense. A defender had to be within 6 feet of his ball-handler for the closely guarded five-second count to start, and whenever he thought the referees had forgotten, he wanted a visual, "so they could see exactly what 6 feet was. It helped four-corners execution a lot."
The years went by, but not so many that he was ready to retire. Not yet.
"This is my absolutely last job. I'm not interested in moving somewhere else or trying to pay the rent or pay a mortgage [or pay for] a car. The outside pressures are a lot different now than they were when I was 35.
"I'm 82. I've got to be very frank. I could have a heart attack or I could have a stroke or become incapacitated or die. So the agreement we've entered into is, my son will be the assistant. In case I get incapacitated one way or another, it's already in the contract [that] he takes over."
But Jerry Hoover is planning to be around long enough to orchestrate a turnaround.
"All of those schools, when I went there, were losing. We were able to do whatever it takes to get them to winning. All the feedback that I've gotten has been very, very positive. I've got ideas how you turn programs around. I've done it eight times. If I can be productive for two years, they'll be able to be successful, even if I can't be there for any reason."
Should be something for Blackford's long-suffering fans to watch, anyway.
"I think they're hungering for something different," Uggen said. "I don't want to say it'll be like a sideshow, but you'll have a lot of people who'll say, 'I want to go see the guy who's 82 years old coaching at Blackford, and see what he can do.'"
The word to describe it? Uggen had the answer.
 "I can't say 'interesting' enough."•
__________
Lopresti is a lifelong resident of Richmond and a graduate of Ball State University. He was a columnist for USA Today and Gannett newspapers for 31 years; he covered 34 Final Fours, 30 Super Bowls, 32 World Series and 16 Olympics. His column appears weekly. He can be reached at mjl5853@aol.com.
Please enable JavaScript to view this content.