Landlords across Indiana are feeling the pain from the collapse of Marsh Supermarkets, but none more so than a Canadian firm that had as many as 12 of the grocer's stores in its portfolio.
Toronto-based H&R REIT bet big on Marsh, scooping up the properties in sale-leaseback deals shortly after Sun Capital, a Florida-based private-equity firm, bought the supermarket chain in 2006.
But now, as Marsh seeks buyers for its remaining 44 stores after closing 19 last month and filing to reorganize under the protection of bankruptcy, H&R finds itself in a world of hurt.
The REIT has stopped paying on mortgages for Marsh properties where remaining balances total more than $42 million. And, it's listed in the May 11 Marsh bankruptcy filing as an unsecured creditor owed $791,718 in rent.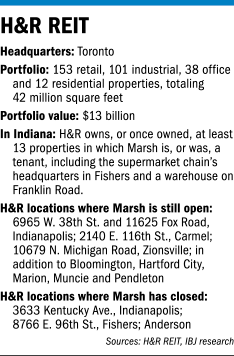 H&R's delinquent mortgages have prompted the lender to seek receivers to manage the Marsh properties through the foreclosure process and until buyers can be found.
The properties include three stores—one of which closed on May 21—in addition to Marsh's corporate headquarters in Fishers and a warehouse on the east side.
H&R bought the properties under various "MSI" entities. The Marsh store that's still open at 6965 W. 38th St. is owned by MSI West 38 Street Grocery LLC, which owes $6.7 million on its defaulted loan, according to Marion Superior Court documents.
Lender US Bank filed to foreclose on the property in February.
"It cannot be disputed that MSI West 38 is in default of its obligations to noteholder," US Bank wrote in a filing. "The note has matured, but MSI West 38 has failed to make required payments. MSI West 38 was given an opportunity to cure its default, but it was unable to do so."
H&R also is facing foreclosure on a Marsh that remains open in Hartford City north of Muncie, where it owes $2.2 million on a mortgage, and another store at 3633 Kentucky Ave. on the southwest side that closed May 21. There, H&R stopped paying on a $4 million balance, court records show.
In addition, H&R owes $2.2 million on another property—a Marsh warehouse on Franklin Road on the east side. But by far the firm's biggest Marsh-related debt is the $19 million balance remaining on a loan H&R received from US Bank to purchase the grocer's headquarters building at 9800 Crosspoint Blvd. in Fishers.
H&R entity MSI Crosspoint Indianapolis Grocery LLC bought the 177,000-square-foot building in January 2007, according to Hamilton Superior Court records, just months after Sun purchased the Marsh chain for $88 million in cash and the assumption of $237 million in debt.
Sun had hoped to turn around Marsh's fortunes and unload it quickly for a tidy profit. But in the decade since, Marsh has trailed much of the competition, leading it to steadily close stores.
In the meantime, H&R has tried to sell Marsh's corporate headquarters. IBJ reported in October that real estate brokerage CBRE had the building listed for $28.6 million. Marsh said then that it would continue to lease the 25-year-old building from the buyer until November 2026, at an initial annual rent of more than $2.8 million, with a rental increase of 7 percent in five years.
But in February, US Bank sought to foreclose on the building. Neither H&R nor its attorney responded to requests for comment on the delinquent mortgages.
Founded in 1996, H&R boasts on its website that it has "one of the longest and strongest performance track records" among Canadian real estate investment trusts. Its portfolio is valued at $13 billion and consists of 153 retail, 101 industrial, 38 office and 12 residential properties totaling 42 million square feet.
H&R's other Marsh properties include the store on East 96th Street in Fishers, which closed May 21, and an Anderson location that shut its doors May 27. On top of that, H&R owns seven additional properties where Marsh remains a tenant. Those stores are in Geist and on East 116th Street in Carmel and North Michigan Road in Zionsville, as well as in Bloomington, Marion, Muncie and Pendleton.
It appears H&R is still making mortgage payments on those properties, as they are not part of any US Bank foreclosure filings.
IBJ reported in recent months that Marsh had stopped paying rent at some of its stores, as liquidity pressures intensified. Marsh is further behind on rent to H&R than to any other landlord, according to the company's bankruptcy filing. It lists H&R as the eighth-largest unsecured creditor overall, with a nearly $792,000 claim.
Daniel Motsinger, a Krieg DeVault LLP partner representing H&R in Marsh's bankruptcy, declined to comment on the company's claim.
Several landlords sued Marsh for unpaid rent this spring, among them Windermere Realty Management Co. It owns the property on North Post Road on the city's east side where Marsh operated a store until it closed May 6.
Windermere has yet to market the property—Marsh left behind several pieces of equipment and shopping carts—but the landlord already is receiving inquiries, said Eric Jansen, a company principal who's encouraged by the interest.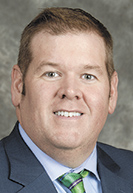 Davis
"Our location now is smack dab in the middle of a food desert," he said. "It's looking like an oasis to a number of retailers interested in that strategy."
CBRE retail broker Larry Davis acknowledged that the amount of Marsh space poised to hit the market is "considerable." But he said he is optimistic many of the locations can be backfilled with new tenants.
"Indianapolis is a stable market with good fundamentals, attracting investment from across the country," he said in an email. "We could see players in grocery, discount general merchandise, entertainment, home furnishings, apparel and other categories not currently in the market take a good, long look at what Indianapolis has to offer."
Bids on the remaining 44 Marsh stores will be taken until June 7, with an auction set for June 12.
In Indiana, H&R's only major tenants other than Marsh are a Kroger at 8150 Rockville Road on the west side and a Walgreens pharmacy in Griffith in the northwestern part of the state.•
Please enable JavaScript to view this content.