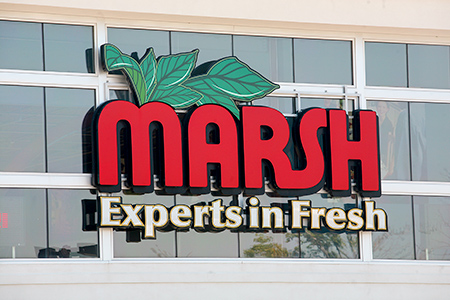 Struggling Marsh Supermarkets LLC has filed to reorganize its assets under the protection of bankruptcy, the Indianapolis-based grocery chain announced Thursday morning.
Marsh, which has been on a store-closing spree, said it filed for Chapter 11 as it seeks a buyer for all or part of the chain and its remaining 44 stores. The stores will remain open throughout the reorganization, it said.
"While today's decision was extremely difficult, we believe this action is necessary to preserve the value of the business as we seek a sale," CEO Tom O'Boyle said in a written statement. "After reviewing every alternative, we concluded that Chapter 11 clearly provides the most effective and efficient means to ensure the best recovery for the company's stakeholders."
In the bankruptcy filing, Marsh estimates the number of creditors it owes at between 5,001 to 10,000.
Company liabilities are estimated in the range of $100 million to $500 million and assets at $50 million to $100 million.
The two largest unsecured creditors are Central States Southeast Areas Pension Fund, which is owed $61.6 million, and a Marsh Supermarkets Prudential Retirement contract, owed $21.7 million.
The third largest creditor is Marsh's primary grocery supplier, Supervalu Inc., which Marsh signed to a long-term contract last year. SuperValu is owed $8.1 million.
Marsh has retained New York City-based investment banking firm Peter J. Solomon Co. to market the company's assets.
The filing triggers an automatic stay, which precludes Marsh from paying amounts owed to vendors and store landlords. Several landlords have sued the company, claiming it has failed to pay rents.
The company has asked the U.S. Bankruptcy Court's permission to use its available cash to fund operations, since Marsh's secured lenders have already agreed to allow it to do so, Marsh said.
Besides use of its cash, the company also has sought approval to pay its employees and provide benefits as normal, to continue customer programs as normal, and to continue closing stores at select locations.
Marsh attributed the competitive grocery market and excessive price cutting on products for the company's thin profit margins. Marsh has reacted this year by closing 21 unprofitable stores and, in late April, the company sold its in-store pharmacy business to CVS Pharmacy.
Marsh Supermarkets was founded in Muncie in 1931 Ermal Marsh. The chain was acquired by Florida-based Sun Capital Partners in 2006 when it had 120 grocery stores. Sun said it retains a financial interest in the business, but has sold control within the past few months.
Please enable JavaScript to view this content.