Two Indianapolis-based entrepreneurs want to make the world of listing and booking short-term commercial space as easy as listing and booking residential space on Airbnb.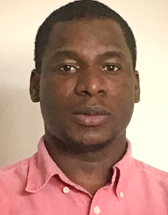 Emmanuel Olofinkua
Emmanuel Olofinkua and Kelli Jones run Spacant, an online marketplace that aims to connect property owners with venue seekers looking for places to host social events, open pop-up retail shops and more.
It was founded last fall and will officially launch in August. Olofinkua, 26, is CEO, and Jones, 35, is chief operating officer. They are the only two employees, and, although Jones joined this year, both are calling themselves co-founders.
Olofinkua, who's active in throwing networking events for millennials of color, said the idea has been percolating in his mind for several years. In 2016, he decided to make the idea a reality, and Jones, whom he'd met at a social event, was intrigued enough to join.
"It's a struggle to find spaces. You have to go on Google or Yelp and it can be very tedious," Olofinkua said.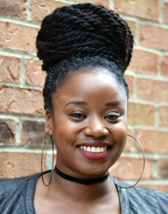 Kelli Jones
"We want to make it easy for everybody to rent spaces out."
Olofinkua, currently a data analyst at JPMorgan Chase, said he's been building out the user-facing component of the platform, and he has a handful of software engineering friends who work at Indiana University Health and Salesforce.com building out the back-end.
The company is fully bootstrapped for now, but Olofinkua is looking to raise $100,000 so he can hire full-time engineering talent.
When it launches, Olofinkua said Spacant will operate similarly to Airbnb. Commercial property owners can list indoor and outdoor space by the day or week, and interested renters can book through the platform.
Corporate event planners can find space for retreats or workshops, people can find places for weddings, and online retailers can secure places for pop-up shops during major events like the Indy 500.
Spacant is not the only venue-rental marketplace. California-based Peerspace and Israel-based Splacer also have event-space platforms, and California-based Storefront helps retailers and artists find short-term rental space.
But none operates in Indianapolis, and Olofinkua and Jones said they're planning to have some distinguishing features on Spacant. One will be the ability to see interactive floorplans, which will allow event planners to manipulate chairs, tables and other physical elements.
Another will be enabling planners to access complimentary services—such as catering, photography or a DJ—through the site.
"The biggest thing for us is convenience," Jones said, "and I think when it comes to planning events this is going to be one of the most convenient platforms for anyone to use."
Olofinkua was born in Nigeria and moved to Indianapolis in 2009. He studied informatics at IUPUI from 2010 to 2013 but didn't finish. He said he plans to finish his informatics degree later this year.
Jones is an Indianapolis native and Tennessee State University alumna who spent about a decade in event planning and business development roles at various firms, including Indiana Black Expo and media sites HipHopDX and Blavity. She's also dabbled in tech-related initiatives.
She said she moved back to Indianapolis from Los Angeles earlier this year because she noticed its emerging tech scene and wanted to play a role in advancing diversity in tech. "To see how Indy is adapting to this tech boom, and how it's killing it, is something that stands out to me. And I know I have something I can offer."
Jones said she met Olofinkua at a gala in February that benefited a tech initiative at the youth-focused not-for-profit The Bloom Project. She started as a Spacant adviser but became so excited about the concept that she decided to join the company in May.
"It was easy—like going from helping out with marketing to becoming a co-founder—it was an easy answer because I believe in the product," Jones said.
Olofinkua said he plans to focus on Indianapolis and similarly sized markets. Initially, the company plans to get a cut of revenue generated on its site but ultimately plans to sell venue-management software to property owners on a subscription basis.
Walle Mafolasire, founder and CEO of donation-app Givelify, is one of Olofinkua's mentors. He said Spacant is a neat concept with a lot of potential, but there's a going to be a lot of work involved in tailoring the product to meet market demand. "Execution is going to be key for Emmanuel and his team," Mafolasire said in an email.
Separately, he said: "Emmanuel is one of those ambitious guys you can put your money on. He's dependable, hard-working and has a unique gift of bringing people together. If he can pull the right resources together, sky is the limit for him."