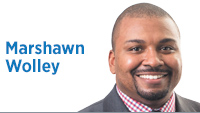 A living-wage increase for city and county employees is a good policy. Proposal 92 creates a minimum living wage of $13 per hour for all full-time city and county employees. The proposal would affect around 350 employees and cost roughly $450,000, or 0.04 percent of the 2017 adopted budget. While we all should be concerned about our structural deficit, city and county agencies beat their budgets and actually underspend by an amount that is in the low seven figures annually. We have the money to pay a living wage and still be fiscally responsible, but do we have the resolve?
The latest report from the U.S. Bureau of Labor Statistics suggests we have some work to do in mean hourly wages for the community. Our mean hourly wage is $22.01, 5 percent below the national average of $23.23. What these numbers do not reveal is that, of the 22 occupational categories studied, only four are at or slightly above the national average, with 10 occupational categories 10 percentage points or more below the national average. From occupational fields ranging from management to business and financial operations, to arts, design, entertainment, sports and media to protective service, we are behind the national average for wages by double digits.
My numbers people are thinking there are all sorts of other factors to consider. Certainly, a dollar in Indy goes further than in New York City or Chicago. OK. But is the cost-of-living argument really what we think it is?
According to a 2016 study from a personal finance site reported by the IndyStar, Indy ranks 26th in the difference between a comfortable income and the actual median income. GOBankingRates said you need to earn $46,016 to have enough money for needs and wants. The county's 2016 median income of just over $42,000 suggests that more than half of us aren't really benefiting that much from the cost-of-living argument.
According to the United Way of Central Indiana, 26 percent of households earn more than the U.S. poverty rate but less than the basic cost of living for the county. Nearly one in five households meets the poverty guidelines. Nearly half struggle with the cost of living in Marion County.
Why should city and county employees who go to work every day rely on government assistance to make ends meet? What does that say about the city as an employer? More important, what message does this send to other employers? People generally don't get rich working for someone else, but unfortunately, more and more people are working hard and staying poor.
Proposal 92 is a modest proposal and good start. It's enough to avoid the more onerous aspects of the benefit cliff effect, where there is an actual disincentive to earning more money due to the elimination of various income supports. It gets some city workers off of food stamps but allows families to get child care assistance.
Every year, city hall reminds us of the perennial battle of structural deficits where income fails to meet expenses. Workers making under $13 know about this fight as they are asked to help the city underspend to the tune of low seven figures annually—more than enough for their raise.
The city's structural deficit includes the money workers need to live with dignity. A balanced budget without a living wage is deficient. As a major employer, city hall has a responsibility to lead on this issue.•
__________
Wolley is a lecturer at the School of Public and Environmental Affairs at IUPUI.Send comments to [email protected]
Please enable JavaScript to view this content.