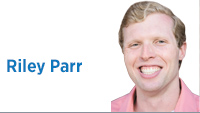 Over the last couple of months, I've noticed an interesting phenomenon: Republicans who were otherwise ambivalent about Trump (e.g., those who voted for him because Hillary Clinton was the other choice) have started defending him. The caveat is that this observation is based on (A) anecdotal conversations with people under 40, right-of-center, and in some way involved in politics and (B) what those people have told me about their conversations with others.
Two possible reasons for this change come to mind.
First, what Trump has done is mostly, albeit it sometimes less artfully, typical Republican orthodoxy: a stronger foreign policy, an agenda that includes a revamped tax code that encourages innovation and promotes opportunity, and health care proposals that actually lower costs.
This possibility is probably having some effect on the margins.
The other possibility is one that has been explicitly mentioned to me numerous times. It has less to do with Trump and more—a lot more—to do with the Democrats' over-the-top reactions, and the actions and reactions of some in the media.
This really shouldn't be all that surprising. In politics, every action has an equal and opposite reaction. The last two Bush years led to Obama, Obama's first two years caused the Republican wave in 2010, and dissatisfaction with the status quo, elites and political correctness led to President Trump.
What is happening now, assuming my observations are indicative of a broader trend, may well be the 2017 version, and Democrats have largely themselves to blame.
Consider the confirmation process of Trump's nominees. Undoubtedly some of the nominees could have performed better during their hearings, but to hear the Democrats tell it, a single confirmation would soon cause the demise of the Republic.
The same is true for now-Justice Gorsuch. The way in which Judge Garland's nomination was handled played some role in the left's antagonism during the confirmation process, but Sen. Mitch McConnell's playbook was not some scheme concocted by the vast right-wing conspiracy. Further, nobody, save for the most leftist of partisans and 45 Senate Democrats (and that number is probably not entirely indicative), thought he was unqualified. And yet, his confirmation required invoking the "nuclear option."
The most recent example was the left's reaction to the GOP health care proposal to replace Obamacare. The ratio of ad-hominem attacks to legitimate policy disagreements boggled the mind. To be sure, the proposal was not strictly Trump's, but it clearly bore his mark.
Some in the media are also responsible for the change in tune of some Trump critics. Aside from what one thinks about conservative charges of liberal media bias, it is laughable the lengths to which some outlets have gone in vilifying Trump.
The most immediate example that comes to mind is the newish Washington Post tagline, "Democracy Dies in Darkness." This statement is without question correct—but the fact that its adoption came shortly after the advent of "fake news" means of course that, without The Washington Post to counter President Trump, democracy flails on the precipice of extinction. With today's access to information, the mind-set that such outlets are the sole sources of truth straddles extreme arrogance and laughable incompetence.
What all of this means, and how it actually plays out, is anybody's guess. But for now, these extreme overreactions might be causing those who were wary of Trump to come to his defense.•
__________
Parr is a student at the Indiana University Robert H. McKinney School of Law in Indianapolis and is treasurer of the Indiana Young Republicans.Send comments to ibjedit@ibj.com.
Please enable JavaScript to view this content.