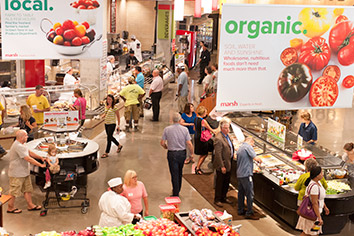 Today, Fishers-based Marsh Supermarkets operates downtown's only two groceries, one on the east side in Lockerbie Marketplace and one on the west side near IUPUI.
The proposed Marsh store sales revealed Tuesday, however, would put the two stores in the hands of two competing chains, Kroger and Fresh Encounter, just as another major player, Whole Foods, prepares to open downtown.
Suddenly, downtown appears poised for a grocery battle royal.
Marsh disclosed Tuesday that it had lined up buyers for 26 of its remaining 44 stores. Fifteen would go to Findlay, Ohio-based Fresh Encounter and 11 would go to Cincinnati-based Kroger Co.
Fresh Encounter agreed to buy the Lockerbie Marketplace store, which was downtown's only grocery until Marsh opened a 43,000-square-foot store at 227 W. Michigan St. in 2014.
Those two stores are set to be joined later this year by a Whole Foods that's under development on the ground floor of the 360 Market Tower apartment project on the northeast corner of Alabama and Market streets.
The downtown shakeup is one of the more intriguing plot twists caused by Marsh's mass store sale.
Another involves Marsh's longstanding store at 86th Street and Ditch Road. Kroger has agreed to buy that location even though it sits halfway between a Kroger at 86th and Township Line Road and another four miles to the east in Nora.
"It doesn't make sense, does it?" said Steve Delaney, a veteran retail broker with CBRE. "Makes you wonder what's going on."
He said he didn't think Kroger would operate a traditional Kroger store there, since it would cannibalize the other two stores.
He said the location is attractive because of high population density in surrounding neighborhoods and high traffic counts on 86th Street.
Kroger might be seeking to acquire it to block a competitor from opening there, he said. The company could shutter the location. Or it might see the site as well-suited for an alternative concept, Delaney said.
One format Kroger is experimenting with is called Main & Vine. The farmers market-style concept uses a smaller footprint than a conventional Kroger and focuses primarily on fresh items.
Kroger has just one Main & Vine store so far—near Tacoma, Washington—but a Morgan Stanley analyst said Kroger might open as many as 300 Main & Vine stores across the country in coming years.
A Kroger spokesman was not immediately available for comment.
Please enable JavaScript to view this content.