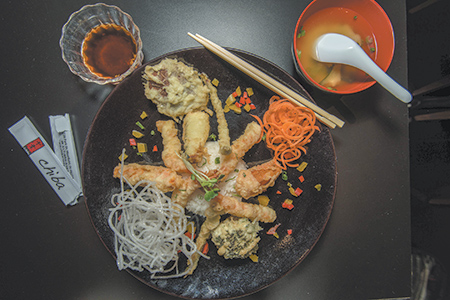 One of the most unexpected restaurant districts in the region is Park Street in Westfield.
Here, on what looks like a small-town residential street, now subtly sit four eateries where you feel less like you are walking into dining establishments and more like you are stepping across a neighbor's threshold. Don't be surprised if you instinctually look for a doorbell to ring before entering.
The latest is Chiba (228 Park St., Westfield, 317-804-5367), a spin-off of a New Orleans sushi restaurant owned by Keith Dusko and Nicole Shackelford, a couple who met during their work with Andretti Autosport.
The duo has created a comfortably casual single-room restaurant (I didn't realize until after I left that, in the back, there's a separate building with a bar) complete with a small sushi bar. What we sampled from the menu largely erred on the side of low-key, with pleasantness winning out over memorability.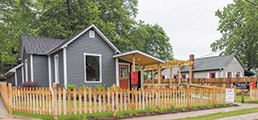 The homey Chiba includes Mixed Tempura, top left, among its Asian offerings. (IBJ photos/Eric Learned)
While the innards of the Steamed Buns ($8.50)—we opted for pork and shrimp—were on point, the buns themselves were rubbery. More successful, overall, were the Panko Oysters ($13), where the crisp, fried exterior didn't mask the freshness of the seafood within.
There's sushi and sashimi priced by the piece, along with Hawaiian fish specials and entrees ranging from Unaju—that's broiled eel ($18)—to Soy Mirin-Glazed NY Steak ($25). We stuck with the lunch menu, with a few additions.
The Chicken Teriyaki ($13.50) lunch special was unexceptional, although it made up for some of that by including in the deal a California roll, and a pairing of shrimp tempura or rice and either miso soup or a house salad with a ginger dressing. Much better was the Spicy Combo Sushi ($10.50)—also served with all the above. Never overpowering, the duo included a spicy tuna roll and crunchy spicy salmon roll that were modest in size but demonstrated an appreciation of the art and craft of sushi making.
We added on one of the specialty rolls, the Park Street (a bit steep at $16), an attractively presented roll featuring yellowtail, pickled jalapenos, green onion, crunchy yam, and a respectfully light drizzle of blackberry habanero sauce. The yam was also a hit among the veggies in the Mixed Tempura ($14.50 with all the aforementioned lunch special additions), which also included sizable pieces of chicken and shrimp.
Pretense was at a minimum in the service, which pushed against the limit of chumminess without crossing over into annoyance. Given the atmosphere, it was tempting to hang out on the front porch and chat with neighbors after the meal.•
—Lou Harry
Please enable JavaScript to view this content.