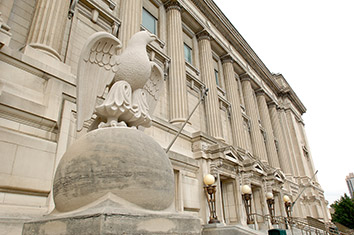 The city of Indianapolis is going back to the drawing board in its quest to redevelop Old City Hall after a proposal to turn the historic downtown property into a 21c hotel fell apart.
City officials on Wednesday afternoon will issue a "request for information" to developers to gather their ideas for the site at the northwest corner of Ohio and Alabama streets, which includes the 107-year-old four-story limestone building and parking lots—and they say they are open to viable ideas.
"It's really important for us at this time to keep an open mind and really determine what the highest and best use is for that site," said Emily Mack, director of the Department of Metropolitan Development. "We certainly recognize there are a wide variety of viable reuse options and we want to make sure we are really exploring all those opportunities."
The city in late March announced it was ditching plans to help finance construction of the proposed 150-room hotel by Louisville-based 21c Museum Hotels LLC after financing delays with the $55 million project.
While officials said they were pleased with the overall idea of the 21c hotel—which would have included a contemporary art museum—there could be a variety of other uses for Old City Hall.
"So many people had in their minds a hotel," Mack said. "While certainly that could be an amazing and wonderful use, it's not the only use."
Officials consider the project important as a potential anchor for the burgeoning Market East district—which contains a new Cummins Inc. divisional headquarters, the Downtown Transit Center, Market Square Tower, and several residential developments.
"To me, Old City Hall can play a significant role in continuing to build on the momentum of Market East and can serve as a catalyst for that next phase of transformational development," Mack said.
The city decided against putting out a "request for proposal" at this point because "it does not allow for a lot of flexibility," Mack said. An RFP will likely follow the current process.
"You're soliciting ideas, thoughts and opinions [in an RFI]," Mack said. "It helps us as a city really determine what the market can support and what the market will bear on that site."
The request for information responses will accepted until Aug. 11. The building will be open for scheduled tours with developers on June 27 and 28.
Please enable JavaScript to view this content.