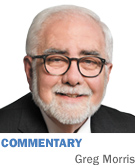 I'm amazed the year is already half over. After we honor America this July 4th, we'll be on a fast track through the end of the year. Plans for 2018 are already on the drawing board.
But before we think about turning the calendar, there are several IBJ events in the second half of this year. Attending one is your chance to network with decision makers and business owners from many industries, hear experts in their field, and help us recognize businesses and individuals who positively impact the business community.
Here's the confirmed lineup through December:
• Fast 25. IBJ and Bank of America Merrill Lynch present 2017 Fastest Growing Companies, July 14, 8 a.m., Marriott Indianapolis. Join us as we unveil IBJ's exclusive ranking of fastest-growing privately held companies. Spot Freight Inc. President Andrew Elsener is the keynote speaker. The 25 fastest growing companies will also be profiled in a special IBJ supplement in the July 17 issue.
• IBJ and Techpoint CTO of the Year Awards, Aug. 10, 8 a.m., JW Marriott. The CTO Awards honor chief technology officers or those in the top information technology positions within their organizations. These valued individuals play vital roles in making Indiana businesses, institutions and not-for-profit groups successful. Honorees will be featured in a special IBJ supplement in the Aug. 14 issue.
• Power Breakfast Series—Commercial Real Estate and Construction, Aug. 24, 8 a.m., JW Marriott. A panel of real estate professionals will update us on the city's hot real estate market.
• Power Breakfast Series—Health Care & Benefits, Sept. 21, 8 a.m., JW Marriott. A panel of health care panelists will discuss the big health care trends to watch the remainder of this year and into 2018.
• IBJ & Gleaner's Partnership Event, Oct. 20, 8 a.m., Marriott Indianapolis. The health of Hoosiers is a critical element in the overall well-being and prosperity of our state. The challenges in reducing poverty and increasing healthy habits are daunting. IBJ and Gleaners are calling together civic and business leaders to discuss our state's challenges and seek new ideas.
• IBJ and Fifth Third Bank present—2018 Economic Forecast, Oct. 25, 8 a.m., Marriott Indianapolis. Again this year, Fifth Third Bank Chief Investment Strategist Jeff Korzenik will offer his forward-looking analysis of the upcoming year.
• Women of Influence, Nov. 2, 8 a.m., Indiana Roof Ballroom. IBJ will once again spotlight some of our city's most successful business women from both the public and private sector while revealing the triumphs and challenges that have shaped their careers. Indiana Economic Development Corp. President Elaine Bedel, founder and CEO of Bedel Financial Consulting, will be the featured speaker. Honorees will be featured in a special IBJ supplement in the Nov 6 issue.
• CFO of the Year awards, 8 a.m., Nov. 30, Marriott Indianapolis. The awards are presented to financial professionals for outstanding performance in their roles as financial stewards of their organizations. IBJ launched the program in 2008 to recognize the enormously important work CFO's accomplish with little fanfare. Honorees will be featured in a special IBJ supplement in the Dec 4 issue.
Nominations are open, so there's still time to nominate someone for the CFO of the Year recognition program. The nomination deadline is Sept. 1. Visit ibj.com to fill out the nomination form. Calling all CEOs—please nominate your CFO! Previous top honorees are not eligible for nomination, but previous finalists may be re-nominated. You'll find a list of previous honorees online.
But wait. There's more! I'm confident we'll have at least one more event to add to our list for the second half of the year. Details are forthcoming soon.
Be sure to take advantage of great networking opportunities by attending IBJ events. The cost is only $40 for subscribers, $50 for non-subscribers and $900 for a corporate table. Register online at ibj.com and click on the events tab.
Thanks for reading and supporting IBJ. We appreciate your business.•
__________
Morris is publisher of IBJ. His column appears every other week. To comment on this column, send email to gmorris@ibj.com.
Please enable JavaScript to view this content.