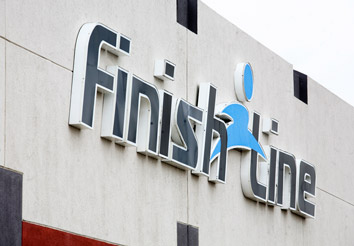 The Finish Line Inc.'s largest shareholder has increased its stake in the company to nearly 20 percent, raising questions about whether an acquisition of the Indianapolis-based retailer could be in the future.
Sports Direct International Plc, the United Kingdom's largest sportswear retailer, in April started buying shares in Finish Line, acquiring a 7.9 percent interest in the company.
Since then, Sports Direct twice in June increased its stake in Finish Line, to 17.4 percent on June 5 and to 19.9 percent on Wednesday. The British retailer now controls nearly 8 million Finish Line shares worth about $107 million.
The moves by Sports Direct have Finish Line investors buzzing.
Susquehanna Financial Group LLP analyst Sam Poser said in an April report that he believed the investments signified a full-on Finish Line takeover by Sports Direct.
But in June 16 report, Poser pulled back, saying he is "unsure of the ultimate endgame" for Sports Direct and its potential plans for Finish Line.
"If Sports Direct does intend to buy Finish Line, we believe that [the company] could be planning to shift Finish Line to a more value-focused athletic footwear concept—in other words, a DSW-like mall athletic retailer," Poser wrote.
Camilo Lyon, an investment analyst for Canaccord Genuity, called Sports Direct's move a "head-scatcher."
"While its motives are unclear, Sports Direct could use [Finish Line] as a vehicle to introduce European value brands into the U.S. market," Lyon said in a report released Thursday. "In our opinion, this would be a poor strategic decision to pursue as the appetite for discounted athletic brands appears to be low."
A Finish Line spokeswoman did not immediately respond to IBJ on Friday to discuss the Sports Direct situation.
Analysts didn't offer questions about a possible Sports Direct takeover of Finish Line during a Friday morning conference call with company executives. The call followed Finish Line's release of its fiscal first-quarter earnings, which included lower profit and a decline in same-store sales—continuing the company's struggles to compete with online rivals.
In the quarter ended May 27, Finish Line earned $8.1 million, or 20 cents per share, compared with $9.6 million, or 23 cents per share, in the year-ago period.
Earnings at the 660-store chain, adjusted to account for discontinued operations and asset impairment costs, came to 23 cents per share, meeting expectations from 12 analysts surveyed by Zacks Investment.
Meeting profit expectations might be helping the company's stock price. Shares were trading at $13.89 each Friday morning, up 9 percent from their closing price on Thursday.
Sales at Finish Line stores open more than a year fell 1.1 percent. Quarterly revenue was nearly flat, at $429.8 million,missing analyst forecasts of $431.6 million.
Finish Line sales received a lift from its partnership with the Macy's department store chain. In the fiscal first quarter, Finish Line sales at Macy's increased 13.6 percent, to $83.1 million.
Finish Line execs did not receive any questions on the conference call about Nike's possible deal to start selling its merchandise directly on Amazon.com. Wednesday's report of the deal temporarily sent shares reeling for tradional Nike sellers such as Dick's Sporting Goods, Foot Locker and Finish Line.
Nike brands made up 71 percent of Finish Line's business in 2016, Canaccord Genuity's Lyon said in a report.
Finish Line CEO Sam Sato, in written remarks, acknowledged the difficult industry conditions but said he remains upbeat about the retailer's future.
"While the retail environment remains challenging, we continue to be confident that our merchandising, digital, in-store, and operational initiatives under way will help fuel profitable growth beginning in the back half of this fiscal year, better positioning the company to deliver increased shareholder value over the long-term," he said.
For its 53-week fiscal year ending March 3, Finish Line said it still expects comparable store sales to increase in the low-single-digits range and adjusted earnings per share to be between $1.12 and $1.23.
Please enable JavaScript to view this content.