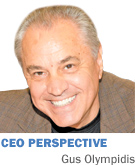 Indiana small businesses hoped for relief on election night. That hope was for a government in Washington that would stop over-regulating and start putting small businesses ahead of special interests.
Family Express has operated in northwestern and north central Indiana for more than 40 years, with over 70 convenience stores, providing customers with affordable options at the pump and in the snack aisle. Over this time, we've ensured customer satisfaction by offering competitively priced, high-quality products and services, in a clean, safe and friendly environment. 
Unfortunately, a proposed change to a little-known regulation could actually increase federal overreach, potentially driving up gas prices and creating regulatory chaos for small businesses like Family Express. The Renewable Fuel Standard, or RFS, mandates a certain amount of ethanol in gasoline. The rule was created in 2007 under the George W. Bush administration to reduce U.S. dependence on foreign oil and cut carbon emissions. Currently, petroleum refiners and importers are responsible for meeting this standard. However, some refiners see an opportunity to change the regulation to improve their bottom line at the expense of consumers and small businesses.
These special interests are focused on changing how the RFS defines the responsibility for following ethanol rules (point of obligation). They want to shift this responsibility to companies that distribute gasoline, rather than those that refine it or import it. That would significantly increase the number of small businesses mandated to meet these new regulations—from roughly 200 obligated parties to anywhere from 1,500 to 2,000. The power to change these rules rests with the Environmental Protection Agency, which recently ruled against doing so.
Shockingly, the EPA admitted it doesn't know what would happen if the regulation were changed, but acknowledged it could create "chaos" in fuel markets by disrupting the current fuel distribution system. However, the special interests won't take no for an answer, and are actively lobbying the administration to make the changes, anyway.
What would these changes mean for Indiana? They would likely result in higher gas prices and additional costs for small businesses. Rather than refiners bearing the responsibility of blending renewable fuels into their products, the change would shift that obligation to others, who might be forced to add ethanol themselves. Many of those companies would have to make new investments to comply with the program, raising their costs and the price of fuel itself.
Compounding the problem, many of these small businesses have little experience complying with EPA regulations of this magnitude, which means more legal and administrative costs. If thousands more businesses face additional EPA regulation, some may choose to close their doors, making it more burdensome to consumers to buy gasoline—especially in rural communities.
Many of our customers would lose if the current regulation is changed. Who would win? A few special interests with influence in Washington. We, at Family Express, hope the administration and the EPA recognize the consequences for our state if this decision goes through. Since we opened our first store on Christmas Day in 1975, we have maintained a total commitment to putting the customer first. Hoosiers should not be asked to pay more at the pump because of additional federal regulations that benefit a select few.
The federal government can look to Indiana as a model for pro-consumer and pro-jobs public policy. For the sake of our customers and fuel consumers across Indiana, we urge Washington to continue supporting the economy by rejecting calls to move the point of obligation.•
__________
Gus Olympidis is president and CEO of Family Express Corp.
 
Please enable JavaScript to view this content.