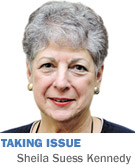 The United States has never embraced the notion that access to health care is a human right. While other democratic countries have instituted varieties of single-payer systems, we have stubbornly insisted that health care is a consumer good, and against all evidence and logic, we have pretended that those consumers can "shop" for health care in the market.
The Affordable Care Act—aka Obamacare—was an effort to accommodate that "market" delusion while increasing access to insurance for millions of Americans. It wasn't ideal, but rather than working to improve it as Congress has done with previous expansions of the social safety net, congressional Republicans have done everything they can to undermine it.
Now, their bill to "repeal and replace" has been unveiled. As Ezra Klein described the replacement at Vox.com:
"Policy after policy in the bill is built to achieve the same goal: making poor people pay more for less health insurance… . Low-income Americans get less money to buy crummier insurance. In the GOP bill, the measure of what is affordable has gone up and the definition of what counts as decent insurance has gone down.
"This basic idea is also present in the plan's changes to Medicaid. The Senate's plan begins to phase out the Medicaid expansion in 2021, and fully repeals it in 2024. Low-income people who were on Medicaid get moved to the exchanges, where the plans cover less, cost more, and require more out-of-pocket spending."
No women were involved in developing the GOP plan, which might explain why women, especially, will lose the most. The bill defunds Planned Parenthood, which (despite the rantings of ideologues) spends 97 percent of its resources providing breast cancer exams, Pap tests and birth control for poor women who would otherwise go without, and the vicious cuts to Medicaid will disproportionately hurt women and seniors. Medicaid currently pays for half of all births and more than 60 percent of all nursing home residents. (I hope everyone really loves Grandma because, if this passes, they'll be much more likely to be emptying her bedpan at home … unless, of course, they're rich.)
The bill rations care and massively increases everyone's premiums in order to fund $300 billion in tax breaks to the top 2 percent of income earners. It robs the poor and gives to the rich.
It's one thing to catalog the provisions that make the bill immoral, however, and another to point out the damage it would do to the economy—rural hospitals will close, thousands of jobs will be lost—and to medical science.
McConnell's ACA "replacement," together with Trump's budget, would halt promising medical research into cancer, Alzheimer's and other diseases which—in addition to their human toll—cost the American economy untold billions of dollars each year.
A recent article in the New England Journal of Medicine addressed the impact of those proposed budget cuts, which include a $5.8 billion reduction to the budget of the National Institutes of Health, and predicted "far-reaching negative consequences" for public health, technology and drug development. "If cuts of this magnitude pass," the article argued, "we will likely lose a generation of scientists … who depend upon grants to support their initial progress." (Interestingly, newly elected French President Emmanuel Macron has invited American scientists to France, where he promises their work will be financially supported.)
McConnell's travesty of a bill is a "compromise" between those in his party who believe government has no business providing any health care to citizens and those who prefer to accommodate their wealthy donor base without seeming quite that brazen.•
__________
Kennedy is a professor of law and public policy at the School of Public and Environmental Affairs at IUPUI. She can be reached at skennedy@ibj.com.
Please enable JavaScript to view this content.