If a company doesn't have major growth plans, Joseph David Advertising probably isn't interested in making it a client.

The Carmel-based full-service advertising and marketing firm in 2014 decided to focus on companies that are "aspirational" and "looking to make a major impact," said King Lumpkin, the company's president and chief operating officer.

"We're not here to sustain the status quo," Lumpkin said from his office in the Indiana Design Center on South Rangeline Road.

That strategy appears to be serving the company well. Doing business as JDA Worldwide, the firm founded in 2003 has seen its revenue nearly double every year since it got "very intentional" with which clients it took on.

According to JDA officials—and confirmed by its accounting firm, Estep Burkey Simmons—the firm has grown its revenue from $5.9 million in 2014 to $10.8 million in 2015 to $20.5 million last year. Lumpkin projects revenue will hit $40 million this year.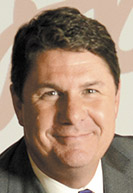 Benbow
While JDA Chairman and CEO Brad Benbow said some of that revenue is represented in media buys—money that essentially passes through an agency from a client on its way to media firms—Lumpkin said the figure "is real revenue."

Benbow and Lumpkin said their company, which was founded in Muncie and St. Simons Island, Georgia, and moved to Carmel in 2015, has no debt, has been profitable from the start, and is easily churning out a double-digit annual profit margin.

Fueling recent growth is a contract JDA signed last year to work for The Museum of the Bible, a 430,000-square-foot attraction set to open in Washington, D.C., in November. Though JDA officials declined to divulge the value of that deal, working as the agency of record for the $500 million, eight-story museum two blocks from the National Mall is certain to be a sizable piece of business.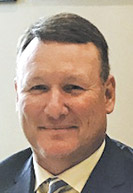 Lumpkin
The museum has been the focus of stories by numerous news outlets, including The Washington Post, The New York Times and ABC News.

JDA became known to operators of The Museum of the Bible through its work for the Creation Museum in northern Kentucky, near Cincinnati. The museum's parent company, Answers in Genesis, also opened the Ark Encounter—a life-size version of Noah's Ark—nearby last year, and JDA won that contract, too. The Ark work has been part of JDA's growth in 2016 and 2017, Benbow said.

The two attractions together are projected to draw more than 1 million people this year, according to Answers in Genesis.

Ken Ham, Answers in Genesis president and CEO, isn't surprised by JDA's growth.

"From the beginning, we wanted to have an attraction that was Disney and Smithsonian Institute quality. JDA has taken us to a whole new level and helped us compete with the big boys, the major attractions throughout the country," Ham told IBJ. "They helped us with our strategic plan, logo, website, advertising and marketing—really everything we do. They've done more from a marketing standpoint in a relatively short time period than I would have ever thought possible."

JDA also counts Focus on the Family, a 640-employee Colorado Springs, Colorado-based Christian conservative multimedia organization, as a client.

"We're not afraid of the faith component. We're very comfortable representing organizations of faith and I think that's a bit unusual," Benbow said.

Ham said "there aren't a lot of ad agencies out there at their level" willing to work with high-profile, overtly Christian organizations.

Projects like The Museum of the Bible and the Creation Museum have been the focus of criticism by various groups, Benbow noted. A 2015 headline in The Washington Post said of the Museum of the Bible: "Critics call it evangelical propaganda."

Benbow told IBJ he and other JDA officials have no fear that the firm's work with Christian organizations will prevent it from winning other clients or hinder its growth.

JDA's client list would appear to back that up. Among its 24 customers are Bleacher Report, Chemical Bank, Farm Rich, Hillsdale College, Legrand, Mach Resources, Mainstreet and SeaPak, Lumpkin said.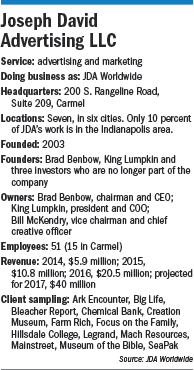 Wide-ranging services

Greg Dewey, vice president of administration for Mach Resources, an Oklahoma City-based oil and gas company, said JDA's "willingness to immerse itself in your business" sets it apart.

Mach Resources is a startup owned by Tom L. Ward, a prominent Oklahoma City businessman and philanthropist and an icon in the natural-gas industry. He is chairman and CEO of Tapstone Energy and founder of SandRidge Energy Inc., both of which have used JDA.

"JDA has been a very good partner regardless of the size and scope of the project or company involved," Dewey said. "They don't feel like a vendor or an outsider. They get to know a company better than most ad firms I've experienced, then they ease you out of your comfort zone."

Benbow called creating an ad the "final iteration of what we do."

"Understanding what our client does and how they do it and then discovering consumer insights not seen by our clients of its competition is the big step," he said.

Benbow said JDA never makes one particularly dangerous presumption.

"We don't think we're smarter than our clients," he said. "We love learning new things."

Dewey said JDA is involved in a wide range of services for Mach Resources, including hiring.

"To me, they're not just a marketing agency," he said. "Because they have such great insights, they're welcome to play in all areas of our company, not just a single stream."

Most of JDA's clients are "category leaders," Benbow said. Perhaps even more surprising is that 90 percent of clients are national; only 10 percent are based in the Indianapolis area.

"That's an anomaly," said longtime local advertising and marketing veteran Todd Muffley, who founded and recently sold Carmel-based Fat Atom Marketing. "Most ad firms here have a much higher level of local work."

Lumpkin said JDA would like to add more local clients, as long as they are "aspirational."

Muffley also called JDA's growth rate "pretty unusual" for an ad firm. In the last three to four years, advertising agencies have slowly pulled out of a tough period precipitated by the Great Recession.

"When you get into growth of millions of dollars on an annual basis, those numbers are really impressive," Muffley said.

He isn't familiar with JDA, even though the firm's office is only a couple of blocks from Fat Atom's. Two other local ad executives contacted by IBJ were only vaguely familiar with the agency.

What's in a name?

Lumpkin, 50, whose first name is a nod to his great, great-grandmother's maiden name, grew up in Muncie and met Benbow shortly after graduating from Wabash College with a degree in psychology and a minor in economics.

Lumpkin's full name is Edwin King Lumpkin IV. He goes by King. "My name is a good conversation starter and it's also hard to forget," he said with a laugh.

JDA's—or Joseph David Advertising's—name is also a good conversation starter. The moniker doesn't reflect founders' or partners' names like many agencies or law firms. Instead, it's a reference to two Old Testament figures.

Joseph, who is introduced in the Book of Genesis, and King David, whose story is told in the first and second books of Samuel and the first book of Chronicles, stand for the firm's four brand pillars, Lumpkin explained.

"Joseph is an interpreter of dreams and a trusted adviser," he said. "David was courageously creative—one of the most creative people there ever was—and ready to fight. At JDA, we try to stand for all those things."

Benbow, 56, and also a Wabash College graduate majoring in economics, started Rutter Communications in late 1987 with a partner. The firm specialized in selling cable television advertising and Lumpkin became Rutter's first account executive in 1988.

To satisfy clients' expanding demands, Rutter became more of a full-service agency—but then it spun off the full-service agency part of the company as JDA in 2003. Two years later, Comcast bought Rutter. Lumpkin became part-owner in JDA.

Lumpkin said "to add creative firepower," JDA in 2015 acquired Hanon McKendry, a firm with a staff of more than 20 in Grand Rapids, Michigan, and Colorado Springs. That move also helped add to JDA's revenue stream.

Hanon McKendry executive Bill McKendry joined JDA and is now a co-owner—along with Lumpkin and Benbow—as well as the firm's vice chairman and chief creative officer.

The future

Today, JDA has seven offices in six cities: two in Atlanta; one each in Carmel, Colorado Springs, Grand Rapids and Traverse City, Michigan; and one in St. Simons Island, Georgia. The company has grown from 15 employees in 2014 to 51 currently.

Fifteen of them work out of the Carmel headquarters and Lumpkin said that number will grow—potentially significantly.

"We plan to add strategists, [people in] account services, human resources and operations," Lumpkin said. JDA is also considering opening additional offices "nationally and internationally," he added.

Benbow—who previously worked on the Sheraton Hotel account for Ackerman McQueen in Dallas and was later director of marketing for Travel Host Magazine before going to work for Austin, Texas-based Cable Advertising Systems—has an interesting take on JDA's growth.

"We don't have to have any growth," he said. "We have no debt. We have no pressure. We have nothing to prove. There's no doubt we're going to continue to have this growth pace, but really, we don't care if we grow or not.

"We have a certain kind of client we serve well: high-growth, emerging brands. That's the tempo we understand," he said. "And as long as we find those types of clients, we'll grow."•