When it filed for Chapter 11 bankruptcy protection in February 2016, Indianapolis-based Republic Airways Holdings Inc. blamed a national pilot shortage as a major reason.

The regional airline didn't have enough pilots to fly its contracted routes for American Airlines Group Inc., Delta Air Lines Inc. or United Airlines Inc., putting it at odds with the carriers and reducing the revenue it earned from those contracts.

The shortage hasn't let up—and observers expect it to continue for the foreseeable future. But Republic, which emerged from bankruptcy as a privately held company on April 30, said it's a slimmer, more streamlined organization that is strongly positioned to tackle that challenge and others.

During bankruptcy reorganization, the airline renegotiated its airline contracts and reduced the size of its fleet. It's flying larger planes and boosting its training and facilities.

At the same time, it worked to strengthen its ties to the nation's aviation schools.

"We don't believe that the solution to pilot supply is a single

solution," said Matt Koscal, Republic's chief administrative officer.

The pilot shortage, which is affecting all regional airlines, has several roots.

Typically, pilots begin their careers at a regional carrier, then move up to a major airline—and a larger paycheck—after a few years of experience.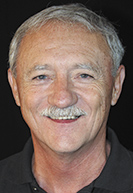 Smith
But the major airlines have been on a hiring spree in recent years, driven mostly by a wave of retirements, said Louis Smith, president of Nevada-based pilot advisory firm FAPA.aero. Pilots' mandatory retirement age is 65.
"The major airlines are decimating the regional airline pilot workforce," Smith told IBJ in an e-mail. "The seven largest airlines in the U.S. will retire nearly 40,000 pilots in the next 15 years. That is more than twice the size of the entire regional airline pilot workforce."

As a point of comparison, Republic employs just more than 2,000 pilots.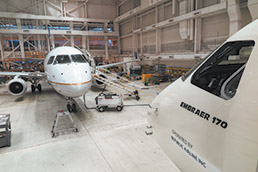 As part of its renegotiated airline contracts, Republic is moving to a single fleet of Embraer E170 and E175 planes configured with 69 to 76 seats. (Photo courtesy of Republic Airways)
A recent change in pilot training requirements has worsened the shortage. In 2013, following a 2009 Colgan Air crash in which 50 people died, the Federal Aviation Administration instituted what's popularly called the "1,500 rule."
Before they can become co-pilots for U.S. passenger and cargo airlines, aviators now must earn an Airline Transport Pilot certificate, which requires at least 1,500 hours of flight time. Previously, co-pilots—known in the industry as first officers—needed only 250 hours of flight time, though airlines could impose their own stricter standards.

The 1,500 rule does include exceptions that allow pilots with an aviation degree or military aviation experience to qualify with fewer than 1,500 hours. But in general, it takes longer to land that first airline job, and young graduates end up working in non-airline aviation jobs for a year or two before they can fly for an airline.

Higher pay

The rule change created a temporary gap in new pilots just as the major airlines were revving up hiring.

"For a few years, there was almost no such thing as a new pilot," said Seth Kaplan, managing partner of the aviation industry publication Airline Weekly.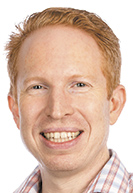 Kaplan
That gap is easing as time passes, Kaplan said, but the stricter training standards will likely also reduce the pool of people who enter the profession.

Republic and other regional airlines have reacted to the pilot shortage by significantly increasing pay.

Republic increased its pay scale a few months before it entered bankruptcy. A union contract that went into effect in October 2015 raised first-year pilot pay from $22.95 per flight hour to $40.40.

Including base pay, bonuses and benefits, Republic says, new hires can now earn $64,400 in their first year. The average fifth-year salary for a Republic pilot who has been promoted from first officer to captain is $94,000.

But before the change, Republic lost many pilots who left for other regional carriers after a year or two in search of higher pay. Now, Koscal said, pilots stay at Republic about six years, and 80 percent of departing pilots move on to jobs at major airlines.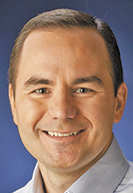 Koscal
Even with the improved pay, the cloud of bankruptcy cast a pall over Republic's hiring efforts. A higher percentage of the airline's job offers were declined during the period, and the bankruptcy was the top reason cited by applicants.

"Getting out of bankruptcy was critical to our success in being able to retain and attract employees," Koscal said.

Other tactics

The company is attacking the pilot shortage from other fronts as well.

In late 2015, Republic started establishing pipeline agreements with U.S. aviation schools, interviewing students and giving them conditional offers of employment once their training was complete. Today, Republic has pipeline agreements with 22 aviation schools, including ones at Purdue, Vincennes and Indiana State universities.

Students at pipeline schools who commit to flying for Republic can also apply to have the company subsidize some of their required flight training. That training can cost several thousand dollars, Koscal said.

The company has also reduced its aviator needs by several hundred pilots by reducing the size of its fleet, he said. At the end of 2015, Republic had 242 planes. Today, the fleet stands at 170, which will grow to 188 by year's end as Republic takes delivery of 18 new Embraer aircraft.

"We're appropriately staffed on the pilot side for that fleet," Koscal said.



Republic streamlined its operations in a few other ways.

Previously, the airline flew a mix of 50- and 75-seat aircraft. As part of its renegotiated airline contracts, Republic shed its 50-seat planes, moving to a single fleet of Embraer E170 and E175 planes configured with 69 to 76 seats.

Republic also moved all its operations under a single operating certificate. Until the end of last year, Republic flew under two subsidiaries, each of which operated as a different airline. Republic Airline Inc. flew for American and United while Shuttle America Corp. flew for Delta and United. (A third subsidiary, Chautauqua Airlines, which flew for Delta, was consolidated into Shuttle America in January 2015.)

Now, all of Republic's flights operate under the Republic Airline name and operating certificate.

Kaplan said those changes should be good for Republic.

"When you have multiple operating certificates, it might look like one company from a financial perspective, but you are running differing airlines from an operations perspective," Kaplan said.

Because of federal regulations, he said, operating under multiple certificates is costlier. "You do need to have certain people at each carrier who are somewhat redundant to each other."

Moving to a single-size fleet is also a smart move, Kaplan said. The 50-seat planes are not as fuel-efficient as larger aircraft, and regional airlines are abandoning them.

"Their fleet now is a better match for where the industry is heading," he said. "The broad trend in the airline industry is toward larger jets."

The larger jets might also be more appealing to recruits, Smith said. "The 50-seat aircraft are seen to some prospective pilots as an indication that that airline's days are numbered."

Restructuring

Republic has also made some big corporate structural changes.

Pre-bankruptcy, Republic was a public company whose shares traded on the Nasdaq exchange. The company canceled those shares, which had dropped to 3 cents apiece on their last day of trading, April 28.

The reorganized company is owned by its former creditors, who were issued new common stock in exchange for their claims.

Between them, American, Delta, Embraer S.A. and United own about 75 percent of the company, with hedge funds and individual claimants owning the remainder, Koscal said. Exact ownership percentages are still in flux because claims from the bankruptcy are still being settled.

Right now, Republic is focusing on some projects it had to delay during bankruptcy, including technology and training upgrades. The airline's operating center, where staffers handle flight scheduling and dispatch, just got an upgrade with new workspaces and improved lighting. The company would also like to renovate the rest of its headquarters space, in an office park just south of the Pyramids, near West 86th Street and Michigan Road.

Republic also intends to amp up its community presence, Koscal said, with new initiatives to be announced in coming months.

Down the road, he said, the company wants to once again be publicly traded. But that won't happen for a while, he added, because Republic needs a period of "inward focus" to attend to more immediate goals.

"To go public today would be a distraction from those efforts."•