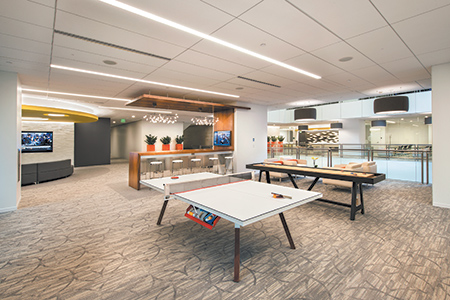 The owner of Market Tower is shopping the downtown skyscraper after spending millions on upgrades to increase occupancy and make it more appealing to younger companies.
Chicago-based Zeller Realty Group bought the 30-story Market Tower just west of Monument Circle in October 2014, after former owner and local developer HDG Mansur defaulted on loans totaling $60 million.
In the nearly three years since, Zeller has spent more than $7 million on renovations. They include updating the building's three-story lobby by swapping out the dated granite with a brighter material and replacing the fountain with a multilevel video screen.
Zeller also moved the fitness center to the second floor from the third and created both quiet and recreational common space on the second floor. In addition, it embarked on aggressive buildouts that transformed outdated floors into modern workspaces.
The efforts are paying off, as occupancy has increased from 58 percent to 80 percent, with new tenants that include software firms Mimir Corp., Emarsys North America Inc., DemandJump and Return Path Inc.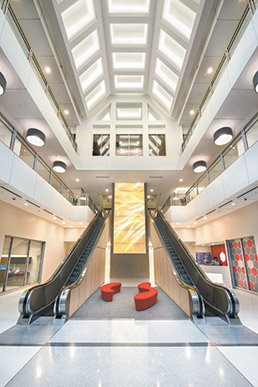 Renovations also included updating the three-story lobby. (Photo courtesy of Zeller Realty Group)
"Our business plan was to make those investments and transition the building," said Tristan Glover, Zeller's senior vice president of leasing. "We accomplished that."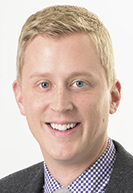 Glover
Zeller is taking the building to market in a bid process that eschews an asking price—a common way to shop large office buildings. Glover said he is unsure of the timing. The Chicago office of JLL is listing Market Tower.
Bill Ehret, managing director of the Avison Young brokerage, represented actuarial firm Milliman in its move from Salesforce Tower to Market Tower (it took 48,000 square feet) and said Zeller's decision to sell now makes sense.
"They executed on their strategy, which was to upgrade the building and reposition it on the market," Ehret said.
Market Tower opened in 1988 and was built by Indianapolis developer Harold Garrison of HDG Mansur and former business partner Lee Alig during their time at Mansur Real Estate Services.
HDG Mansur and an unidentified investor paid $80 million for the building in 2004, buying it from Washington, D.C.-based The Carlyle Group and locally based Mansur Real Estate Services.
Zeller, however, paid only $52.7 million three years ago when the company bought Market Tower out of foreclosure, according to Marion County assessor records, suggesting Zeller could pocket a tidy profit from a sale.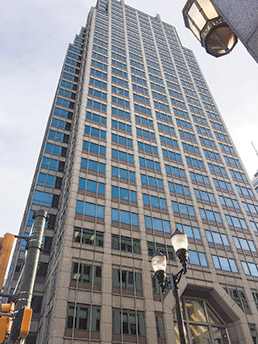 Zeller paid only $52.7 million three years ago for Market Tower. It has since spent $7 million on renovations. (IBJ photo/Scott Olson)
Ehret expects the tower will appeal to a bevy of potential suitors.
"There will be strong interest, for a couple of reasons," he predicted. "There's limited supply and the overall dynamics of downtown have been really strong."
Indeed, a first-quarter Indianapolis-area office report from Colliers International cites the repositioning and refreshing of office towers as a contributing factor to downtown's decreasing vacancy rate.
The central business district's direct vacancy rate at the end of March stood at 17 percent, down from 18.2 percent at the same time last year, according to Colliers. In addition, the total new square footage leased by tenants during the 12-month period rose by 300,000 square feet.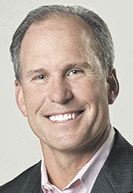 Ehret
The expansion of Salesforce Inc. is partly driving the demand from more companies—particularly local software firms—who want to be downtown. The San Francisco-based company in May officially rebranded downtown's tallest building, formerly known as Chase Tower, as Salesforce Tower.
Salesforce announced in May 2016 that it would add 800 jobs in Indiana and place its logo atop the building, which is less than two blocks from Market Tower. At the time, the company had about 1,400 employees in the state.
If Market Tower changes hands, it will be the latest in a string of downtown transactions that include many of the core's tallest office buildings.
In September 2014, New York-based The Nightingale Group LLC paid $65 million, or about $100 a square foot, for the 36-story Regions Tower, also known as One Indiana Square. It bought the third-largest downtown building from a local group, including IBJ Media shareholders Michael S. Maurer and Robert Schloss.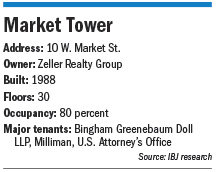 In April 2016, Chicago-based The Hearn Co. and an equity partner paid $40 million to buy the 28-story BMO Plaza, downtown's ninth-largest building. The tower at 135 N. Pennsylvania St. was previously owned by White Plains, New York-based True North Management Group.
And in August, Santa Monica, California-based Hertz Investment Group bought Salesforce Tower & Circle Building and the PNC Center as part of a $416.9 million, four-building acquisition. The other two buildings were in Cleveland and Milwaukee.
A securities filing from lender JP Morgan Chase Commercial Mortgage Securities Corp. revealed Hertz paid $162 million for the marquee Salesforce Tower, including $33.6 million reserved for "tenant inducements, prepaid rent and taxes."
The 48-story, 1.12-million-square-foot tower opened in 1990 and is the tallest building in Indiana. The 635,000-square-foot PNC Center at 101 W. Washington St. consists of two 16-story buildings and is the fourth-largest office complex downtown.
Besides Market Tower, another downtown structure that's available is the nearly vacant AT&T building.
Geis Properties, part of Cleveland-area-based Geis Cos., bought the 558,000-square-foot building for $16.5 million in May 2013 from AT&T. It had planned to convert the first-floor lobby into restaurant and retail space with office tenants above.
The company even rebranded the building at 220 N. Meridian St. as Monument City Center as part of its redevelopment effort, to no avail.•
Please enable JavaScript to view this content.