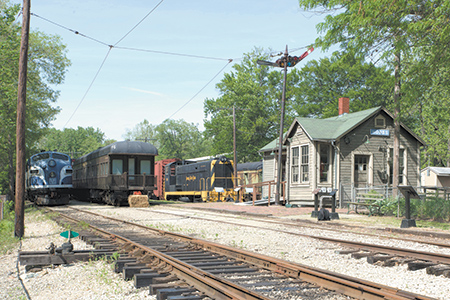 The Indiana Transportation Museum said it requested a federal temporary restraining order against the Hoosier Heritage Port Authority on Monday in an attempt to regain use of the Nickel Plate rail line in time for next month's Indiana State Fair.
The Noblesville-based museum and area officials have been wrestling over the future of the 37-mile railroad for months. Noblesville and Fishers are seeking to convert a section of the rail corridor into a pedestrian trail, but the museum argues the rails should remain and that it should be able to operate trains along it.
The Hoosier Heritage Port Authority, the quasi-government entity that oversees the railroad, terminated its policy-of-use agreement with the museum in March 2016 amid concerns about the not-for-profit's financials and maintenance of the tracks.
That meant the museum had to discontinue its popular State Fair Train and Polar Bear Express rides last year.
The port authority issued a request for proposals for a new operator of the track, and responses were received last month. Several groups submitted responses, including the transportation museum, the Indianapolis Metropolitan Railway Co. of Indianapolis, Hoosier Heritage Railroad Inc. of Fishers and Nickel Plate Heritage Railroad of Arcadia.
The authority had been expected to discuss the proposals Monday night. Hiowever, it delayed the discussion until next week after deciding to review a fifth proposal it received after the deadline, due to delivery issues.
Transportation museum officials say the restraining order is intended to stop the port authority from destroying the rail tracks, evicting the museum from its home in Forest Park and granting approval to a new track operator through the RFP.
The museum is seeking an expedited order that would rescind the authority's suspension of museum trains.
"If successful, the suit could allow the beloved State Fair Train, the Polar Bear Express Train and future excursion trains to run on the Nickel Plate tracks," the museum said.
In a tort-claim notice filed against the authority last month, the museum said it lost more than $350,000 in revenue because it couldn't operate the Polar Bear Express. It also says it lost another $150,000 when it was prohibited from operating the Indiana State Fair Train.
This year's State Fair begins Aug. 4.
"This litigation is the last thing we wanted to do, but the authority and the owners—the cities of Noblesville, Fishers and Hamilton County—left us with no options if we want to continue and grow the legacy of historic railroads in central Indiana," John McNichols, the museum's board chairman, said in written comments. "If successful, we could have the State Fair Train up and running to serve the families and children who love the Fair Train by the start of the 2017 Indiana State Fair."
Officials say support for the 57-year-old museum's mission is growing. The "Save the Nickel Plate" volunteer group recently obtained more than 6,000 signatures to "save the train" and "preserve the second oldest railroad in the state."
In addition, the Noblesville Preservation Alliance issued a statement saying it "supports the preservation of the Nickel Plate railroad and train as integral to the history and heritage of Noblesville and the state of Indiana. It is our hope that a viable solution to present challenges will include the continuous operation of this unique historic treasure—from Noblesville to Indianapolis and to northern Hamilton County communities."
Please enable JavaScript to view this content.