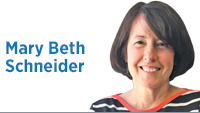 It was a tweet that set my hair on fire.

And, no, it wasn't sent by President Trump.

Instead, an alt-right radio podcaster asserted that "birth control is not health care."

When I responded that it was, and not just for pregnancy prevention but also to treat a variety of women's health issues, I found myself assailed by men—including, bizarrely, anti-Semites whose assumption about my religion was as erroneous as their knowledge of gynecology.

I was called a slut. I was told to keep my legs crossed. I was told birth control pills smother a fetus. I was told no woman uses birth control for any reason other than preventing pregnancy.

I had to check the calendar. Yes, still 2017.

It reminded me of the 1990s, when Rep. Vanessa Summers, D-Indianapolis, unsuccessfully tried to have insurance companies cover contraception prescriptions if they also cover other prescription medicines. The legislation was part of a national debate over whether erectile dysfunction drugs should be covered while birth control was not. It led to one of my favorite moments in the Legislature, when then-Rep. Candy Marendt, an Indianapolis Republican with an enviable talent for succinctness, told the overwhelmingly male House that, apparently, it was a medical emergency if they couldn't get it up, but God forbid women have prescription coverage for birth control.

Summers stopped offering the bill after Obamacare's mandate that insurance include preventive procedures made it moot. Now, a bill on life support in the Senate would eliminate that requirement, and men are arguing against basic insurance coverage for birth control or maternity care.

Because, you see, "birth control is not health care."

Perhaps if the Senate had included women such as Sen. Susan Collins, R-Maine, among the male-only working group that drafted their health plan, they'd understand it is.

I have bought birth control pills twice in my life. Once was in my 50s, when I bled continuously for six weeks and needed them to stop it. Once was for my daughter who, as a young adolescent, was having early menstrual problems. Marendt recalled buying pills to address a teenage daughter's anemia. No, men (and pharmacist, who gave me the stink eye): We mothers were not filling a birth control prescription for our girls to promote promiscuity.

The pill is health care for a variety of health issues, addressing irregular menstruation, migraines, debilitating endometriosis and more. A Guttmacher Institute study showed that 14 percent of pill users in the United States—about 1.5 million women—use them exclusively for non-contraceptive reasons, with 9 percent having never had sex at all. And 58 percent of pill users cited both contraception and other health benefits such as less pain, lighter periods and fewer migraines; only 42 percent used them solely for birth control.

There are women who, for health reasons, should not conceive. Unplanned pregnancies can be financial and medical disasters for some women. The United States has the worst maternal mortality rate among developed countries. An NPR and ProPublica investigation found 700 to 900 women die annually in the United States from pregnancy and childbirth, with another 65,000 nearly dying.

The American College of Obstetricians and Gynecologists says contraceptive care is "an integral part of preventive care and a medical necessity" that reduces unwanted pregnancies and abortion rates, is not an abortifacient itself, leads to "a 50 percent decrease of endometrial [problems] and 27 percent decreased risk of ovarian cancer."

Summers recalls men being both "squeamish and ignorant" in discussing women's health. I suggest they stop mansplaining gynecology. Listen to some womensplaining: Birth control is health care.•

__________

Schneider covered Indiana government and politics for The Indianapolis Star for more than 20 years. Send comments to ibjedit@ibj.com.