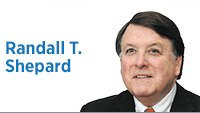 What if they threw a tax protest and nobody showed up?
The weekend before the Fourth of July turned out to be a fairly quiet news moment, with only the now-customary fistfights between the press and the president. So it seemed pretty natural that journalists with a news hole to fill might have to resort to stories about rising taxes. "Indiana raises 45 taxes/fees" went many headlines. "Legislators signed pledge for no increase," read another. "Largest gas tax boost in history," wrote some commentators.
The television reporters who went out to the gas stations, though, could scarcely find any citizens at the pump who wished to speak ill of the decision to increase the tax—even at the very moment they would experience the 10-cent increase per gallon. Most of those motorists seemed to know the money would go to build and repair roads, and they mostly declared they were just fine with it.
This was a tribute to both sensible voters and capable elected leaders. It was a story of Indiana as a place where collective goodwill still plays a large role in civic life, to good result.
Of course, those citizens gassing up at the pump had contemporaneous evidence of what life is like when public debate and governance go the other way.
We do, after all, usually know what's going on in Illinois, where things are so bad that even victory looks pretty ugly. They're celebrating, most of them, having an actual budget for the first time in three years. They got there by raising everybody's income taxes by a third. And cutting higher education some 10 percent. And getting current on $14.6 billion in unpaid bills by selling state bonds, real costs to be paid later. Most people in Illinois' political class, except for Gov. Bruce Rauner, call this victory.
Even this sham declaration of success hasn't been able to cover up Illinois' scandal on the future of public pensions. These have been so generous and so underfunded for so long that, to meet tomorrow's obligations, Illinois would need to put aside 40 percent of its revenue for pensions. It's not doing half that, and while Illinois leads the list for borrowing against the future, it has plenty of company, including Connecticut, New Jersey and Kentucky.
Indiana, by contrast, comes closer than all but four or five states (Utah, North Carolina, Wyoming, to name three) in exercising enough discipline to cover most of the future payments on a fiscally sound basis. We'd need to put aside about 8 percent of current revenue for future payments, and we do in fact commit 6 percent to 7 percent. It's still a shortfall, but a respectable record.
And our highly respectable record on this and other objectives has been built by a series of thoughtful, caring leaders, whom the public often recognizes as serving us well. In the Legislature, we've been fortunate to have people like the soon-to-retire Luke Kenley, as well as Brandt Hershman and Tim Brown, and former finance chairs Pat Kiely and Bill Crawford.
Their leadership and that of executive-branch officeholders—and the public support of it—have given Indiana a chance to thrive against our competitors. How else could we be watching job expansions at Salesforce, Infosys and UPS? And exciting projects like double-tracking the South Shore?
Thousands of Indiana residents will benefit. At some level, people understand that, which is why it's hard to find anybody complaining about the largest gas-tax hike in state history.•
__________
Shepard, formerly Indiana chief justice, now serves as senior judge and teaches law. Send comments to ibjedit@ibj.com.
Please enable JavaScript to view this content.