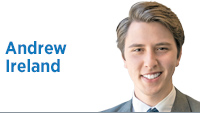 Fireworks lit up the sky in Pyongyang this month as North Korea celebrated its launch of an intercontinental ballistic missile, a major milestone for its decades-long weapons push.
Under Supreme Leader Kim Jong-Un, the isolated, impoverished country has made rapid progress toward its dream of a nuclear warhead with cross-continental capabilities. With an approximate strike range of 5,000 miles, this Hwasong-14 rocket achieves just that, placing Alaska and Hawaii at risk.
The Korean Central News Agency reported the North would "show to the world how the territory of the U.S. will be reduced to ashes," if provoked. Facing an already frightening reality, American mitigation strategies are both sparse and costly.
In March 2016, I visited the Korean Demilitarized Zone—a diplomatic meeting point along the heavily guarded border between the two Koreas. Memorably, across the 2-1/2-mile-wide, landmine-laden space wafts pro-democracy music from the South. A short trip to the west sits an iconic, hyper-patriotic display featuring two of the world's largest flag poles—one for each country.
With the metropolitan bustle of Seoul just 35 miles out, the dormant, half-century conflict seems unrecognizable. Nonetheless, both countries are still officially at war after a 1953 armistice agreement.
At the start of his term, President Trump called for a re-evaluation of our approach to North Korea and its growing arms capabilities. After months of provocations, this came to a head with the tragic death of Otto Warmbier—an American student sentenced to hard labor who arrived back in the United States last month comatose before passing away, leading the White House to publicly explore a series of military options.
As Republican infighting continues to stall the president's domestic agenda, Trump has shown laudable strength as commander-in-chief. Talking heads and beltway pundits decried the dangers of a Trump-inspired foreign policy throughout the campaign. Six months into his term—like many of the false narratives leading up to November—this seems far from the case.
The president, for his part, has shown great resolve and significant restraint in Korea and beyond. Instead of beating the drums of war after the ICBM launch and Warmbier's death, the Trump administration has prioritized diplomatic approaches to curb North Korea's ambitions. A strategy that has seen mixed success under previous presidents, this includes efforts to court the assistance of Chinese President Xi Jinping. The Chinese, too, have signaled a renewed interest in policing their neighbor, making this option all the more appealing.
Equally, the White House has made clear that long-standing operation plans are being updated in case of an armed conflict. However, given the close proximity of Seoul to the border, that places more than 25 million lives in immediate jeopardy. Although clearly far from ideal, that option—and all others—have been rightfully open for consideration.
Whatever the next steps might be, the president must continue to walk a delicate line to curb North Korea's aggression. The White House's open-minded approach will pay dividends during this difficult time.
I remain inspired by my visit to the Gukhoe uisadang—the South Korean equivalent of our Capitol Building. Built with enough seats for representatives from the two Koreas, it reflects the notion of one nation, two countries. Perhaps reunification is but a pipe dream for now. However, President Trump's actions in the coming weeks will significantly affect the peninsula's future. Given his approach to the conflict, I am confident meaningful progress can be made.•
__________
Ireland is a college Republican at Indiana University. Send comments on this column to ibjedit@ibj.com.
Please enable JavaScript to view this content.