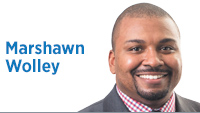 Indianapolis has an opportunity to develop trust, legitimacy and transparency in police-action shooting investigations.
Unlike most cities, this city has a Community Response Team already working with law enforcement on policy issues and proactively addressing community concerns. For years, the Race and Cultural Relations Leadership Network has served as a node of coordination and information sharing with community leaders on these issues.
Indianapolis also has an independent Citizen Police Complaint Board, unlike most cities. Both the Indianapolis Metropolitan Police Department and the Marion County Prosecutor's Office made significant commitments to improving community relations before the June 29 shooting of Aaron Bailey and were quick to respond to community concerns surrounding his death and issues related to the police-action shooting investigation process.
Critics of the investigation process, which is used all over the U.S., rightly point out its flaws. Any local police department investigating administrative and criminal wrongdoing of one of its own—while collaborating with local prosecutors to arrive at charging decisions and using a secretive grand jury process—does not instill trust or legitimacy. This process has a conflict of interest and fails most conceptions of transparency undermining the community's acceptance of outcomes.
This flawed process is generally exacerbated by local media's rush to research and report criminal backgrounds demonizing the victim, projecting a not-so-subtle thesis about why the interaction with the police occurred. The coroner's report usually creates confusion in the community when they declare the cause of death.
This flawed process and its ancillary events do not lead to trust, legitimacy or a perception of transparency. We deserve better.
Chief Bryan Roach has implemented a number of best practices from President Obama's Taskforce on 21st Century Policing report, including engaging the FBI to conduct a parallel investigation into the police-action shooting.
With a few notable exceptions, most local media restrained from criminalizing the victim in the Bailey shooting, and there have been efforts to share a balanced view of a life cut tragically short.
But we still have areas where we need to improve. Training, transparency, engagement and accountability are ongoing concerns that IMPD will need to continue to review.
That the Prosecutor's Office has quietly prosecuted over 60 police officers for various offenses over 6-1/2 years might speak to its diligence but not to the community's concerns about the grand jury process.
Due to grand juries' secrecy, data on their use and results is incomplete. But high indictment rates juxtaposed against non-indictments of police officers in the fatal shootings of unarmed black people across the U.S. raise the specter of a system manipulated to work against a group of citizens.
This perception has already influenced reality, with non-indictments undermining community and police relations, often in explosive fashion.
For transparency and trust, Obama's taskforce report "encourages policies that mandate the use of external and independent prosecutors" in cases of officer-involved shootings or in-custody deaths." To achieve this recommendation, I would seek out a special prosecutor from Gary or Fort Wayne because both are urban cities with diverse populations.
Often, our problems outpace the law. Recognizing the need for an outside prosecutor and a legal adviser in police-action shooting deaths in the Indiana code is a needed improvement.
If justice is the goal for all parties, we must change how we handle these shootings. Indiana needs reforms to restore trust, legitimacy and transparency to a system that is supposed to serve us all.•
__________
Wolley is a lecturer at the School of Public and Environmental Affairs at IUPUI.Send comments to [email protected]
Please enable JavaScript to view this content.