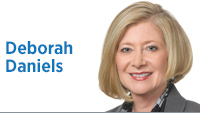 The recent shooting in northern Virginia, targeting Republican members of Congress, has brought into stark relief the most significant threat to our American way of life.
First, it has been clear for years that the people of the United States have become so polarized in their political views as potentially to endanger our system of government—a system dependent on compromises among people of good will with disparate perspectives.
Anyone who has read Charles Murray's "Coming Apart: The State of White America, 1960-2010" should be concerned for the future of our country's noble experiment in democracy. The book focuses specifically on white Americans in order to make clear that the issues Murray describes are not based on racial or ethnic differences. It cites data demonstrating that those in the highest socio-economic class no longer have any understanding of mainstream America, and members of the lowest socio-economic class can no longer envision a path to the pursuit of happiness that inspired our founders. This creates a far broader divide between the two Americas than previously existed.
The book describes a self-selection process that began in the 1960s and has progressed to the point that, according to Murray, most upper-class Americans now live in a "bubble" of their own making, unable to fathom what the rest of society thinks—or why. It brings to mind The New Yorker film critic who allegedly said after President Nixon's election, "I can't believe Nixon won. I don't know anyone who voted for him." In much the same way, a significant portion of the population could not envision the possibility that Donald Trump would be elected president of the United States.
Ironically, part of the problem is that there is a whole group of people on the left who wouldn't read a book by Charles Murray, a known conservative, if it were the last book on Earth.
This points up another phenomenon: A substantial contributor to the inability of our citizens, and our politicians, is the failure to see each other as people of good intentions with dissimilar viewpoints. In great part due to the stratospheric growth of cable and online news sources and affinity groups, people no longer have to hear the voices of those with whom they disagree—and they rarely force themselves to listen.
Perhaps 20 years ago, Americans saw people of differing views as merely confused or misguided (even if they didn't recognize that their opponents might have a decent point or two to make). Now, those with opposing views are often seen as downright evil. Democrats accuse Republicans of hating poor people and older Americans: Remember the infamous ad from 2012 with a Paul Ryan lookalike pushing the wheelchair-bound grandma off a cliff? Yikes.
I'm not suggesting that Republicans have done much better. Look at the treatment in campaign rallies last year of those who arrived to protest.
We are now entering a truly frightening era, one in which some admittedly outside-the-mainstream actors are willing to actually eliminate those with different ideas. In June, James Hodgkinson of Belleville, Illinois, a home inspector known to rant against Republicans, opened fire on congressional Republicans practicing for that week's annual Republican-Democratic baseball game.
Is there any chance this catastrophic event will awaken at least those who make our laws, leading them to see each other as friends and colleagues whose ideas might at least be worth a listen? Can the system of government so creatively designed by our founders survive? We'd all better hope so.•
__________
Daniels, managing partner of Krieg DeVault LLP, is a former U.S. attorney, assistant U.S. attorney general, and president of the Sagamore Institute. Send comments to ibjedit@ibj.com.
Please enable JavaScript to view this content.