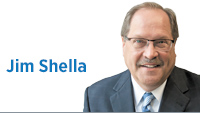 When he's not bashing the media, Donald Trump is still trying to replay the 2016 election. That's the apparent purpose behind his Presidential Advisory Commission on Election Integrity, better known as the voter faud panel, which is co-chaired by Vice President Mike Pence.
By all appearances, the goal is to demonstrate that millions of people voted illegally in 2016 and that, if you throw their ballots out, Trump wins the popular vote.
While I could join others and say—"You're the president! Move on!"—there's an opportunity for education here that could be valuable.
The work of the voter fraud panel will point out to everyone that elections are conducted differently from state to state, and the way elections are conducted in Indiana might not be the best. Mind you, I'm not focusing on voter fraud. It is not a major problem here.
Marion County Prosecutor Terry Curry recently charged several people with voter fraud, but the alleged crimes are related to voter registration efforts, not actual votes. (Sure, former Secretary of State Charlie White was convicted of voting in the wrong precinct, but that's evidence the system worked.)
So, let's talk about the mechanics of an election and existing laws that serve to suppress the vote. 
• We need longer voting hours. Indiana polls close at 6 p.m., too early for many people who seek to vote after work. The national-news hit we get for being "first on the board" is not worth it. Most states keep polls open until 8 p.m.
• We need vote centers in every county. Those are polling sites where you can vote without being in your home precinct—close to work, for example, rather than close to home. They have been successful in Lafayette, Richmond and elsewhere but political concerns have gotten in the way here in Marion and other counties.
• We need satellite voting before Election Day in every county. It worked well here in Marion County in 2008, in fact too well for some. The county election board must approve satellite voting (and vote centers) and the GOP has blocked the concept here because of a belief that it gives Democrats an advantage. (Election boards are bipartisan and votes must be unanimous.) Those same political dynamics are reversed in other counties. The General Assembly could change all that.
• We need true open primaries. Under Indiana law, you can vote in a party's primary only if you voted for most of its candidates in the last election or you intend to vote for most of its candidates in the fall. Those rules are unenforceable and unnecessary.
• We need shorter voter registration deadlines. In Indiana, you must register 30 days before an election. In Minnesota, you can register at the polls on Election Day. I know Indiana leaders would never go for the Minnesota approach, but there must be a happy medium.
All my suggestions are made with the idea that more people would vote. I don't care what party or candidate benefits, and I didn't even wade into the fight over voter IDs.
Think about some of this as you watch Pence and company fight with states over voter information the states can't legally produce.
And keep in mind that, while none of my wishes are likely to come true anytime soon, there is no reason to expect Trump will get the desired result from his voter fraud panel, either. 
But if he can fantasize, why can't I?•
__________
Shella hosted WFYI's Indiana Week in Review for 25 years and covered Indiana politics for WISH-TV for more than three decades. Send comments to ibjedit@ibj.com.
Please enable JavaScript to view this content.