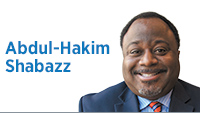 This might sound odd, but from a legal perspective, the fact that Jennifer Messer, wife of likely U.S. Senate candidate Luke Messer, makes $240,000 a year from the town of Fishers as a contractual attorney working an average of 26.5 hours a week is not a big deal. From a legal perspective.
Jennifer is a contractual attorney doing work for the town and records show she was on a $20,000-a-month retainer. And, according to Mayor Scott Fadness, she helped with a lot of complicated legal projects. That $20,000 might seem like a lot, particularly to the layman, but it isn't when you start breaking it down.
Note, a lot of lawyers bill by the hour and—depending on their area of expertise, status in the firm (i.e. first-year associate or partner) and the matter at hand—that can cost anywhere from $50 to $1,000 an hour. Let's assume the 26.5-hours-a-week average is accurate. Well, first, that means some weeks she works more hours and some weeks less, but that's still 26.5 hours. There are 52 weeks in a year, so Jennifer was paid for 1,378 hours. So, $240,000 divided by 1,378 hours equals $174.17 an hour.
Is that a lot? Like everything else, it's in the eye of the beholder. As you know, I'm an attorney (licensed in Illinois and working on getting my Indiana law license this summer, as well as becoming a registered mediator), and there have been days when I charged a flat rate for a project, others by the billable hour. Depending on the work, on some matters I charged more than Jennifer and on others I charged less. It depends.
One thing I can say, and this comes from having worked in government in a former life: There's always the question of, why hire an outside attorney when you have in-house counsel? Once again, it depends on the matter and the expertise you need. Also, keep this in mind: When you hire outside counsel on a contractual basis, you don't have to pay health benefits, vacation or sick time, or retirement. You just pay for their services and move on.
Then there is the other criticism—that Jennifer Messer should not be working from Washington, D.C. Some believe she can only do her job by coming into an office every day. Well here's another news flash: In the 21st century, it actually is possible to get work done and not be in an office. Documents can be scanned and e-mailed and you can do teleconferencing via Skype. Believe it or not, I didn't write this column in my downtown office, but in my back yard, where I can have a cigar and adult beverage. Modern technology is a beautiful thing.
But back to the original point. Is Jennifer Messer paid too much? I doubt it. Everything I've seen so far says there's nothing out of the ordinary going on when it comes to billing. But then again, I'm an attorney. So I get it. Will the Republican primary voters think the same thing next May? We'll see. That's not a legal question; that's a political one. It will be interesting to see what response the voters have.•
__________
Shabazz is an attorney, radio talk show host and political commentator, college professor and stand-up comedian. Send comments to ibjedit@ibj.com.
Please enable JavaScript to view this content.