The Anderson-based Flagship Enterprise Center is on a roll.
In the last two months, the small-business incubator
and growth-stage accelerator signed up two new clients: software developers Soveryn Inc. and Coeus Technology.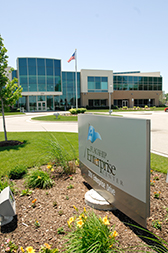 Anderson's
Flagship Enterprise Center now has 25 small, tech-related businesses. (IBJ File Photo)
Soveryn, which had operated
in the Muncie area, makes eCommerce software and develops high-end Web applications and viral marketing tools.
The center's location was a draw "because you can pull in students and graduates from Muncie and Anderson and
also have access to the Indianapolis talent pool," said Soveryn CEO Mike Kersey.
Coeus develops so-called
green-stream software that analyzes the energy consumption of a client's computer system and building infrastructure.
In an unrelated business line, Coeus develops an antimicrobial agent that can be added to materials to prevent mold, mildew
and fungi.
The Flagship, a partnership between Anderson University and the city of Anderson, now has 25 companies
with offices at the center, which is at Interstate 69's Exit 22. Other clients include Bright Automotive, which aims
to manufacture a hybrid delivery truck, and Altairnano, a maker of lithium-ion batteries.
Please enable JavaScript to view this content.