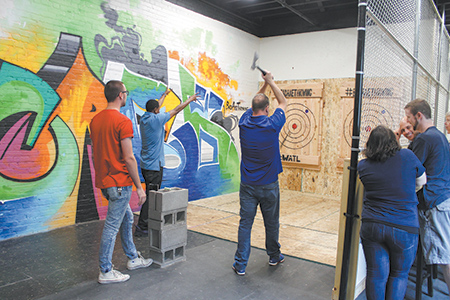 A favorite backyard pastime for some and a common one-shot experience at Conner Prairie, axe throwing has made its Indy debut as a stand-alone activity, courtesy of Bad Axe Throwing.
With nine Canadian locations, the company is in the midst of a summer surge across the United States, with five new locations opening soon, including in San Francisco, Denver and Atlanta. The Indianapolis spot opened in June.
Tucked away in a second-floor unit on Meridian Street just south of Georgia Street and marked by an inconspicuous wood-board sign out front, Bad Axe Throwing is easy to miss.
I followed paper signs up an elevator and around a dimly lit corridor to a door-less studio space decorated with street-art-style murals painted by local artist Sacred 317.
Feeling like a mash-up of bowling and darts—only more physical—Bad Axe Throwing has four throwing lanes positioning participants at least 12 feet from the 4-foot-by-4-foot targets.
Before getting started, all participants sign a liability waiver releasing Bad Axe Throwing from responsibility of damage to personal items, injury or death. Worried? Bad Axe Throwing claims on its website that it's "100 percent accident free"—even with visitors invited to BYOB to add to the experience.
With upbeat rock tunes blasting in the background, Bad Axe team leader Nick Jahr walked me through axe-throwing technique and safety. Jahr and his staff replace target boards, wrap axe handles and sharpen the steel blades nearly every day, depending on the equipment's daily level of wear and tear. He typically instructs beginners to start with a hatchet—much smaller than the double-sided medieval axe I had imagined before walking in—held with two hands above the head.
Throwers are advised to adopt a good throwing stance, with dominant foot forward and dominant hand gripped on top. With a simple forward-moving motion using all arm-power and locked wrists, the axe is sent flying, hurtling toward the painted target.
Jahr threw a couple of axes to start, showing me how it's done, with two perfect strikes landing right in the center of the target.
Uncertain and a little nervous, I sent my first two axes barreling through the air only to thud against the target and fall to the floor. I was pleasantly surprised that these first few tries even struck the board. I imagined missing the board completely on my first throw.
Jahr assured me I was not off track from other first-timers. Most, he said, take 10 to 15 throws to get the hang of it.
With a few tries and advice from my coach, I was landing points on the board—one point for the outer ring of the target and six for a perfect bull's eye. While I stuck with the traditional over-the-head throwing style, others can attempt more advanced one-handed, double rotation or underhanded throws. That last one, Jahr told me, is all the rage now in Canada.
And that's about it for the experience. While I can see some wanting to continue to hone their skills, others might find it loses its appeal after a few throws. Group sessions typically last two to three hours at Bad Axe Throwing. And while coaches aim to keep guests entertained through competitions and games, the novelty of the sport might be lost in these long sessions among less-experienced parties. The eight-member team that was booked after my private lesson cut their session about an hour short after sending more than a few axes plummeting to the floor.
Want to give it a try? Bad Axe Throwing is open for walk-in throwing from 8 p.m. to 11 p.m. Fridays and noon to 11 p.m. Saturdays. It's recommended you reserve a group event, where, for $35 per person, you and five or more friends can spend two to three hours trying your hand at axe-throwing games like Horse and Tic-Tac-Toe. There's also an axe-throwing league, started by Bad Axe Throwing, where you can test your skills via local and international tournaments. Jahr's dream is for axe-throwing to become an Olympic sport.•
Please enable JavaScript to view this content.