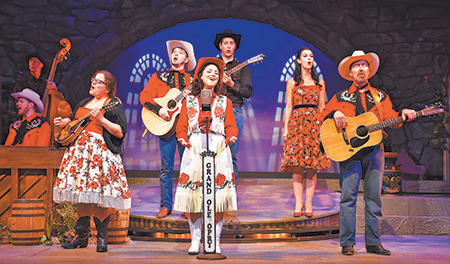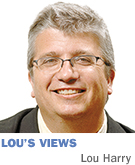 Early in "Ring of Fire" (through Aug. 13 at Beef & Boards Dinner Theater), each member of the talented eight-person cast announces, Spartacus-style, "I am Johnny Cash."
The move doesn't convey ego or arrogance. Rather, it allows each performer to tell part of Cash's story and sing songs the famed Man in Black either wrote or popularized while circumnavigating any expectation that we are attending an impressionist show.
The move turns out to be a good one.
"Ring of Fire" falls into the category of "jukebox musicals"—shows that take an existing song stack, usually affiliated with a single artist, and attempt to craft it into an evening's entertainment. The genre has taken many forms—some feeling more
tribute, others simply cashing in on the artist's renown.
Some of the latter are largely forgotten. (You don't see too many revivals of "Good Vibrations," featuring the music of the Beach Boys.) But it is possible to make the genre work in different ways. Twyla Tharp turned Billy Joel songs into a dance drama in "Movin' Out." The ABBA folks grafted hits into a new story in "Mamma Mia." "Jersey Boys" went for straight-up bio for the Four Seasons. And "Ain't Misbehavin'"—which pretty much created the genre—took Fats Waller songs and turned them into genial vaudeville.
Richard Maltby Jr., who crafted "Ain't Misbehavin'," also created this crowd-pleaser, which doesn't quite reach those heights but provides for a pleasant evening.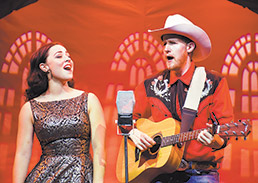 Allison Kelly and Travis Smith sing the title song from "Ring of Fire." (Photo courtesy of Beef & Boards Dinner Theater)
In its latest version—a bit different from the one that failed to find an audience on Broadway—"Ring of Fire" includes more than 30 songs parsed with some light biography. These snippets put more emphasis on Cash's upbringing, patriotism and faith than on his more controversial actions—a move that might leave the uninitiated wondering why he was perceived as such a rebel. The show sings of prison life and living off the land, but it never really gets any dirt under its fingernails.
That makes "Ring of Fire" feel as much Branson as Broadway, with elements of TV variety shows of yesteryear in the mix. Highlights include a rousing "Jackson," an effectively melancholy take on "Sunday Mornin' Comin' Down" (a great Kris Kristofferson tune that Cash memorably covered), and a rousing "Hey, Porter," a song that deserves a firmer place in the pantheon of great train songs.
Added pleasure comes from the cast members' playing their own instruments, without any apparent compromises to quality. Allison Kelly, a first-timer at Beef & Boards, is a vocal standout. And Melody Allegra Berger's fiddling—and attitude—prove infectious.•
__________
This column appears weekly. Send information on upcoming arts and entertainment events to lharry@ibj.com.
 
Please enable JavaScript to view this content.