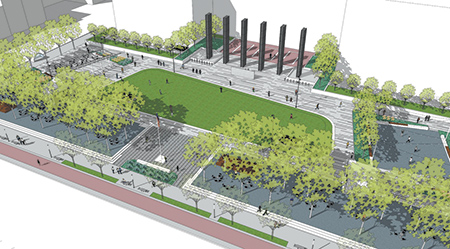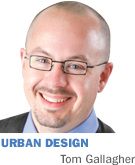 Recently, the Trust for Public Land released its annual Parkscore Index, a measure of acreage, investment and access that evaluates "how well the 100 largest U.S. cities are meeting the need for parks." Indianapolis, once again, finds itself at the bottom of the rankings. This score is often cited as evidence that Indy needs more parks; a closer look at the numbers suggests things aren't as bad as Parkscore suggests.
Parkscore has its shortcomings and, as long as it exists, Indy will not reach the upper tier of its ranks. To start, the ranking unintentionally penalizes cities with consolidated city/county governments. Compared to Minneapolis (No. 1 in 2017), another Midwestern 18-hour city, and San Francisco (No. 3 in 2017), which has essentially the same population as our city, Indy far exceeds their median individual park size and has about twice their park acreage. However, because the index scores park acreage as a percentage of overall city physical size, Minneapolis, at six times smaller and San Francisco, at eight times smaller, get a boost to their scores.
Further, the Trust's core premise is that everyone should live within a 10-minute walk of a park. That's a reasonable and laudable goal for compact, walkable urban areas, but less realistic for rural areas of a county. Playing out this scenario, Minneapolis needs 58 parks, San Francisco needs 47, while Indianapolis, to score among the best, would need to develop monolithically across its 226,000 acres and provide 372 parks.
Additionally, the index does not currently capture a consistent or comprehensive look at a city's public land. Here are a few Indianapolis examples: Monument Circle and the City Market plazas are counted; Hudnut Plaza and the City/County Building Plaza are not. The Monon Trail is counted; the Cultural Trail is not. Many green medians in streets are counted, while quality, privately owned public spaces such as Cummins plaza and Holcomb Gardens are not. Victory Field counts as part of White River State Park, but the Statehouse Green is not included.
In the end, only one of Parkscore's metrics goes beyond tallying parks to speak to their quality. Though mere spending is no guarantee of higher quality, without question, we must face a fact the index makes clear: As citizens, we have chosen to contribute very little to our parks. Both Minneapolis and San Francisco spend $235 per person every year on parks. Accounting for cost-of-living differences still doesn't compensate for our annual spending of only $35 per person.
Putting the ranked list aside, what should we take away from the Parkscore data?
For one, while our public space system has its deficiencies, the problems are not solved by simply creating more parks. Less consumed by how many parks we have, we can focus on where they are located, how they are linked, and how well they serve our residents. George Kessler created a parks and boulevard system for the city in 1909 that interconnected neighborhoods, waterways and parks with beautiful bridges, parkways and promenades. Imagine if we embraced that sentiment today.
Second, acknowledging that our consolidated city/county structure presents us with difficulties few other cities have, we should see parks as catalysts to replacing sprawl with compact, walkable neighborhoods while protecting the countryside within our city boundaries. Tarkington Park, with one phase of updates recently completed, is already bringing new attention to the area near 38th and Illinois streets.
Third, Parkscore is openly skewed toward active parks with playgrounds, play fields and formal programming. Harder to measure, but just as important to a city's residents, are the public spaces that provide a greater connection to nature and the strengthening of community that happens through shared ownership of a space and its capacity for facilitating spontaneous, positive interactions between users. A renewed master plan for Riverside Park is currently underway. Riverside is bigger than Central Park in Manhattan and occupies 14,000 lineal feet along the White River; think of the possibilities.
Finally, we will need more than the traditional modes of funding to improve the quality of our park system. We should not be afraid to have high aspirations, as it takes vision to inspire alternative forms of investment. Imagine if Indy would take on the challenge of the Union Line—renovating our raised rail lines downtown into an elevated thread of public space connecting major downtown venues and both sides of the White River. The High Line in New York, one of the most-talked-about public spaces of the last decade, was made possible and endowed through public-private partnerships.
Beyond ambitions, we need determination. Construction began this month on the redevelopment of the City-County Building plaza on East Washington Street. The result promises to be a significant and welcome change, renewing a sense of public engagement that has been missing from this location perhaps since the original county courthouse was razed. Bravo to the city for having the commitment and wherewithal to see it to fruition. May it become a great park, even if Parkscore doesn't count it.•
__________
Gallagher is an urban designer with Ratio. Send correspondence to TGallagher@ratiodesign.com.
Please enable JavaScript to view this content.