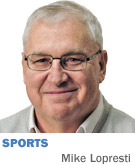 So many strange faces, so many arrivals with baggage in hands. No, not Indianapolis International Airport—the Colts roster.
And now that training camp will soon open—even that's changed, from Anderson University to the team complex on West 56th Street—we should get to know who's new in blue. So let's trot out a few items from the bio sheets and play Name That New Colt.
Who took 21 charges as a high school basketball player and ended up his school's second career scorer?
That'd be first-round draft choice Malik Hooker, who, as an Ohio State University safety, took no charges but did lots of other things.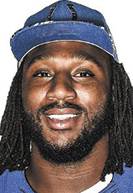 Hooker
Who was 5 feet tall in the second grade?
Tackle Zach Banner. He didn't stop growing, either. Now he's listed at 6-8, 358 pounds.
Who is the product of a father with a doctorate in pharmacy and a mother with a doctorate in educational leadership?
Linebacker Jon Bostic. Before he started filling prescriptions, father John played defensive back for the Detroit Lions.
Who did not play high school football, then attended Lindenwood University-Bellevillle, which was just beginning the sport?
Wide receiver Harvey Binford. He might be the only guy in an NFL camp who can say he scored the first touchdown in his school's history.
Who was a member of the drama club in high school?
Defensive tackle Johnathan Hankins. At 6-2, 325 pounds, stage left. And right.
Who is certified as a scuba diver?
Wide receiver Kamar Aiken. He can go deep on land, or in water.
Who, at the age of 10, promised to buy his father a car if he ever suited up in the NFL?
Linebacker Anthony Walker Jr. Which is why, 11 years later, Anthony Walker Sr. is driving a new Lexus ES 350.
Who shot 57.4 percent from the field?
Tight end Mo Alie-Cox. He spent his college days at Virginia Commonwealth University playing 3,332 minutes of basketball and not one of football. His last organized football game was freshman year in high school.
Who had perfect attendance in high school?
Defensive end Tarell Basham. Not one day on the absence list. It's the academic version of never going on the disabled list.
Who was all-state at Warren Central High School?
Guard Deyshawn Bond. He'll feel right at home when the Colts have an open practice at Warren Central in early August.
Who was a nationally ranked lacrosse player in high school?
Running back Dalton Crossan, the pride of Lake Ronkonkoma, N.Y.
Who has gone through a real estate internship?
Long snapper Thomas Hennessy. But since he made 545 long snaps at Duke University and, by his count, never had a bad one, it might be a while before he's working open houses.
Who won junior world championship gold medals in the shot put and discus?
Defensive end Margus Hunt, adding to the medal haul of Estonia.
Who originally attended the U.S. Air Force Academy, but left school to help his mother fight breast cancer?
Tight end Colin Jeter. She got better; he went to Louisiana State University.
Who graduated from UCLA with a 3.885 grade point average in economics, and gave lectures to his teammates on how to manage their finances?
Punter Jeff Locke. His seminar on IRAs starts at 5 o'clock.
Who is a lock for anyone's all-name team?
Linebacker Barkevious Mingo, who owes his first name to mother Barbara. She took the first three letters of her name and added it to Kevious, a name she admired. Not to be confused with his brother, Hughtavious.
Who was a national medalist in Australia as a kid swimmer?
Tackle Blake Muir. At 6-6, 309 pounds, he might be past his prime in long individual medleys, but could still probably do a mean 50-meter freestyle.
Who was all set to go to work at an auto factory when the Seattle Seahawks called with an invitation?
Troymaine Pope. Talk about a running back changing directions, he veered from the assembly line to the film room.
Who grew up surfing in Hawaii?
Offensive lineman Brian Schwenke. Not a lot of places to do that in Indiana.
Who won a bravery medal at the age of 11, for helping an elderly woman escape her burning home?
Linebacker Jabaal Sheard. One minute he was on his bike, the next he was trying to break in the house to help, when the fire department arrived.
Who so impressed Urban Meyer, the Ohio State coach, that he once said if he ever had another son, he'd name him after this player?
Linebacker John Simon. No John Simon Meyer yet.
Who played basketball at Portland Bible College?
Tight end Brandon Williams. So let's hear it for the PBC Wildcats.
Who was so distraught after a catastrophic knee injury as a Pittsburgh Steelers rookie, he later said he cried himself to sleep some nights?
Linebacker Sean Spence. He's had a good career, and slept better, since.
Who once had his position changed to cornerback by his defensive coordinator, who also happened to be his father?
Quincy Wilson. The move has worked out, so Dad knew best. That's Chad Wilson, who played cornerback for the Miami Hurricanes in the 1990s.
Who will be playing on his fifth NFL team if he makes the roster?
Nose tackle Al Woods. Former Titan, and Steeler, and Seahawk, and Buc.
Who picked up a nickname for life as a toddler?
Receiver Bug Howard. "Bug" was his mother's idea, and it stuck. So nobody knows Johnathan Jamaul Howard.
Who majored in economics at William & Mary, the second-oldest college in America behind Harvard?
Tackle Jerry Ugokwe. My son was his professor. Dad will shut up now.•
__________
Lopresti is a lifelong resident of Richmond and a graduate of Ball State University. He was a columnist for USA Today and Gannett newspapers for 31 years; he covered 34 Final Fours, 30 Super Bowls, 32 World Series and 16 Olympics. His column appears weekly. He can be reached at mjl5853@aol.com.
Please enable JavaScript to view this content.